North Carolina Taxpayers Are Funding Outsourcing, Critics Of Companies Like Cognizant Want To Know Why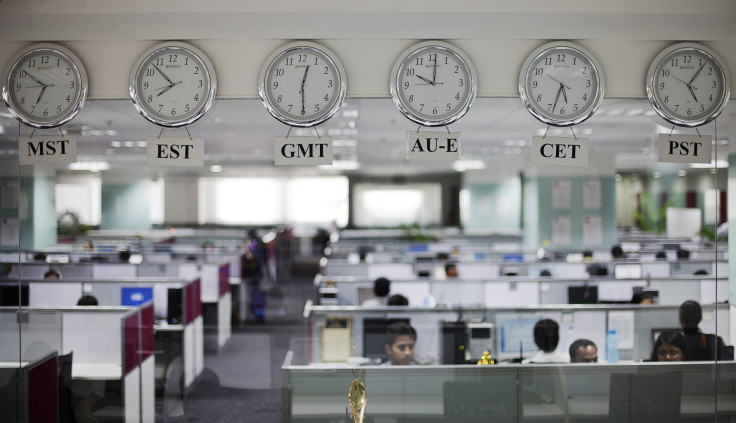 Cognizant Technology Solutions Corporation, a New Jersey-based Fortune 500 company whose business model is founded on sending U.S. jobs abroad, will received $5 million from North Carolina taxpayers to build a new business center in Mecklenburg County, home to Bank of America and one of the country's top financial centers. In return, Cognizant promises 500 well-paying jobs over the next five years and $1.4 million in investment through 2018.
But critics argue that the state has been shortsighted and has failed to fully understand Cognizant's profit motives -- the company makes more money if it can send U.S. work to India -- or what it means when the company uses a term such as "U.S. employee base," which in the world of outsourcing doesn't necessarily mean employees that are U.S. citizens or permanent residents.
"The state is counting on jobs, but they're missing the whole point," Ron Hira, public policy professor at Howard University and outspoken critic of the IT-related guest-worker system, said. "Most, if not nearly all, of Cognizant's employees in the U.S. are on guest-worker visas."
Despite Cognizant's heavy reliance on low-cost foreign labor or the criticisms of the outsourcing business model, state officials did not demand the company guarantee that the jobs it creates in the state actually go to North Carolina workers. A review of regulatory filings and other statements made by the company indicated most of its workers are foreign temps, including the 1,500 in North Carolina.
"The work being done for our clients at the facility in North Carolina will be conducted on-site, right in Charlotte," Cognizant spokesman Rick Lacroix said by email on Tuesday. "As a company we're committed to hiring the best talent available and having a diverse employee base that includes top talent from North Carolina, the U.S. and the world. We actively recruit from major North Carolina and other U.S. universities for that top talent."
North Carolina Sen. Malcolm Graham, a Mecklenburg County Democrat, praised the $5 million taxpayer-funded corporate incentive deal when it was announced last month. But on Tuesday he told local radio station WFAE he thought Cognizant was simply a technology company and only later became "disconcerted" after reading more about Cognizant's outsourcing business.
Similar to competitors Infosys, Wipro and IBM subsidiary Syntel, Cognizant helps companies reduce dependence on directly hired local U.S. workers by sending IT operations such as payroll processing to lower-paid workers in developing countries, especially India. These companies also dominate the U.S. temporary guest-worker visa program, bringing in foreign workers on multiyear stints. (Workers who cannot easily switch employers and who have to leave the country on short notice if they're fired or laid off are less likely to complain about labor violations.)
Cognizant doesn't disclose in regulatory filings how many of its 31,500 North America-based employees are foreign guest workers, but the company said in its 2013 annual report that "the vast majority" of its technical workers in the U.S. are Indian nationals with temporary work permits. It also cites its inability to acquire enough temporary worker visas as a risk factor in future business performance.
The company told Computerworld in April that it "is committed to attracting and retaining the top talent in the United States" and that it hired 7,000 U.S. workers in 2012 and 2013 and that it would add 10,000 local hires by the end of 2016.
"Our U.S. employee base is some 23,000 strong," the company said in an eight-page document from early last year that was used to tout its business and lobby for increasing the number of available guest-worker visas, but most of those employees are foreign temps.
The Cognizant corporate incentive deal in North Carolina underscores a lack of due diligence by local officials too eager to jump at any opportunity to throw taxpayer money at companies whose business models are built around pushing labor costs as low as possible.
As reported earlier this year, the IT outsourcing industry has largely taken over the country's H-1B visa program, which was originally designed to bring in foreign workers with highly specialized skills such as professors or engineers with advanced degrees but has since become a way for U.S. companies to lower their labor costs. Five IT-centered outsourcing companies, including Cognizant, accounted for 37 percent of the 85,000 new temporary H-1B work visas that immigration authorities approved last year. Most of the workers hired through these firms do not hold advanced degrees and are unlikely to graduate to permanent residency status.
Defenders of the program argue that more visas should be available because the United States doesn't produce enough people with IT skills. FWD.us, a lobbying group founded by Facebook inventor Mark Zuckerberg and the board of which is loaded with the cream of Silicon Valley's crop, is one of the more outspoken private-sector proponents for increasing H-1B visa quotas.
A report released Tuesday by Good Jobs First, a Washington, D.C.-based economic development watchdog group, found 87 large companies that depend on low-wage workforces have received $3.3 billion in state and local government subsidies (including property tax abatements, tax credits, sales tax exemptions, training grants and infrastructure improvements), most of which have occurred in the past 15 years. Companies such as Amazon.com, Wal-Mart Stores and Starwood Hotels & Resorts and other so-called "low-road employers" linked to the Forbes 400 list of wealthiest Americans have received $21.4 billion in tax breaks and grants, mostly since the early 1990s.
Note: This story was updated to include Cognizant's response and corrected to say Cognizant has 1,500 employees in North Carolina, not 15,000.
© Copyright IBTimes 2023. All rights reserved.