North Korea Accused Of Photoshopping Military Hovercraft Picture As Part Of Ongoing Propaganda Campaign [PHOTO]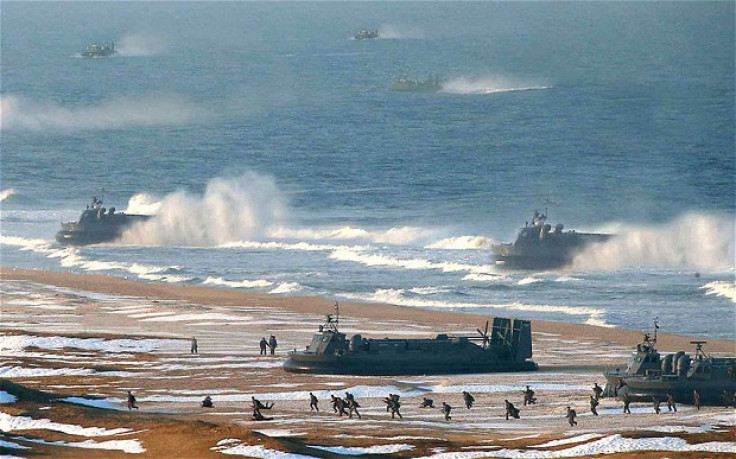 The latest salvo in North Korea's ongoing propaganda campaign may be a dud, as the nation stands accused of digitally altering an image of its soldiers taking part in a hovercraft amphibious landing.
Several news outlets are reporting that the picture, which displays North Korean military forces "invading" a beach by using several hovercrafts, may have been Photoshopped. The Atlantic notes that several of the image's eight hovercrafts appear to be either digitally altered or fabricated altogether.
The two hovercrafts that had already landed on the beach are digital clones, as are the two approaching the beach from a distance. According to the Atlantic, the propaganda image, which was originally distributed by North Korea's official news outlet KCNA, possesses the "hallmarks of digital pasting, including color mismatch, a slight halo, and soft edges."
The Atlantic adds that AFP, the news outlet that originally published the image after receiving it from KCNA, has taken it down due to excessive tampering.
The fraudulent photograph is just the latest volley in the rogue nation's ongoing propaganda war against its South Korean and American rivals. North Korea has engaged in a campaign of intimidation and military posturing ever since the United Nations enacted new sanctions over its nuclear testing in February.
In response to an increased number of joint military drills by the United States and South Korea, supreme leader Kim Jong-un put the North Korean military on high alert on Tuesday.
"From this moment, the Supreme Command of the Korean People's Army will be putting into combat duty posture No. 1 all field artillery units, including long-range artillery units and strategic rocket units, that will target all enemy objects in the U.S. invasionary bases on its mainland, Hawaii and Guam," the Korean Central News Agency said.
This isn't the first time North Korea has been caught manipulating images. According to the Guardian, a December 2011 photo taken at the funeral of dictator Kim Jong-il was digitally altered after the original image showed several men who appeared to be distracted from the proceedings.
On Wednesday, the rogue nation announced that is has severed the only military hotline linking its leadership to that of South Korea. The hotline is apparently crucial to maintaining a North Korean industrial complex that employs hundreds of workers from the South, in what Fox News describes as "the last major symbol of inter-Korean cooperation."
Kim Jong-un's Communist regime has also released a series of lurid propaganda videos, each depicting the violent destruction of an American target. On Monday, North Korea released a video showing the "defeat" of the United States and its allies. The four-minute film dramatizes a massive artillery bombardment of South Korea, followed by an airborne invasion that results in the capture of thousands of American citizens.
In February, North Korea released video of a "dream sequence," in which a city closely resembling New York burned after a missile attack, Yahoo News reported. A second propaganda film depicted President Barack Obama and U.S. troops engulfed in flames after a nuclear attack.
© Copyright IBTimes 2023. All rights reserved.