North Korea Calls Defector Thae Yong Ho 'Human Scum' And 'Criminal'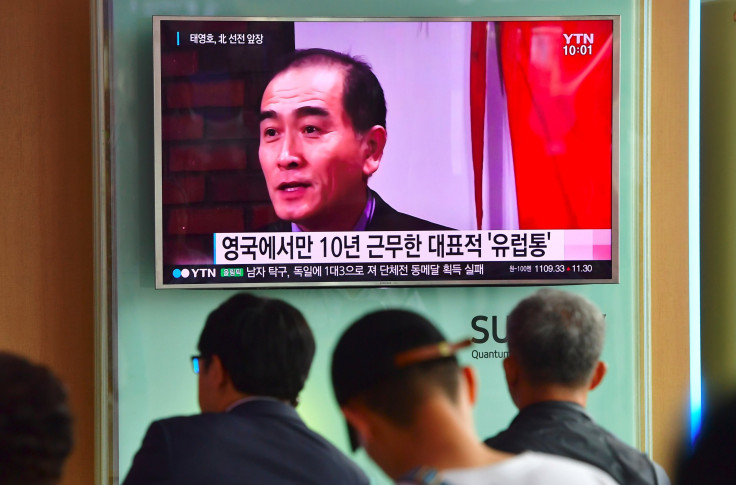 North Korea called the North Korean diplomat who recently defected to South Korea a "criminal" and "human scum" Saturday, the state-run Korean Central News Agency (KCNA) reported. This is North Korea's first official statement on the defection.
KCNA, which never mentioned the defector Thae Yong Ho by name, said that the country had ordered the "fugitive" to return to North Korea in June pending investigation for a number of crimes like embezzling government funds, leaking state secrets and sexually assaulting a minor.
It also accused South Korea of using the defection to insult the North Korean leadership. It denounced the British government for violating international rules in rejecting North Korea's request to extradite Thae and for handing him over to South Korea instead.
KCNA said that Thae "should have received legal punishment for the crimes he committed, but he discarded the fatherland that raised him and even his own parents and brothers by fleeing, thinking nothing but just saving himself, showing himself to be human scum who lacks even an elementary level of loyalty and even tiny bits of conscience and morality that are required for human beings."
Thae, a former minister at the North Korean Embassy in London, defected to South Korea with his wife and children, Seoul's Unification Ministry said Wednesday. The ministry said Thae had defected due to his growing disgust of North Korean leader Kim Jong Un. Thae, the ministry added, "respects the democratic system of South Korea and for the sake of the future of his family, he defected."
Thae is the highest ranking North Korean diplomat to ever defect to South Korea. Sokeel Park, the director of research at Liberty in North Korea, a California-based group that helps North Korean refugees, said that members of Thae's family still in North Korea could face punishment.
"At the very least there's going to be suspicion and more surveillance on those family members. This could include any brothers and sisters of the diplomat who defected, extending to cousins and extended relatives," he reportedly said. He added that Thae was the son of a high-profile general.
© Copyright IBTimes 2022. All rights reserved.
FOLLOW MORE IBT NEWS ON THE BELOW CHANNELS