North Korea Denies Nuclear Testing, But Vows To Meet Sanctions With 'Counter-Measures'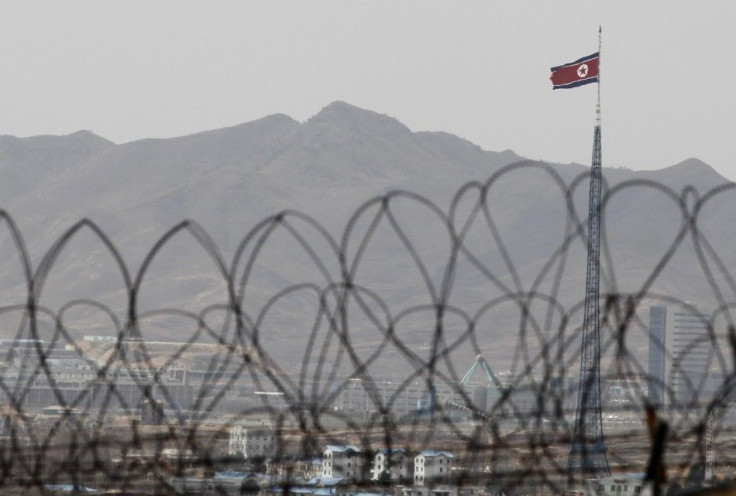 A statement from North Korea on Tuesday declared that Pyongyang would expand and bolster its nuclear deterrent program in response to Western hostilities, but denied that it had been engaging in nuclear tests.
If the U.S. persists in its moves to ratchet up sanctions and pressure upon us despite our peace-loving efforts, we will be left with no option but to take counter-measures for self-defense, said the statement from North Korea's foreign ministry. It did not specify whether nuclear tests were being planned.
The statement follows a warning from G-8 nations following their meeting in Washington, D.C., on Saturday, which indicated that the leaders of the world's eight-largest economies would push for tougher sanctions if North Korea pursued a nuclear weapons program.
Meanwhile, satellite images indicated activity at North Korea's nuclear test site.
Images taken by DigitalGlobe and GeoEye in the past month show mining carts and excavation equipment present at the active tunneling site, yielding the largest amount of spoil -- or debris recovered from inside the tunnel -- around the tunnel entrance to date, said James Hardy of Jane's Defence Weekly to South Korea's Yonhap News Agency.
Though North Korea is not believed to have a functioning nuclear warhead, the BBC reports that they may have enough weapons-grade plutonium for several bombs. They also have sophisticated uranium-enrichment facilities, which are currently used to generate power.
Pyongyang has announced that it had conducted two successful underground weapons tests in 2006 and 2009, and Saturday's G-8 statement seemed to caution against a third.
Tensions over North Korea's nuclear capabilities heightened last month, when Pyongyang pursued a controversial rocket launch that Western powers feared was actually a long-range missile technology test. Such a test would have been in violation of U.N. nonproliferation agreements. The launch failed shortly after take-off when the rocket fell apart in mid-air.
Pyongyang claims that the rocket was just a satellite booster and had nothing to do with weapons testing. Tuesday's statement reaffirmed that claim, saying that the launch was for peaceful purposes, and we never anticipated military measures like a nuclear test.
Experts and U.S. officials have responded to Pyongyang's latest statement with equanimity.
I don't think it adds or retracts anything in the North Korean attitude for the moment, said Glyn Davies, a U.S. special envoy to North Korea, to Agence France-Presse.
He added that the United States may soon resume providing nutritional aid to North Korea, where food shortages are common and many citizens suffer from chronic malnutrition. The country has relied on foreign aid since a famine struck during the 1990s.
In January, the United States was in talks to resume its food aid to North Korea for the first time since 2009, but those plans were suspended in March in advance of the rocket launch.
If we should once again reach a stage where we have faith in North Korea to abide by its undertakings and its promises, we would like very much to get back to the provision of nutritional assistance, Davies said.
© Copyright IBTimes 2023. All rights reserved.