North Korea Launches Ballistic Missiles Ahead Of Scheduled US-South Korea Defense Talks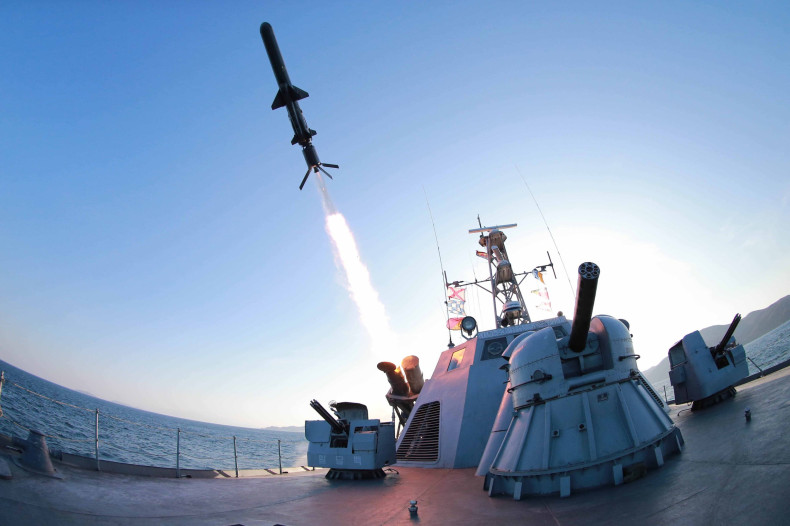 North Korea fired four short-range missiles about 84 miles into the ocean off its west coast Friday, South Korean officials said. The test-fire came just one week before U.S. Defense Secretary Ashton Carter was scheduled to travel to South Korea for a three-day summit to assess the nation's defense capabilities and strategies.
"The projectiles are believed to be for a provocative show of force to pressure the South," South Korea's Joint Chiefs of Staff office said in a statement, according to Reuters. The South Korean and U.S militaries were in the midst of joint exercises that were slated to run through April 24.
North Korea routinely holds missile tests to protest meetings between South Korean and U.S. officials. Pyongyang views the military drills as preparation for a potential invasion of the North, the BBC noted. North Korea has test-fired at least nine short-range ballistic missiles since the training exercises began last month. The new missile test purportedly occurred at North Korean leader Kim Jong-un's direction.
Next week's security summit in Seoul will address "major pending security issues … including coordination against threats and possible provocations by North Korea," South Korean Defense Ministry spokesman Nah Seung-yong said, according to the nation's Yonhap news agency. The talks are the latest incarnation of the Korea-U.S. Integrated Defense Dialogue, which began in 2011 as a means of discussing points of common interest.
U.S. officials agreed last October to delay a scheduled transfer of wartime military command of South Korean military forces back to the nation's leaders, the Wall Street Journal reported. The South Korean government requested the U.S. remain in control of its defenses until its military was better equipped to resist potential threats from North Korea, particularly in terms of its arsenal of nuclear and ballistic missiles.
"We must deal with this issue in a realistic and coolheaded manner, considering national security," a spokesman for South Korean President Park Geun-hye said at the time.
© Copyright IBTimes 2022. All rights reserved.