North Korea Newspaper Says US Will Face 'Unimaginable Tragic Consequences' For Bloody Nose Attack
North Korea's state newspaper on Sunday warned the U.S. against a military strategy known as a "bloody nose" strike.
"The U.S. should stop acting rashly, mindful that it will face unimaginable tragic consequences if it provokes [North Korea] through so-called 'bloody nose operation,'" the editorial in Rodong Sinmun read.
It was reported late last year that the members of the Trump administration were considering the use of a preemptive military "bloody nose" strike against North Korea. The strike would hit a limited target, such as a missile test site just before a launch, to discourage North Korea from continuing their nuclear weapons program. The strike would be small enough to not elicit a response.
Critics of a preemptive military operation against North Korea said that in the haze of a strike, it may be impossible for North Korea to distinguish a limited strike from an all-out attack. If North Korea is attacked it could also lash out against South Korea where millions of people live near the border between the two countries.
Disagreement over the policy appears to have derailed the nomination of Victor Cha, an academic who served former President George W. Bush, to become ambassador to South Korea. The Trump administration appears to be torn on the subject, as well. National security adviser H. R. McMaster appears to support the risky strategy, while Secretary of State Rex Tillerson and Defense Secretary Jim Mattis support more diplomatic approaches.
The development of the bloody nose strategy for North Korea came after a year of repeated ballistic missile tests and a nuclear weapon test.
The editorial said that it appears the U.S. is "unhappy about the detente on Korean peninsula," and it wished to destabilize the improving relations between North and South Korea. North Korea agreed in January to participate in the Winter Olympics, which is currently underway in Pyeongchang, South Korea. The move is seen as a diplomatic thaw between the two nations that are technically still at war.
The Rodong Sinmun editorial also referenced a disputed story that originated in a South Korean newspaper that said a Trump official implied a bloody nose strike would help Republicans in the upcoming midterm elections.
The paper, Hankyoren, alleged that Matthew Pottinger, National Security Council senior director for Asian affairs said something "to the effect" of how the strike could be helpful. The White House denied the report.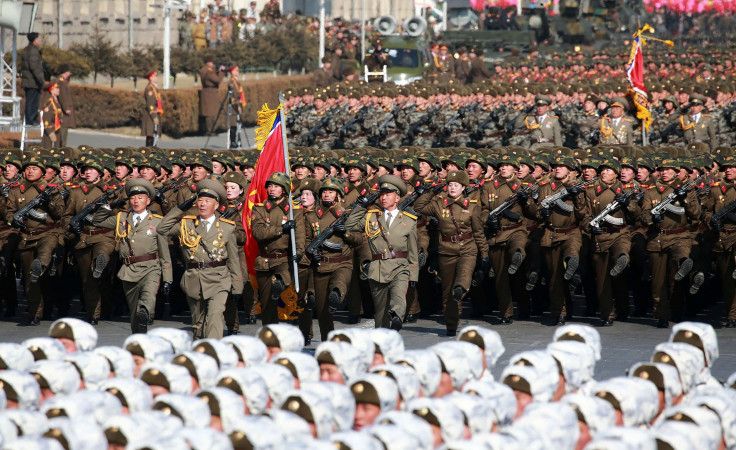 © Copyright IBTimes 2022. All rights reserved.
FOLLOW MORE IBT NEWS ON THE BELOW CHANNELS