North Korea Nuke: US Won't Pull Troops Until 'Credible' Denuclearization Talks With Pyongyang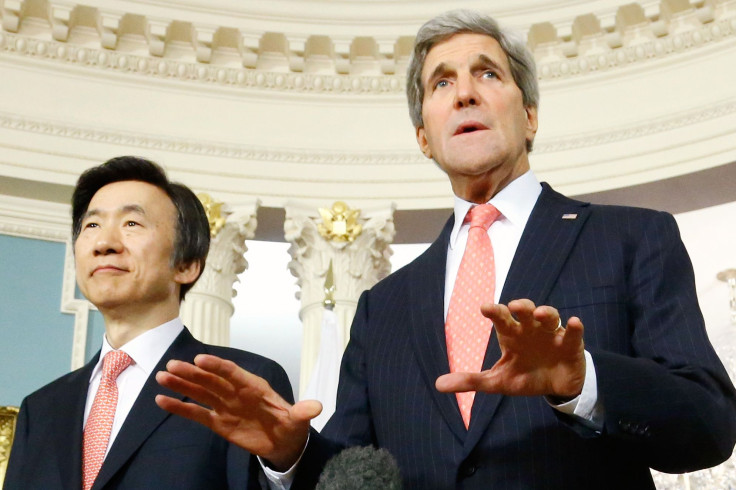 North Korea may have a working nuclear missile that could reach American soil, according to the top commander of U.S. forces on the Korean Peninsula. They'll have to shelf it if they want U.S. troops out of the peninsula, though, Secretary of State John Kerry said Friday.
Kerry emphasized "there is no value in talks just for the sake of talks," and that "North Korea must demonstrate that it is serious about denuclearization. We need to be certain that is prepared to live up to its international obligations and abide by international norms of behavior."
The secretary went on to say "it would be way too premature" to discuss a reduction in troops, even if the allies did enter talks with the North to end its nuclear program. Kerry made the comments while meeting with his South Korean counterpart Yun Byung-se in Washington.
In a separate press conference, Gen. Curtis Scaparrotti, commander of the United Nations Command, ROK-U.S. Combined Forces Command and U.S. Forces Korea, said North Korea "probably" has the capabilities to miniaturize its nuclear warheads small enough to fit onto a long-range missile, but couldn't say if it actually had done so.
He said North Korea has not tested the missile, which the U.S. calls the KN-08, needed to deliver the warhead yet, so "the probably of it being effective is pretty darn low."
Experts believe China may have sold the transporter for the KN-08 missiles to North Korea, although the Chinese government denied doing so in 2012, shortly after a mockup of the missile and its transporter appeared in a military parade.
Kerry said he hoped to get denuclearization talks going again "in the next weeks, [or] months" but did not speculate further. He made the remarks after being asked about the seemingly sudden release of U.S. citizen Jeffrey Fowle, who was held in the authoritarian state for five months after leaving a Bible in a restaurant bathroom.
© Copyright IBTimes 2022. All rights reserved.
FOLLOW MORE IBT NEWS ON THE BELOW CHANNELS