North Korea Says The South's Leaflet Campaign Against Pyongyang Is A 'Declaration Of War'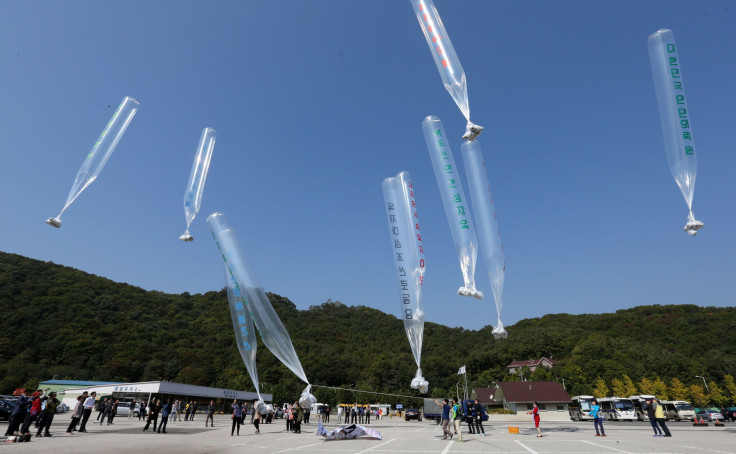 North Korea on Friday called a leaflet campaign, conducted by South Korean activists, as being the equivalent of a "declaration of war." The South Korean activists were planning to send thousands of anti-Pyongyang propaganda leaflets across the border this weekend, after a similar exercise earlier this month.
North Korea's Secretariat of the Committee for the Peaceful Reunification of Korea made the comments in a white paper, Yonhap, South Korea's state-run news agency, reported. Pyongyang reportedly added that the move represents a breach of international law. The last leaflet campaign earlier this month, when activists floated balloons filled with anti-Pyongyang propaganda material, had led to an exchange of fire at the border between the militaries of both countries.
"As proven by the recent situation, leaflet scattering is a very dangerous act which may not only drive the north-south relations into catastrophe but spark off even a war," KCNA, North Korea's state-run news agency, said in a report, adding: "If another leaflet scattering operation is conducted despite the repeated warnings of the DPRK and opposition and rejection of the public at home and abroad, the inter-Korean relations will be pushed to an uncontrollable catastrophe and the situation will reach an alarming phase."
On Oct. 10, North Korean border forces had shot down balloons containing 200,000 leaflets and had warned the South of an "uncontrollable catastrophe" if the leaflet campaign continued. The North also scrapped all talks and meetings with Seoul after the incident.
"The South Korean authorities are, in fact, encouraging such racket," KCNA said, adding: "Whether to halt it or connive at it is a touchstone showing the stand and attitude of the South Korean authorities: Dialogue or confrontation, improvement of inter-Korean relations or their catastrophe."
South Korean police reportedly said Friday that they would put an end to the leaflet campaign.
© Copyright IBTimes 2023. All rights reserved.