North Korea Reports First Coronavirus Case, A Returning Defector From South Korea
KEY POINTS
North Korea has admitted to its first case of COVID-19, blaming it on a returning defector from South Korea
According to North Korea, the defector re-crossed the border on July 19, bringing COVID-19 with him
Reports say North Korea has been covering up the number of cases and deaths in the country

North Korea has officially admitted to its first confirmed case of COVID-19 despite media reports of cases and deaths due to the disease as far back as February.
The Korean Central News Agency, the state news agency, said Sunday the man who brought COVID-19 into the country is a North Korean who defected to South Korea three years ago. The defector allegedly re-entered North Korea on July 19 by evading detection at the heavily patrolled and monitored Demilitarized Zone.
"An emergency event happened in Kaesong city where a runaway who went to the south three years ago -- a person who is suspected to have been infected with the vicious virus -- returned on 19 July after illegally crossing the demarcation line," KCNA reported.
South Korean media reported the country's armed forces is launching an investigation into the incident, saying there is a "high" chance an individual had illegally crossed into the North.
Blaming an alleged re-defector allows North Korean Supreme Leader Kim Jong-un to blame South Korea for the country's first officially acknowledged case of COVID-19. In February, there were media reports of at least four alleged deaths and 18 cases of COVID-19 inside North Korea, but state media has denied these claims.
At Saturday's politburo meeting, Kim ordered an investigation into how the defector managed to slip past tight security at the DMZ, threatening "a severe punishment" to North Korean officials found responsible for the breach, KCNA reported.
Kim was said to have ordered a "maximum emergency system" to contain the virus. Earlier this month, Kim praised his country's "shining success" in keeping out COVID-19.
Kim now has ordered a lockdown of the border city of Kaesong, 20 miles to the north of Seoul, the South Korean capital. Kaesong is also the site of the Inter-Korean Joint Relations Office. That building was obliterated by an explosion June 16 on Kim's orders only a few hours after the North renewed threats of military action at the DMZ.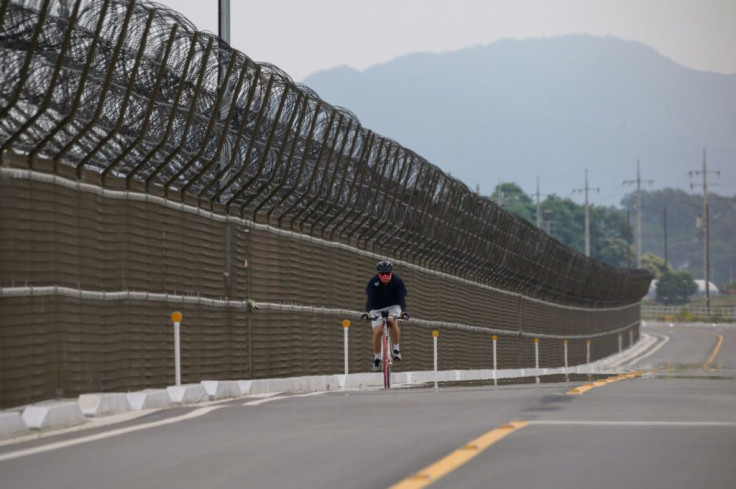 North Korea watchers said it's highly improbable a North Korean defector would want to re-defect back into North Korea. They also said it's next to impossible for a lone individual to evade the North Korean defenses at the DMZ without detection.
Most North Korean defectors cross first into China before making their way to South Korea to avoid the heavily guarded DMZ. North Korea shares a 1,500-kilometer border with China and more than 200 COVID-19 infections were confirmed in January in the two Chinese provinces bordering North Korea. The border was closed by North Korea on Jan. 22.
© Copyright IBTimes 2023. All rights reserved.
FOLLOW MORE IBT NEWS ON THE BELOW CHANNELS