North Korea Says Kim And Trump Still Have 'Special Relationship'
North Korea's state news agency KCNA said Thursday that leader Kim Jong Un calls his relationship with President Donald Trump "special". The statement comes after the Democratic People's Republic of Korea (DPRK) broke off talks over denuclearization that have been stalled for months.
Despite the appearance of a good relationship, the KCNA statement accused U.S. policymakers of being hostile toward the reclusive nation.
"Washington political circles and DPRK policymakers of the US administration are hostile to the DPRK for no reason, preoccupied with the cold war mentality and ideological prejudice," Foreign Ministry adviser Kim Kye Gwan.
He added, "I sincerely hope that a motive force to overcome all the obstacles between the DPRK and the US and to advance the bilateral relations in the better direction will be provided on the basis of the close relationship." He went on saying that North Korea will see "how wisely the US will pass the end of the year".
It could be that Kim is trying to drive a larger wedge between Trump and the Washington political circles and DPRK policymakers referred to it in the statement. Trump is a populist conservative-leaning president with a seemingly solid base of voters. However, he is facing an impeachment inquiry now.
In North Korea, there are dire consequences for anyone who even speaks badly about Kim Jong un. While publicly idolized, private feelings about Kim are likely just the opposite but cannot be expressed by the citizenry.
Trump's supporting staff has become a revolving door of sorts with a constantly changing cast of cabinet members and advisers. He will also face the rigors of the 2020 U.S. presidential election as it draws near and will occupy the bulk of his attention over his normal presidential duties.
The phrase "It's lonely at the top" certainly applies here and that maybe the reason the two leaders seem to get along. But Kim does not face any election or impeachment pressures and perhaps he is playing to Trump's ego by appearing to support him. As for Trump, he is a master at strategies that at first may be appalling but they are effective.
Trump has told reporters that, "Something is going to be happening with North Korea too. There's some very interesting information on North Korea. A lot of things are going on." He added but did not elaborate when he said, "I like Kim. He likes me. We get along. I respect him. He respects me."
When the stakes are about nuclear weapons, it will be very interesting to see if this "special" relationship will endure.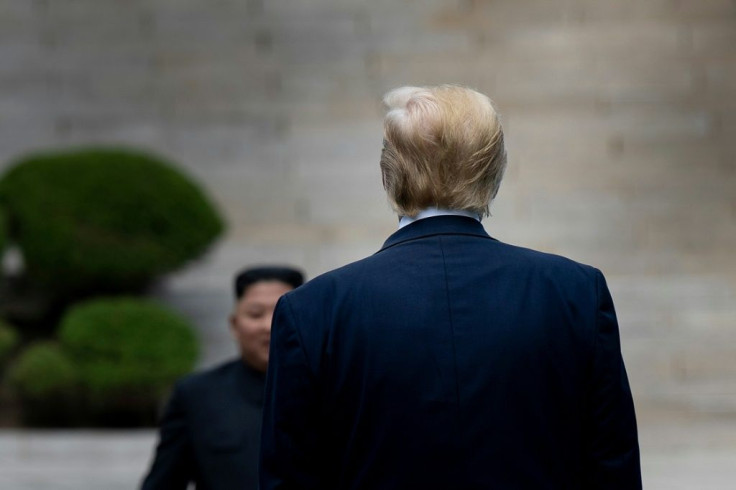 © Copyright IBTimes 2023. All rights reserved.