North Korea Says 'Provocative' Activity By US Troops Could Lead To 'Catastrophic' Military Clash At Panmunjom Truce Village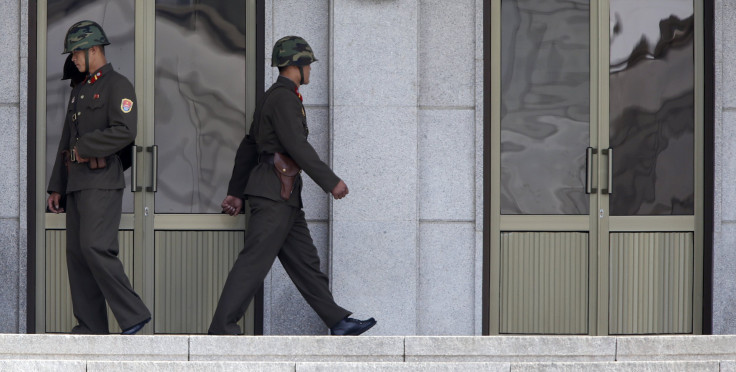 Recent "provocative" activities by U.S. troops at a village located on the border of the two Koreas could trigger a "catastrophic" military clash, head of North Korea's military forces in Panmunjom, warned Tuesday.
The official said that recent actions by American troops threatened to disrupt the stability of the sensitive area, the South China Morning Post, or SCMP, reported citing the official KCNA news agency. The Korean Armistice Agreement to end the 1950-1953 Korean War was signed in Panmunjom and the village is mostly guarded by South Korean and U.S. troops on the southern side, under the backing of the United Nations Command, or UNC.
"The slightest accidental mistake or undesirable behavior could lead to a catastrophic military clash," the military official reportedly said, adding that the construction of a steel watchtower, which included sophisticated surveillance equipments, was reportedly being used for "acts of spying" on the North, and that military activity had increased since April, after U.S. President Barack Obama visited South Korea.
A UNC spokesman dismissed North Korea's concerns and stated that the watchtower was built for "ordinary monitoring purposes," SCMP reported.
The North Korean official also attributed other "sinister" activities to U.S. troops, and claimed that messages were being sent across the border by loudspeaker and letters with "dishonest contents" were being left at huts near the border.
For several months, military tension between the two Koreas has elevated, with the latest belligerent act by the North taking place last week, when it fired shells into disputed waters near a South Korea warship. North Korea has repeatedly condemned the presence of U.S. troops in the South, though Panmunjom, which is reportedly one of the few avenues of cross-border communications between the warring nations, is not usually the location of U.S.-South Korea military drills.
© Copyright IBTimes 2023. All rights reserved.