North Korea Says US Is Driving Region To 'Brink Of War' As Kim Jong Un Pushes Nuclear Program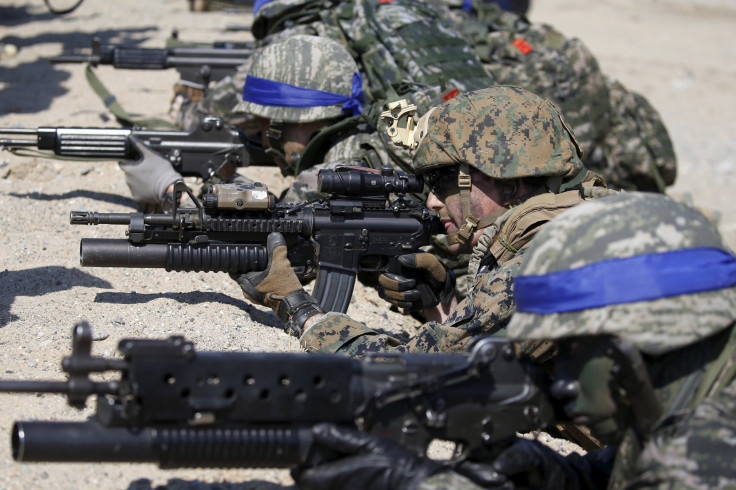 The United States has dragged the Korean Peninsula to "the brink of war," according to a North Korean official, who characterized recent joint American and South Korean military drills as being inherently aggressive. The accusation Wednesday by the hermit nation comes as world leaders have raised alarm over North Korea's nuclear weapons program.
The U.S. and South Korea have long held annual joint military exercises; but this year's exercises were the largest ever, with at least 17,000 U.S. and some 300,000 South Korean participating troops. Although the United Nations Command has called the exercises "nonprovacative," North Korean officials accuse the U.S. of preparing for an invasion of the autocratic nation.
Concerns have escalated since Pyongyang conducted a nuclear test in January and then a purported satellite launch in February. Jon Min Dok, director of the Institute for Disarmament and Peace at North Korean Ministry of Foreign Affairs, told the Associated Press that it was "ridiculous" to accuse North Korea of posing a global threat.
North Korea Overview | FindTheData
He instead argued that a nuclear program was "the only way to effectively deter the persistent nuclear threat and war provocation from the US … as long as the U.S. persists in its moves to stifle our socialist system," NBC News reported.
The U.S. imposed tough new sanctions against Pyongyang following its nuclear and missile tests. The U.N. Security Council has also agreed to slap new sanctions on the country.
North Korean Foreign Minister Ri Su-yong said earlier this week that Pyongyang could not "sit idle in the face of the U.S. threat," referring to the latest drills. He touted his country's military might and said it was ready for war.
North Korea has among the world's most corrupt and authoritarian governments. Freedom of expression is virtually nonexistent in the kingdom, and expressed disagreement with the government carries potential of harsh penalty.
© Copyright IBTimes 2023. All rights reserved.