South Korea Plans To Make Guided Munitions, North Korea May Be Vying For New Medium-Range Solid-Fuel Missile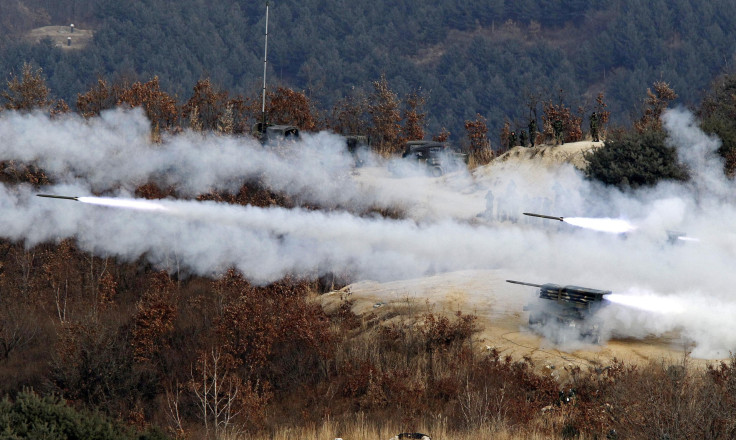 South Korea plans to develop ground-to-ground guided munitions to tackle threats from North Korea due to its latest multiple launch rocket system (MLRS), Seoul's defense ministry said Wednesday, South Korea's Yonhap News Agency reported. Meanwhile, a U.S. expert estimated Tuesday that Pyongyang may be trying to make a two-stage missile, similar to its Rodong medium-range ballistic missile.
The ground-to-ground counter-artillery guided munitions that Seoul plans to develop will reportedly have a range of about 74 miles and will target to destroy North Korea's multiple rocket launchers. The munitions will also target other long-range artillery weapons in Pyongyang, Yonhap reported, citing South Korea's 2017-2021 defense plan. The South Korean military has already conducted several test-fires for the new weapon and plans to finish the development by 2018. The report added that the weapon is estimated to be deployed by 2019.
South Korea also announced that during the five-year period, it will introduce anti-ballistic early warning radar to detect North Korea's submarine-launched ballistic missiles. In addition, Seoul plans to create carbon fiber bombs that will black out the Kim Jong Un regime's electricity supplies.
According to the Yonhap report, North Korea's MLRS is one of the biggest security threats for Seoul as the launchers have a range of over 120 miles, which would bring in half of South Korea within the range of the 300 mm caliber multiple rocket launchers. The Yonhap report added that in March, Pyongyang fired the launchers at least three times, escalating tensions in the region.
Meanwhile, John Schilling, a U.S. aerospace engineer with expertise on North Korean rockets, said in an article for the website 38 North, that Pyongyang's recent test of solid-fuel rocket engine may pose a bigger threat as a missile made of solid fuel will be harder to detect before a launch. The ground test for the solid-fuel rocket engine was conducted last week by Pyongyang. The North Korean leader reportedly said at the time that the test "helped boost the power of ballistic rockets capable of mercilessly striking hostile forces."
The reclusive country also released photos from the test and Schilling said that they indicate the test was successful. "Based on the evidence of these pictures, North Korea appears to have conducted a successful test of a large solid-fuel motor of 15-20 tons thrust and about one minute of burn duration," Schilling said in the article, adding that it is about three times more powerful than the biggest solid motor demonstrated by North Korea.
Another Yonhap report said that the new engine is believed to be 1.25 meters in diameter and 3 meters long. It also appears to be heavy to be used for any North Korean missile system, including the country's Unha space launch vehicle and the KN-08 intercontinental ballistic missile. Schilling also said in the article: "Since there are clear disadvantages to using this motor in any existing North Korean missile systems, could a new missile be under development? One possibility is a two-stage solid fuel replacement for the Nodong (Rodong)."
Schilling added that Iran and Pakistan, both of whom have been major customers of Rodong, have also developed two-stage solid-fuel missiles of similar size and performance but equipped with more robustness and flexibility.
Over the past few months, North Korea has been trying to ramp up its defense and nuclear capabilities and has even faced sanctions over its nuclear test in January and rocket launch in February. However, Kim has asked scientists and engineers in the country to make more nuclear weapons to boost Pyongyang's defense and has also threatened to attack the U.S. and South Korea over their joint annual military drills.
© Copyright IBTimes 2022. All rights reserved.
FOLLOW MORE IBT NEWS ON THE BELOW CHANNELS