North Korea Says US-Seoul Military Drill 'Grave Violation' Of Peace Process
North Korea on Thursday criticized South Korea for conducting military drills such as the "anti-infiltration drill" and the "Hoguk military exercise" by calling them "anti-national crime." It also criticized Seoul's decision to introduce foreign air tankers and buy ground-to-air interceptor missiles.
State-run newspaper Minju Joson said in a commentary Wednesday that these drills gravely violate the Panmunjom declaration and the September Pyongyang Joint Declaration signed by leaders of both nations.
It stated that though the South Korean military claimed the drills had "nothing to do with inter-Korean agreements" and were of "defensive nature," the claims are to prevent its "sinister intention for confrontation."
Contending that dialogue and military confrontation, peace and war drills can never go hand in hand, the commentary adds that peace cannot prevail in the Korean peninsula if South holds drills against the wishes of North.
The comments come at a time when the United States and South Korea scaled back on yet another military drill. On Wednesday, U.S. Defense Secretary Jim Mattis said Foal Eagle, a drill between the two nations, will be reduced in scope the following year in order to keep up the diplomatic relations with North.
"Foal Eagle is being reorganized a bit to keep it at a level that will not be harmful to diplomacy," Mattis said, Reuters reported.
Though the details of the scaled-back version were not revealed, Seoul's defense ministry said the two nations were still discussing next year's drill and would formally announce their decision early December.
"Both sides' militaries are discussing ways to prop up the two governments' diplomatic efforts to bring progress on North Korea's denuclearization," defense ministry's spokesperson Choi Hyun-soo said.
During the June summit between U.S. President Donald Trump and North Korean leader Kim Jong Un, the latter agreed to work toward denuclearization and peace on the Korean peninsula and establish new relations. Since then, the U.S. and South Korea have suspended several military drills including the Ulchi Freedom Guardian.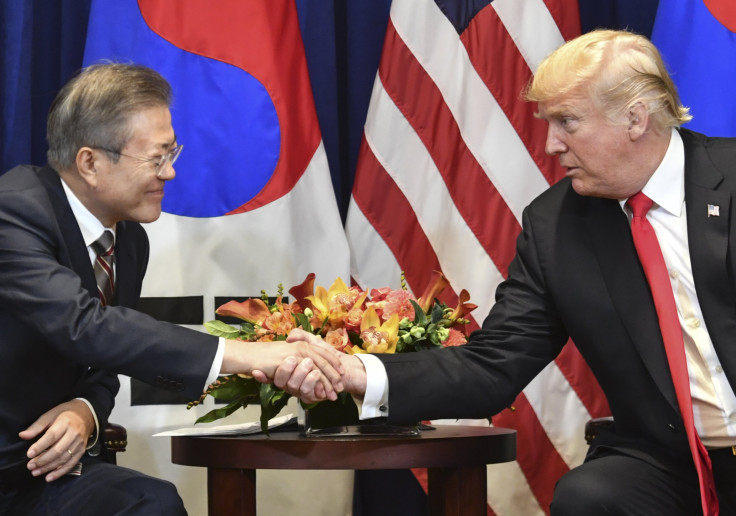 U.S. Secretary of State Mike Pompeo on Tuesday reaffirmed that progress in denuclearization talks and inter-Korean relations should go hand in hand and that Washington has informed Seoul to not improve ties with North Korea faster than Pyongyang takes steps to denuclearize.
North Korea has time and again asked the U.S. to ease sanctions in return for what it sees as substantive denuclearization steps, but to no avail.
Post Pompeo's statement, North Korean media also criticized "hostile forces" for imposing "most heinous" sanctions on the North. It also emphasized that these forces could not stop its economic development.
Meanwhile, South Korea's top envoy to the U.S. said in an interview with Yonhap that there is no "Plan B" if diplomatic efforts fail to denuclearize North.
"I don't think there is a Plan B yet. I think both North Korea and the U.S. are set on continuing the dialogue momentum, no matter what it takes," Ambassador Cho Yoon-je said, adding, "North Korea also wants to maintain the dialogue momentum and is aware of the price it will have to pay if it doesn't. So I think there will be progress little by little."
© Copyright IBTimes 2023. All rights reserved.