North Korea Test-Fired Another Submarine-Launched Ballistic Missile In December: Report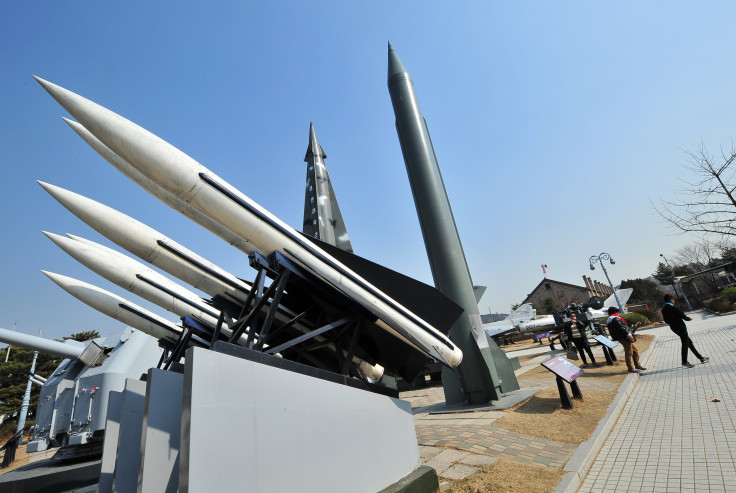 North Korean military conducted an ejection test for a ballistic missile from a submarine last month but the test was unsuccessful, a South Korean military official reportedly said Wednesday. The news comes even as Pyongyang announced that it successfully conducted its first hydrogen bomb test, soon after a man-made earthquake was reported in Pekam county in Yangkang province.
"We have determined that North Korea conducted an SLBM (submarine-launched ballistic missile) ejection test last month," the official told Seoul-based Yonhap News Agency. The official, however, added that the reclusive country would take "considerable time" to master the process of developing ballistic missiles. North Korea is banned from conducting ballistic missile activity under the United Nations resolutions.
The Dec. 21 test, which reportedly damaged the country's first missile submarine, follows the one in November when a KN-11 missile failed to leave the water. Washington Free Beacon, a U.S.-based website, which cited U.S. defense officials, however, said Tuesday that Pyongyang had in fact succeeded in carrying out the KN-11 missile test in December near the eastern port of Sinpo in the South Hamgyong province, Yonhap reported. The Washington Free Beacon also said that Pyongyang may be just a year away from deploying a submarine loaded with a nuclear-tipped missile, though the South Korean official downplayed the threat.
Pyongyang did not comment on the SLBM test and the Pentagon also refused to confirm it.
North Korea-monitoring website 38 North also said, according to Yonhap, that the SLBM test could be authentic as the images were similar to the ones taken after North Korea's SLBM test in May, citing satellite imagery from Sinpo South Shipyard. It added that Pyongyang is actively pursuing its SLBM program despite November's failed test.
"North Korea's development of an SLBM and associated ballistic missile submarine has the potential to present a significant threat in the future. However, the development of an operational system will be an expensive, time-consuming endeavor with no guarantee of success," the monitoring group reportedly said.
The test in May was claimed to have been successful by North Korea but experts said that it was not on a full scale, and was only an "ejection" test conducted at a very early stage of developing the SLBM.
In November, the Heritage Foundation, an American conservative think tank, said in a report that North Korea has developed ballistic missiles that could hit the U.S. and its allies across the Pacific.
In June, North Korea reportedly developed a launch pad near the Chinese border that could fire long-range missiles bigger than the ones used earlier by Pyongyang. In April, U.S. officials alleged that North Korea could mount a nuclear warhead on an intercontinental ballistic missile known as the KN-08.
"North Korea has an extensive ballistic missile force that could strike South Korea, Japan, and U.S. military bases in Asia," the Heritage Foundation said in the report titled 2016 Index of U.S. Military Strength, adding: "Pyongyang has deployed at least 400 Scud short-range tactical ballistic missiles, 300 No-Dong medium-range missiles, and 100 to 200 Musudan intermediate-range ballistic missiles."
© Copyright IBTimes 2023. All rights reserved.