North Korea Test-Fires Ballistic Missiles In Apparent 'Ambition To Attack Neighbors,' Japan Calls It 'Serious Threat' To Its Security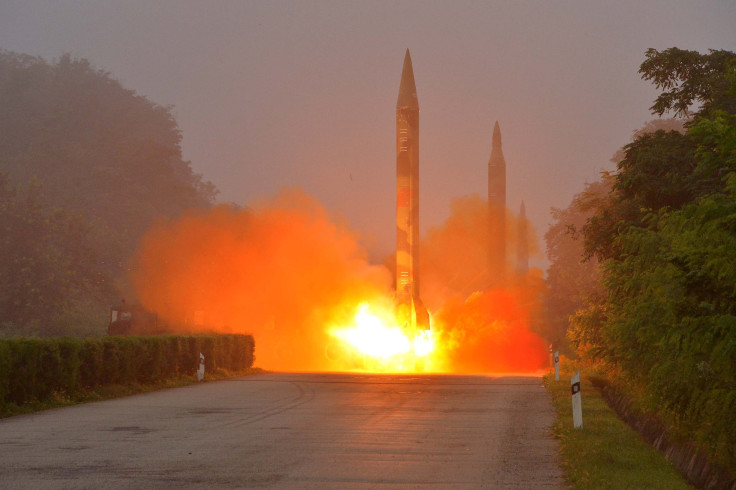 Tensions in the Korean peninsula continue to accelerate as North Korea test-fired more ballistic missiles Wednesday in an apparent response to an advanced U.S. missile defense system, scheduled to be deployed in South Korea by end of 2017. The latest launches came only two weeks after the isolated country fired three ballistic missiles into the sea off its east coast, which, according to Seoul, was a show of force.
According to the U.S. military, North Korea fired two ballistic missiles Wednesday, one of which exploded right after the launch, while the other landed into the sea off its east coast, Yonhap reported. South Korean military officials reportedly said that the missile, which was launched into the East Sea, was fired from the North's western province before it landed in Japan's exclusive economic zone waters.
While an official at South Korea's joint chiefs of staff said that Wednesday's missile launches show North Korea's "ambition to attack neighboring countries," Japanese Defense Minister Gen Nakatani criticized Pyongyang's latest move as a "serious threat" to Japan's security.
The missile, which landed in or near Japanese waters, appeared to be a medium-range Rodong ballistic missile — a home-grown missile based on Soviet-era Scud technology — that flew about 1,000 kilometers (620 miles).
Meanwhile, the U.S. State Department has strongly condemned the latest missiles launches by the reclusive nation as a violation of U.N. Security Council resolutions that prohibits the North from using ballistic missile technology.
"Our commitment to the defense of our allies, including the Republic of Korea and Japan, in the face of these threats, remains ironclad," Anna Richey-Allen, a U.S. State Department spokeswoman, told Yonhap. "We remain prepared to work with our allies and partners around the world to respond to further DPRK provocations, as well as to defend ourselves and our allies from any attack or provocation."
The spokeswoman also said the U.S. would raise the issue at the U.N. to hold North Korea accountable for its provocative actions and to push for proper implementation of existing U.N. sanctions against the country. The latest round of U.N. sanctions was implemented against the North in March after the country's fourth nuclear test in January, followed by a long-range rocket in February.
"We call on North Korea to refrain from actions and rhetoric that further raise tensions in the region and to focus instead on taking concrete steps toward fulfilling its commitments and international obligations and commitments," Richey-Allen said.
On July 19, North Korea test-fired two Scud missiles and one Rodong missile, days after Pyongyang said it would answer the deployment of the THAAD missile defense system in South Korea's southern county of Seongju with a "physical response." The Kim Jong Un-led government later said that the missile launches were part of a target practice for potential preventive strikes against South Korean ports and airfields.
© Copyright IBTimes 2023. All rights reserved.