North Korea Threat: Kim Jong Un Leads Charge For Increased Weaponry Production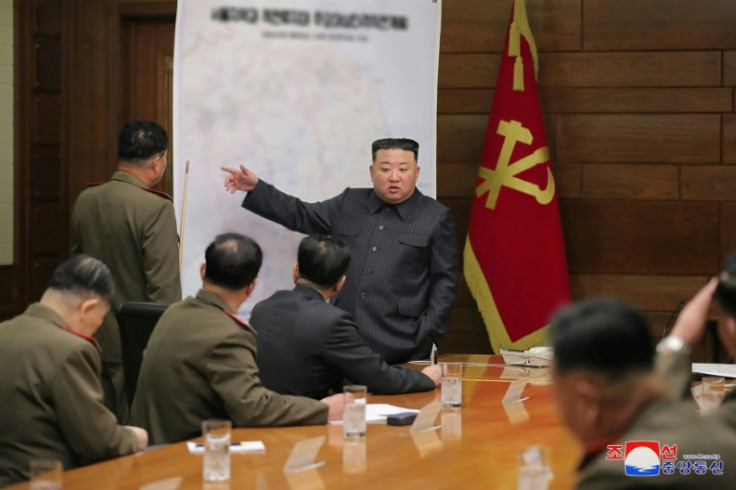 KEY POINTS
Kim Jong Un's factory visits emphasize heightened weapon production
Inspections coincide with South Korea and the U.S. gearing up for a joint military exercises this month
Earlier, a prominent military parade displayed North Korea's latest arsenal
Kim Jong Un reportedly undertook visits to various significant arms manufacturing plants in North Korea from Thursday to Saturday, the state media reported.
These facilities, which employ people responsible for crafting engines used in strategic cruise missiles, have been a focal point of his attention as he advocated for heightened production of weaponry, the Korean Central News Agency (KCNA) reported.
The factory inspections occurred shortly after the reclusive leader's participation in a military parade, where he was joined by officials from Russia and China--all in a span of three days. During the parade, North Korea exhibited its latest armaments, encompassing intercontinental ballistic missiles and reconnaissance drones.
Kim's trip included a factory specializing in the creation of engines for armed unmanned aerial vehicles, apart from production lines responsible for crafting shells for super large-caliber multiple rocket launchers and transporter erector launchers, the KCNA reported.
While touring the engine manufacturing plant, Kim urged for a continuous enhancement in the device's performance and dependability. He also emphasized the need to swiftly amplify its production capacity.
During his visits, Kim called for the mass production of "various kinds of cutting-edge strategic weapon engines... and thus make a great contribution to bringing about a revolution in developing new strategic weapons of our style," according to the KCNA, stressing that the modernization of small arms as "the most important and urgent matter in making war preparations ... in keeping with the changed aspect of war."
These inspections coincide with South Korea and the U.S. gearing up for significant joint military exercises scheduled for this month. North Korea perceives these drills as simulations for a potential invasion, and has reiterated its warnings of a forceful and decisive response.
Last month, Pyongyang conducted a significant military parade commemorating the 70th anniversary of the Korean War armistice. Analysts characterized this event as "the most extensive and conspicuous North Korean exhibition of nuclear-capable systems."
North Korea had also hosted a substantial defense exposition in late July. During this expo, Kim personally guided the visiting Russian defense minister through an expansive presentation of the nation's latest and most sophisticated weaponry. This encompassed ballistic missiles and reconnaissance drones, showcasing their advancements.
Meanwhile, this development follows closely on the heels of the U.S. accusing Russia of seeking arms from the reclusive state. These allegations surfaced shortly after Moscow's defense minister, Sergei Shoigu, paid a visit to North Korea.
During his visit, Shoigu was provided with a guided tour of an arms exhibition, during which Kim expressed his backing for Russia's intervention in Ukraine.
North Korea has aligned itself with Russia in the context of the ongoing war, asserting that the "dominant policy" pursued by the U.S.-led Western forces necessitated Moscow's proactive measures to ensure its own security.
However, Pyongyang has refuted the U.S. claim that North Korea was involved in providing weapons to Russia.
© Copyright IBTimes 2023. All rights reserved.