North Korea Threatens To 'Annihilate' South Korean Group Behind Anti-Kim Jong Un Leaflets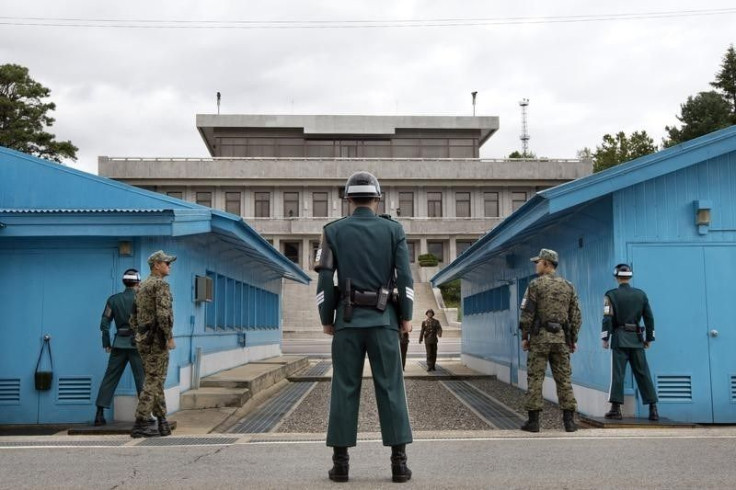 North Korea is threatening to "annihilate" militarily the group behind anti-propaganda leaflets being sent north by South Korean activists across the demilitarized zone (DMZ) in balloons. According to South Korean newspaper Chosun Ilbo, the threat was sent to Cheong Wa Dae, the executive office and residence of South Korea's president after a confrontation last Friday when activists sent balloons carrying leaflets denouncing Kim Jong Un, North Korea's supreme leader, and his regime.
North Korea also vowed "crushing physical blows of higher intensity" if balloons continued to be sent to the North. An unnamed senior South Korean government official said North Korea's National Defense Commission issued the warning on Sunday evening to the presidential National Security Council. South Korea said it initially did not plan to publicize the threats for fear of straining inter-Korea talks.
Amid speculation over possible discord in Pyongyang due to Kim's prolonged absence from public view, North Korea and South Korea exchanged machine-gun fire across the DMZ last week.
According to South Korean news agency Yonhap, the incident follows Pyongyang's previous warnings of a "catastrophe" if activists in South Korea, with which it remains formally at war, proceeded with plans to launch the balloons, adding that such provocation would be "little short of a declaration of a war."
"If South Korean authorities allow or connive at the projected leaflet-scattering operation, the North-South relations will again be pushed to an uncontrollable catastrophe and the provokers will be wholly accountable for it," North Korea's Secretariat of the Committee for Peaceful Reunification of Korea said in a statement.
Military officials say that North Korea fired first nearly two hours after the balloons were launched, and South Korea reacted after some of the shots landed across the DMZ. South Korea Defense Ministry spokesman Kim Min-seok said the bullets fell near a South Korean military base and a residential area. Kim said the South side fired back 40 rounds from machine guns, which prompted rifle fire from the North. There have been no additional reports of damage or injuries.
While artillery fire between the two countries' disputed western maritime borders occurs occasionally, confrontation at the DMZ is rare. A week ago the North and South exchanged fire in these waters after a North Korean ship moved into South Korean-controlled waters.
South Korean activists and their supporters have been using information-filled balloons as a low-cost and usually effective way to bring outside information across the strictly controlled borders of the North in the past. Most of the information on the leaflets is geared toward educating North Korean citizens about Pyongyang's propaganda.
The latest hostility leaves little hope for reunification, a process that the North nevertheless says will be completed by 2015, or peaceful negotiations after a delegation of senior-level North Korean officials paid counterparts in the South a last-minute visit.
© Copyright IBTimes 2023. All rights reserved.