North Korea-South Korea Unification: Report Says North Korea Military Declares 2015 'Unification Year'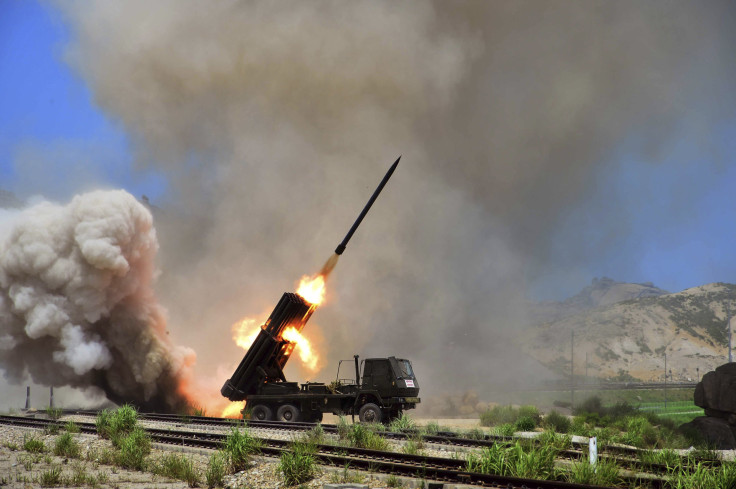 North Korean leader Kim Jong Un has been mysteriously out of the public eye for a month, spawning rumors of ill health or even a military coup, but this hasn't stopped the regime's bold rhetoric or aggressive actions. A day after two warships of the North and South Korean militaries exchanged fire Monday, the North has reportedly declared that unification will be achieved by 2015.
"After declaring 2015 the year of completing unification, North Korea has been prepared for full-scale wars," a report presented to the South Korean National Assembly by the defense ministry said, according to the South Korean news agency Yonhap. "For that goal, the North doubled the number [of service members] involved in its summer training compared to previous years. It has also boosted its attack capabilities in a consistent manner."
In the past, North Korea has consistently made threats of military action or war on the South, but a brief exchange of warning shots Monday on the western coast of the two nations, coupled with reports of increased artillery training for the North Korean army, could signal a renewed commitment by the North to achieving unification through force. According to South Korean officials, shots were fired after a North Korean ship moved into South Korean-controlled waters for about 10 minutes.
North Korea has reportedly added 300 units of multiple rocket launchers over the past two years, rounding out its arsenal to be around 5,100, the South's defense ministry reported. Many of the rockets have the capabilities to reach not only Seoul, South Korea's capital, but also the country's military headquarters in Gyeryong. New satellite images obtained by the U.S.-Korea Institute at Johns Hopkins University showed that the North's Sohae Satellite Launching Station facilities have been upgraded. Imagery expert Nick Hansen wrote on the Institute's blog, 38 North rocket motor tests were conducted in August and September.
In 2014 alone, Pyongyang has already launched rockets in 19 instances, with the latest test being conducted in September, firing off 111 projectiles, Yonhap reported.
South Korea's government said in the defense ministry report it was raising its guard level against possible attacks from the North: "South Korea has maintained a firm readiness against North Korea's limited provocations. … We are trying to boost security posture in capital areas to deter diverse and novel types of threats by the enemy."
© Copyright IBTimes 2022. All rights reserved.
FOLLOW MORE IBT NEWS ON THE BELOW CHANNELS