North Korea's Kim Jong Un Will Destroy Los Angeles With A Nuclear Bomb If US Continues Threats, Defector Warns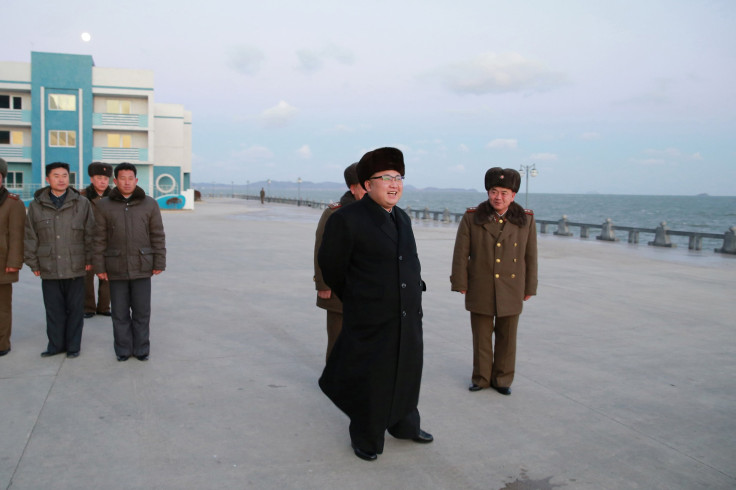 Man, Kim Jong Un just really didn't like "The Interview." More than two years after North Korea hacked Sony Pictures over the release of its comedy film portraying the assassination of Kim, the isolated dictator has built up a nuclear arsenal allowing him to destroy Los Angeles with the single push of a button, North Korea's most senior defector said in an interview this week.
The dictator could "press the button" and launch a missile at the Californian city, Thae Yong-ho, North Korea's former deputy ambassador in London, told the BBC's "Victoria Derbyshire Show." He said little could deter Kim from pressing "the button on these dangerous weapons when he thinks that his rule and his dynasty is threatened."
Asked if Kim would carry out an attack against the U.S. knowing that the Pentagon would strike back, Thae replied: "Yes." The U.S. has already called on North Korea to stop its nuclear weapons program.
"He knows that if he loses the power then it is his last day so he may do anything, even to attack Los Angeles, because once people know that in any way you will be killed, then you will do anything. That is the human being's normal reaction," he added.
Thae, who disappeared from North Korea eight months ago only to later turn up in Seoul, has previously warned that Kim will complete his nuclear weapon collection by the end of 2017, while Pyongyang has said it will conduct its next nuclear missile test "anytime and anywhere."
"Kim Jong Un knows quite well that a nuclear weapon is the only guarantee for his rule. If he lose the power then it is his last day. He may do anything," Thae said. But he also added that Kim's unpopularity in North Korea means the regime will "one day would collapse by people's uprising."
Los Angeles has fended off threats from Kim before. In 2014, North Korea is believed to have hacked Sony Pictures over its release of "The Interview," where the main characters travel to Pyongyang to kill Kim.
"Even an inaccurately fired ICBM stands a good chance of taking out millions of people instead of hitting lightly populated desert or mountains," Tom Zoellner, an associate professor of English at Chapman University and the author of "Uranium: War, Energy and the Rock that Shaped the World," wrote last week in an op-ed for the Los Angeles Times. "Los Angeles has lived under the shadow of doom for a long time. Our civic mascots might well be the Four Horsemen of the Apocalypse. What now stands between us and the end times is not just the scotch tape that holds the tectonic plates together, or the fragile sense of order that keeps racial animus at bay, or the light winter drizzles that keep the chaparral just this side of hydrated, but the combined prudence and good sense of two great statesmen: Kim Jong Un and Donald Trump."
© Copyright IBTimes 2023. All rights reserved.
FOLLOW MORE IBT NEWS ON THE BELOW CHANNELS