Norway PM promises security review after killings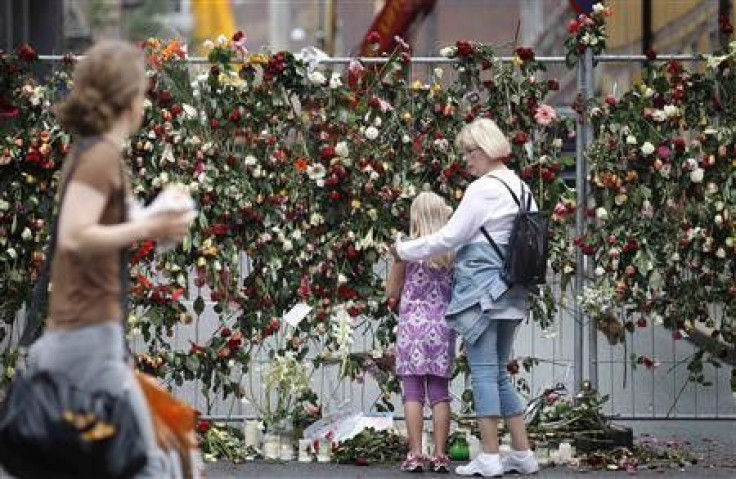 Norway's prime minister on Wednesday promised a security review after a mourning period for at least 76 people killed by a far-right extremist in bombing and shooting attacks that have traumatised the nation.
Jittery Norwegians tried to restore some normality five days after the bloodshed, despite a security alert forcing the evacuation of Oslo station, keeping nerves on edge.
Prime Minister Jens Stoltenberg told a news conference many European intelligence services had joined the investigation into Norway's bloodiest massacre since World War Two.
"(Police) organisation and capacity will be part of an evaluation," he said, adding that he expected the attacks to stimulate political engagement among his compatriots.
"I believe the result of this will be more participation, more political activity," Stoltenberg said. "Our commitment to our core values will grow stronger."
Killer Anders Behring Breivik is said to have given varying accounts of his actions, first saying he operated alone and then telling a judge he was part of a wider network.
Norway's domestic intelligence chief said she believed Breivik was a lone operator and contested an assertion by his lawyer that his client was probably insane.
Oslo's central station was evacuated after a suspicious suitcase was found on a bus. Police said later it was harmless.
In another false alarm, police retracted a search alert for a man who they suspected of sympathising with Breivik, saying in fact they wanted to detain a mentally ill man with no link to the killer.
A cabinet minister made a symbolic return to her office in Oslo's government district where Breivik detonated a powerful home-made bomb that killed eight people on Friday.
The bomb blew a hole in Stoltenberg's office. For now, he will work from the defence ministry in a different area of Oslo and cabinet meetings will be held in a medieval fort near the waterfront. It is not clear whether the 17-storey prime ministry building will be rebuilt or torn down.
"I am glad to be back in my office...to be able to resume the more normal work functions," Administration and Church Minister Rigmor Aaserud told reporters.
Her office, in a government complex, was little damaged. In Stoltenberg's building, which took the brunt of the car bomb, curtains still flapped from broken windows.
Stoltenberg has won high opinion poll ratings from voters for his handling of the crisis, with about 80 percent of Norwegians reckoning he has performed "extremely well," according to a survey published in the daily Verdens Gang.
The prime minister, who knew some of the victims, has caught the national mood, urging his compatriots in a voice often cracking with emotion to unite around democratic values.
"Yes, I have cried," he said of his personal reaction.
Norwegians, unused to violence in a quiet country of 4.8 million, must now struggle with how to improve security without jeopardising the freedom and openness of their society.
"Our challenge will be to reconcile those two things," Stoltenberg said, denying that Norway had been naive. "It is very important to distinguish between naivete and openness."
He said he welcomed a debate about security measures and the police response to the emergency. Some critics have accused the police of taking too long to reach the island northwest of Oslo where Breivik shot 68 people, mostly youngsters at a summer camp for the ruling Labour Party's youth wing.
Police took more than an hour to reach Utoeya and arrest Breivik. He threw down his gun and surrendered when officers approached him, a policeman involved in the arrest said.
Stoltenberg said Norway had special forces designed to deal with violent attacks, even if these had not occurred before.
"We are even more aware of any dangers now than before the attack. But in general Norwegians want ... to defend themselves against violence by showing they are not afraid of violence."
CONTROLLED EXPLOSION
On Tuesday night police destroyed an explosives cache found at a farm rented by Breivik, some 160 km (100 miles) north of Oslo. They believe he made his bomb using fertiliser which he had bought under the guise of a farmer.
Breivik's lawyer, Geir Lippestad, said his client was probably mad, but it was too early to say if the loner and computer game enthusiast would plead insanity at his trial.
Breivik has confessed to his actions, but denied guilt, saying he was part of a network with two cells in Norway and more abroad that was fighting to save European "Christendom" from the spread of Islam and multi-culturalism.
But police believe Breivik probably acted alone in staging his assaults, which have united Norwegians in revulsion.
"So far we don't have any evidence of the cells, neither in Norway or in Britain," Janne Kristiansen, head of the PST security police, told the BBC. Breivik's online manifesto referred to a secret meeting in London in 2002 to found a 'Knights Templar' group to drive Islam out of Europe.
"I would be surprised if this person was insane," Kristiansen said. "I mean he's calculating, he's focussed, he's been going on with his plan for years, and this is not what I have learnt a person who is insane will do."
Breivik, 32, has asked that non-Norwegian psychiatrists assess him, police lawyer Paal-Fredrik Hjort Kraby said.
Flowers left by Norwegians to show their grief for Breivik's victims decked Oslo's main thoroughfare, Karl Johans Gate. Police say about 200,000 people, a third of the city's population, turned out for a commemorative rally on Monday.
Police reopened some streets around the blast site in Oslo and shops gradually reopened for business.
Breivik, who was remanded in custody for eight weeks on Monday, has been charged under the terrorism act, which carries a maximum penalty of 21 years in jail, but the authorities are considering whether to charge him with crimes against humanity.
Stoltenberg said that Norway had a system allowing sentences to be extended if there were a risk of new crimes.
© Copyright Thomson Reuters 2023. All rights reserved.