#NotMyPrince: Prince Harry Caribbean Visit Causes Twitter Backlash Channeling Donald Trump Protests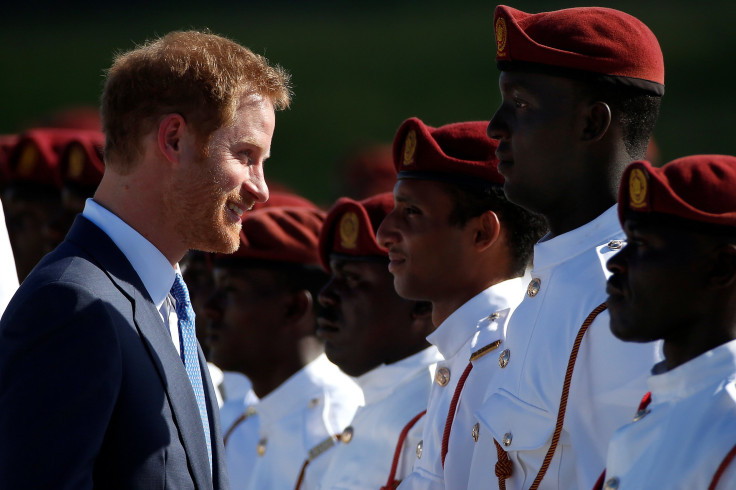 Prince Harry's two-week tour of the Caribbean has inspired social media users to start a #NotMyPrince campaign, criticizing the monarchy's involvement in the region's affairs. The 32-year-old prince, born Henry Charles Albert David, arrived Sunday in Antigua and will visit six other nations under the Commonwealth of the British Empire, an international organization of nations formerly under U.K. rule.
Social media users, many from the Caribbean, opposed the monarch's visit on Twitter and Tumblr ahead of a planned military parade and grand ceremony. A number of commentators pointed out the colonial imagery involved and recalled the monarchy's forcible enslavement and relocation of Africans to the region, as well as the violence used to quell frequent rebellions between 1602 and 1834.
Harry's grandmother, Queen Elizabeth is head of state of six of the seven countries on the agenda - Antigua and Barbuda, Barbados, St Kitts and Nevis, Grenada, St Lucia, St Vincent and the Grenadines. Guyana declared independence from the crown in 1966.
Regional leaders have also expressed their disdain for the monarchy. Prime Minister Freundel Stuart of Barbados announced last year he wished to transform the country into a republic, replacing Queen Elizabeth with a local president. Last month, Antigua and Barbuda Prime Minister Gaston Browne attended the second Conference on Reparations, pushing European nations to acknowledge past crimes and demanding economic compensation.
"We hold no living person of any European nation responsible for the evils of the ruling classes that controlled their societies and enriched themselves from the cruelties and barbarism from which they subjected our ancestors," Browne said at the conference. "However, this does not preclude them from acknowledging these wrongs and to commit themselves to the noble action of resolving them by accepting our reparatory claims."
Earlier this month, Harry issued a statement denouncing racist remarks aimed at his relationship with actress Meghan Markle, born to a black mother and white father. He claimed he was concerned for her safety and that insults both on print and social media "crossed the line."
The #NotMyPrince hashtag is inspired by the #NotMyPresident campaign sparked by the presidential election of Donald Trump earlier this month. Trump's election has triggered protests nationwide with certain communities growing concerned by racist and sexist language used by the president-elect and his supporters.
© Copyright IBTimes 2023. All rights reserved.