Nuclear Weapons Bill Wants To Cut $100 Billion From US Defense Budget Over Next Ten Years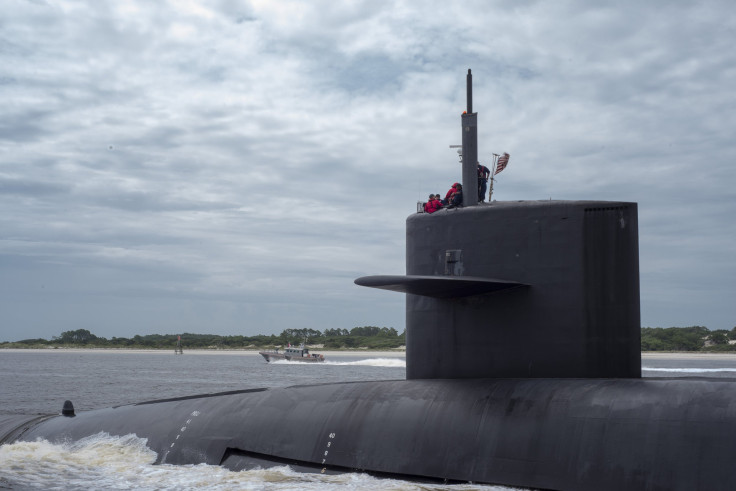 As the House and Senate go to battle over the defense budget for 2016, two members of Congress are pushing ahead with a bill that would cut $100 billion from the U.S. nuclear weapons budget over the next 10 years. The cuts, which would reduce by nearly a third the suggested $355 billion in spending on the American nuclear arsenal, are being saluted by some as a way to bring expenses in line with threats that have moved away from full-scale nuclear war. Others say the proposed cuts could jeopardize an already aging nuclear arsenal.
"There's really no question that it would," said Thomas Karako, a nuclear weapons expert at the Center for Strategic and International Studies, a bipartisan think tank based in Washington. "This is a system that has not even been updated to late-20th century technology, let alone 21st century. Obama's plan that was laid and endorsed by the Senate in 2010 must be sustained," he said, referring to a plan to modernize nuclear weapons that, when it was proposed, was due to cost around $84 billion over a decade. The Congressional Budget Office estimated last year that it would actually cost $348 billion.
'Smarter Approach'
The bill, known as the Smarter Approach to Nuclear Expenditures (SANE) Act, is sponsored by two Democrats, Sen. Ed Markey of Massachusetts and Rep. Earl Blumenauer of Oregon. It proposes to cut the current fleet of nuclear-missile submarines from 14 to eight, scale back the purchase of replacement submarines from 12 to eight, close weapons production facilities and cut missile defense programs. It also seeks to delay the Air Force's plan for a long-range bomber that has not been designed yet, and cut programs that extend the lifetime of nuclear warheads. The two sponsors say that their bill would adequately maintain the U.S. position as a nuclear power. The plan presented by the White House in 2010 included buying as many as 100 new bombers and 400 land-based missiles, plus extensive upgrades to facilities around the country.
The bill has gained support from prominent members of the Democratic Party's left wing, including Sens. Jeff Merkley of Oregon and Al Franken of Minnesota, as well as from Sen. Bernie Sanders, an Independent from Vermont.
Much of the recent discussion of the U.S. nuclear upgrade has been framed around a renewed climate of hostility between Russia and the West, with commentators comparing Russia's annexation of Crimea in March 2014 and the continuing violence in eastern Ukraine to the Cold War. But not all observers say that investing in an updated nuclear arsenal is the best way to assert power in today's world.
"The more tangible threats facing the United States today come from a suitcase or a personal computer," said Tony Fleming, campaigns director of Citizens for Global Solutions, a progressive advocacy group based in Washington. "We're more likely to suffer a cyber or terrorist attack from a small rogue group than be hit by a nuclear bomb that requires massive government infrastructure and investment. U.S. citizens deserve to have their tax dollars be used to protect them from real, 21st century, threats, not Cold War-era relics."
"We are robbing America's future to pay for unneeded weapons of the past," Markey said in a statement Monday. "As we debate the budget and Republicans rally around devastating cuts to Medicare, Head Start and investments in research and science, it makes no sense to fund a bloated nuclear arsenal that does nothing to keep our nation safe in the 21st century."
Old And Decaying
However, current U.S. nuclear weapons systems are in need of repair, according to an investigation of the entire nuclear arsenal by the Associated Press. It found that the arsenal was old and decaying, with some elements more than 40 years old. (The investigation also found widespread misconduct among troops assigned to nuclear-weapons duty, including alcohol and drug abuse and cheating on exams, plus military personnel being assigned to nuclear-weapons duty despite falling below the required standards.)
Nuclear-arsenal modernization advocates say that the Pentagon has bought no new weapons since the collapse of the Soviet Union. "We've had a multidecade procurement holiday since the end of the Cold War," Karako said. "The average age of the nuclear weapons in the stockpile is 28 years old. We rely on B-52 [bombers] from the 1950s, gravity bombs with parachutes from the '60s, Minuteman ICBMs [intercontinental ballistic missiles] that date from the '70s and cruise missiles that are from the early '80s."
© Copyright IBTimes 2023. All rights reserved.