Nuggets vs Lakers: NBA Playoffs Game 2 Preview, Prediction and LIVE Online Stream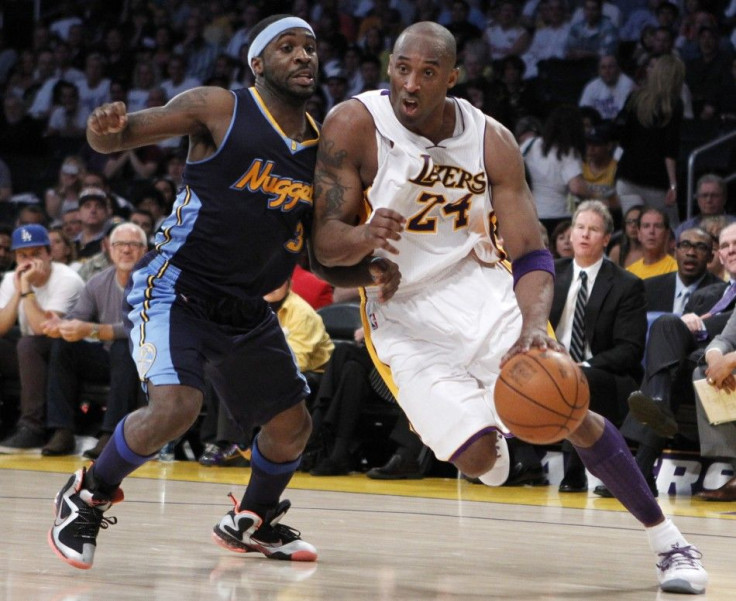 The Los Angeles Lakers have jumped out to a 1-0 lead in their first-round series against the Denver Nuggets, largely because of the stellar play of center Andrew Bynum, who some would argue looked the most mature he has ever been throughout the regular season.
Game 2 between the Lakers and Nuggets will begin at 10:30 p.m. ET at Staples Center on TNT. A live online stream can be watched here.
The seven-footer scored just ten points in Game 1, but it was his 13 rebounds and 10 blocks that were of more importance. With them, he became the first Laker to register a playoff triple-double since Magic Johnson registered one in Game 5 of the 1991 NBA Finals against the Chicago Bulls. He also put him himself in a historic defensive class, joining Hakeem Olajuwon and Mark Eaton for the most blocks in an NBA postseason game.
The difference in the game was Andrew Bynum, said Lakers coach Mike Brown. He was phenomenal tonight, he was an absolute beast.
The Lakers beat the Nuggets 103-88 with superstar teammate Kobe Bryant sort of quietly taking a backseat to Bynum's performance. Nevertheless, he still managed to score 31 points, 23 in the second half, on 11-of-24 shooting, while second-year forward Devin Ebanks, filling in for the suspended Metta World Peace, tallied 12 points and five rebounds.
After his performance on Sunday, Bynum will most likely be facing the same amount, if not more, double teams that he saw in the first game. That will allow him to kick the ball out to others for open shots. On the defensive side, Bynum will most likely control how Denver decides to attack Los Angeles in the paint.
The Nuggets are a speedy team and can both penetrate and shoot. However, the Lakers' size, especially Bynum's, can't be underestimated.
We just have to get back to what we're used to doing, just getting up and down the floor and enjoying ourselves, said Nuggets forward Kenneth Faried. If we get outside the (paint), Bynum can get caught for three seconds, because he does sit there a lot, just posts there like a tree and blocks a lot. He's got to move with us, and that takes him out of the middle.
Denver's transition game, the best in the league (19.8 points per game, according to teamrankings.com) could exemplify Faried's aforementioned assessment. The Lakers have struggled against fast-breaking teams all season (teamrankings.com has them at fourth-worst, allowing 15.2 per game), so it's very possible that the Nuggets will do a majority of their scoring in the paint against Bynum by simply getting to the hoop before he or any other opposing big man does.
We have to be more aware when he's in the paint, and we have to try to make the extra passes better, said forward Danilo Gallinari, who led the Nuggets with 19 points on Sunday. We have to move the ball, and shoot before he gets there.
PREDICTION: Despite the Nuggets' speed, they still lack the size to matchup with the Lakers' frontcourt, and, even if they try to move up and down the court more in transition, fatigue will eventually set in. The Lakers are an underrated rebounding and defensive team all around despite their age. With that said, the Lakers will take Game 2 by controlling the pace on both ends of the floor, 110-103.
FOLLOW MORE IBT NEWS ON THE BELOW CHANNELS