Number Of Chinese Billionaires Rose By 242 In Past Year, Overtaking US For First Time, Despite Slowing Economy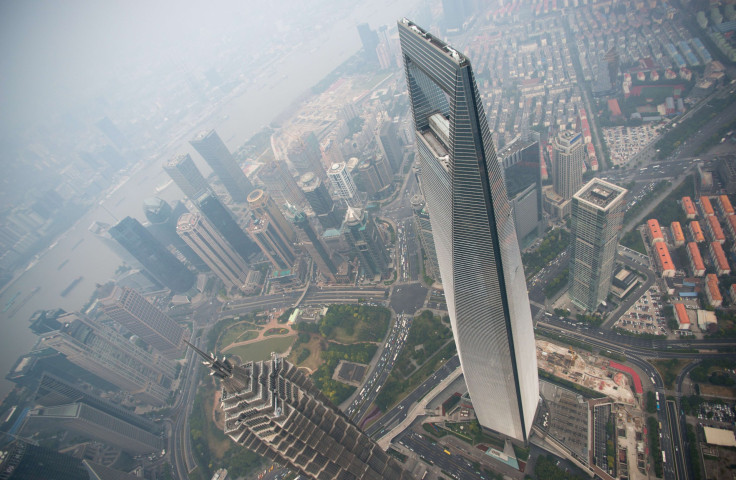 SHANGHAI -- China's volatile stock markets have helped the number of dollar billionaires in the country outstrip that of the U.S. for the first time, despite the country's economic slowdown, according to a new report. As of mid-August, the country had 596 billionaires, up 242 on 2014, and above the U.S. figure of 537, said Shanghai-based consultancy Hurun Report in its annual China Rich List.
The total wealth of the 1,877 people on the list, each of whom has a personal value of at least 2 billion yuan (around $310 million), exceeds the GDP of India, the report added.
Real estate tycoon and AMC cinema chain owner Wang Jianlin is now China's richest man, with $34.4 billion, wresting the title back from Jack Ma, founder of e-commerce giant Alibaba. However, the information technology sector saw the fastest growth overall, the report said, with Lei Jun, founder of smartphone maker Xiaomi, joining social media tycoon Pony Ma of Tencent in the top five.
"China's wealthy are defying gravity. The country has created more wealth in the past year than any nation has ever done in such a short space of time," Rupert Hoogewerf, Hurun's founder, who has compiled the list for the past 17 years, told International Business Times.
Hoogewerf said the boom on China's stock markets in the year to June, and a slew of new market listings, played a significant part in the growth in wealth. Since June the market has plunged -- including a further 14 percent fall since the cut-off date for compilation of the rich list in mid-August. However, share prices remain some 50 percent up on summer 2014, and Hoogewerf said the recent decline would not have a "major material impact" on the trends he identified.
"I don't think we've seen the peak. I don't expect that we'll maintain the same explosive growth next year -- the past year was unusual, with a pent-up unleashing of initial public offerings by Chinese companies," he acknowledged. "Maybe we'll see 100 more people becoming billionaires next year. But I think there's no question that this year is a turning point -- a watershed for Chinese entrepreneurship."
Noting that Chinese Web start-ups like group-purchasing site Meituan and restaurant review app Dazhong Dianping, which recently announced their merger, have "become $15 billion companies in about five years," Hoogewerf said many young Chinese people were showing imagination in "leveraging capital markets to apply to new business models."
"Most of the people on this list are self-made, more so than among U.S. billionaires," he said. "Chinese people have clearly got the entrepreneurship bug -- and they have ideas that are worth studying. I think more of the world's young people will turn their attention to China if they're looking for role models in the future."
Some of those on the list come from more traditional sectors of the economy, with four of the top 10 still gaining at least part of their wealth from real estate, which boomed in China from the late 1990s until slowing down over the past three years. Richest man Wang Jianlin, founder of the conglomerate Dalian Wanda, made much of his wealth from real estate, and has seen his valuation rise 52 percent in the past year due to the listing of his Chinese cinema chain on the stock market in January. Wang has been busy investing around the world, buying not only U.S. chain AMC, but also investing in prime real estate in Europe and the U.S., and buying sports marketing company Infront Sports and Media, as well as stakes in soccer club Atletico Madrid, and the World Triathlon Corporation.
The youngest person on the list, 29-year-old Yan Hao, meanwhile, gained his $14.2 billion wealth from his family's road construction company, which he took over from his father.
However, Hoogewerf noted that the number of IT entrepreneurs on the list rose fastest, by 43 percent, in a sign that China was "moving up the value chain." And while last year's No. 1, Alibaba's Jack Ma, saw his wealth drop 3 percent to $22.7 billion -- as the company's stock price fell back after its U.S. market listing -- Hoogewerf said Ma could expect a significant boost from the planned listing of the company's financial arm, Ant Financial, next year. He added that there were now 18 Alibaba employees on the rich list.
Others from the sector also rose fast. China's wealthiest woman is now the "Touchscreen Queen" Zhou Qunfei of smartphone screen manufacturer Lens -- one of the women who make up around 21 percent of the list. Hurun said she and her husband were now worth $10 billion.
China's "drone king," 35-year-old Frank Wang Tao of DJI-Innovations, also got on the list, with $3.4 billion. And Cheng Wei, founder of Didi Kuaidi, the country's biggest ride-hailing app -- which last week announced it had got China's first official ride-hailing license, for Shanghai -- also made the list, with wealth of just over $1 billion. Other up-and-coming young entrepreneurs include 30-year-old Zhang Xuhao, who founded the 020 restaurant delivery service while at university, and is valued at $310 million.
The rise of IT entrepreneurs is good news for the Chinese government, which has pledged to place more emphasis on creative industries and innovation as demand for manufacturing exports and raw materials slows down. Yet some skeptics still predict a bubble in China's hi-tech industries. Hoogewerf acknowledged that while Xiaomi founder Lei Jun's wealth doubled to $14 billion, "Xiaomi's valuation of itself at $45 billion has been challenged by some in the media." And Robin Li, founder of China's main search engine Baidu, fell one place to seventh on the list -- amid what some reports said were worries over the scale of the company's spending on expanding its business, and speculation about the return of competitor Google to the Chinese market, from which it is currently banned.
Li Hejun, founder of solar power company Hanergy, meanwhile, has fallen back to 12th place following suspension of trading in his company's shares on Hong Kong's stock market in May, amid an investigation into its dealings.
And there were other losers too, reflecting broader trends in China's economy: Hurun said it had been a "tough year" for energy and steel sectors, while retail tycoons made up only 16.1 percent of the list, the lowest proportion since it began.
However, despite China's export slowdown, the manufacturing sector still dominated the list, accounting for 28 percent of its members, 5 percent higher than last year.
And though, in its early years, being on the Hurun Rich List was once seen as putting entrepreneurs at risk of being investigated for tax evasion, Hoogewerf stressed that those on this year's list paid 4 percent of China's total tax revenues -- and added that, despite China's ongoing anti-corruption campaign, "only 16" of those on the list were "in varying degrees of trouble with the authorities," two fewer than the previous year.
The list also shows the continuing value of political connections for Chinese entrepreneurs. More than 200 of those on the list are delegates to China's legislature or its advisory body -- including retired NBA basketball star Yao Ming, one of several celebrities on the list, who is valued at $330 million.
© Copyright IBTimes 2023. All rights reserved.
FOLLOW MORE IBT NEWS ON THE BELOW CHANNELS