NYPD Arrest Third Suspect In Assaults On NYPD At Eric Garner Protest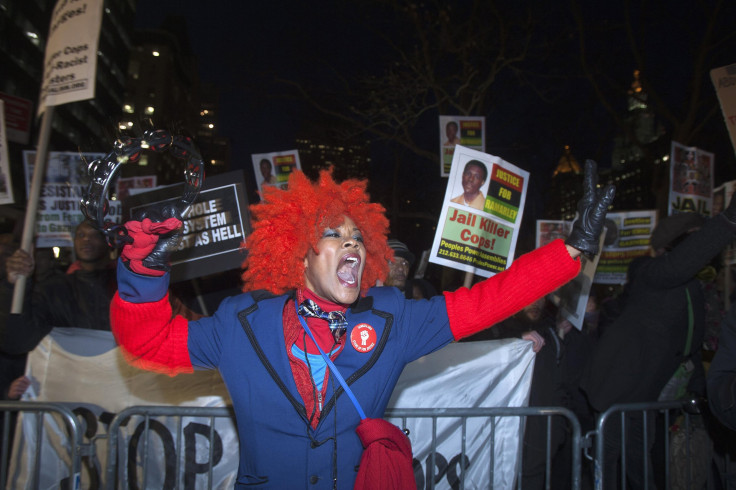 The NYPD said Friday that it had arrested a third suspect in connection with an assault against two police officers in a brawl that broke out between police and demonstrators during a Dec. 13 protest against police brutality that crossed New York City's Brooklyn Bridge. Police did not release the suspect's name, but they said they believe he is be one of the seven people who were captured on film assaulting cops during the incident, NBC reported.
"The arrests are important because they make clear we won't tolerate any type of violence in any of these protests," Mayor Bill de Blasio said Friday, according to the New York Daily News.
Police officers searched a home in Brooklyn at 10 a.m. Friday, arresting the suspect in the process, the NYPD said.
"We are currently continuing on with that search warrant," NYPD Chief of Manhattan Detectives William Aubry told the Daily News Friday afternoon.
Protests erupted across the nation in recent weeks in response to grand juries' failure to indict two police officers who killed black men in the U.S. this year. The explosive cases have reignited a national discussion about race, overbearing police tactics and the militarization of law enforcement.
In Staten Island, NYPD cop Daniel Pantaleo put Eric Garner in a chokehold that led to his death on July 17. The grand jury chose not to indict Pantaleo Dec. 3 in a move that led to the latest round of demonstrations. On Aug. 9, Ferguson, Missouri, police officer Darren Wilson shot and killed unarmed teen Michael Brown, sparking the first wave of a series of protests.
People across the U.S. have been demonstrating against what they see as the injustice in Garner's and Brown's deaths, and the greater implications the failure to indict those responsible for their deaths has for the criminal justice system and American lives.
© Copyright IBTimes 2023. All rights reserved.