Anti-Cop Protesters Crash Pro-Cop 'Thank You NYPD' Rally In New York City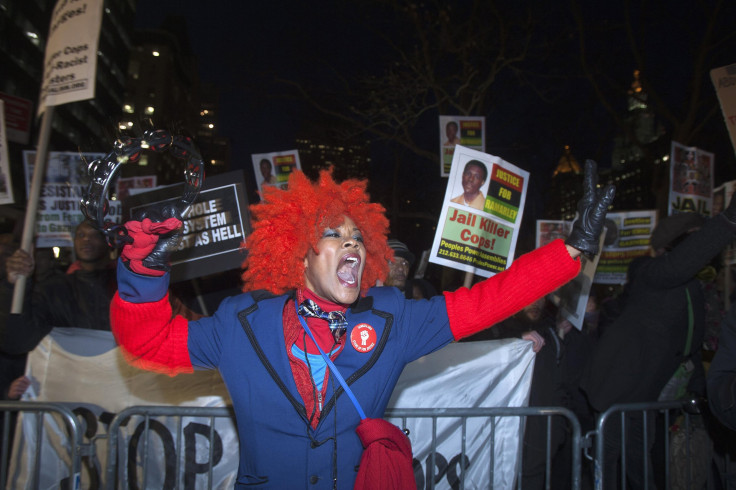 Scores of anti-police protesters crashed the "Thank You NYPD" rally Friday night in New York City. The event was initially organized to show support for the New York City Police Department, following mass protests against a white NYPD officer who killed a black Staten Island man during his arrest this summer. But posts and photos on Twitter showed support for the police may have been outnumbered.
More than a thousand Facebook users said they would attend the pro-police rally, which took place at 5 p.m. Friday at City Hall Park in lower Manhattan. The event was meant to say "thank you to the brave women and men who keep the streets of New York safe and risk their lives doing so," according to the "Thank You NYPD" Facebook page. Massive, and in some cases violent, anti-cop protests have taken place across the nation in recent months after two white police officers were not charged in the separate killings of two black men, Eric Garner and Michael Brown.
About 100 NYPD supporters showed up for the pro-cop rally Friday night, CBS reported. Many wore blue and some sported "I Can Breathe" T-shirts, while others showed their support on Twitter by using the hashtags #ThankYouNYPD and #BlueLivesMatter.
However, many people used the same hashtags on Twitter sarcastically. About 100 protesters showed up to counter the pro-police rally Friday night, according to CBS. But people live-tweeting the "Thank You NYPD" rally suggested more anti-police protesters showed up than pro-cop protesters. Anti-cop protesters chanted "I can't breathe," echoing Garner's final moments before he was put in an illegal chokehold by NYPD officer Daniel Pantaleo.