NYPD, Mayor Hold News Conference In Response To ISIS Video Threatening New York City: 'Be Aware But Do Not Be Afraid'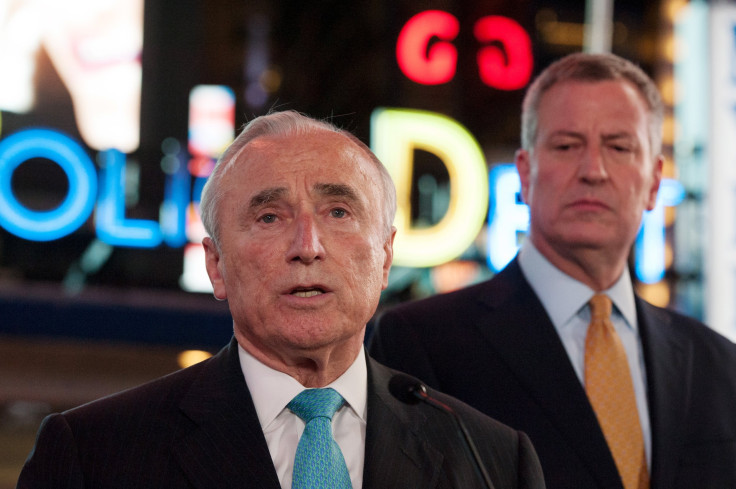 Responding to a purported Islamic State group video that appeared to threaten an attack on New York City, the mayor and police commissioner tried to calm residents and potential visitors by saying there was no specific threat and that they should carry on the lives as normal.
"The people of New York City will not be intimidated," Mayor Bill Di Blasio said, noting that New Yorkers and visitors were protected by a police force of 35,000 officers.
The mayor and Police Commissioner William Bratton spoke at a news conference late Wednesday night in Manhattan's Times Square in response to the video, which emerged earlier in the day. It purported to show suicide bombers in the same area, implying a terror threat to the city.
Bratton acknowledged that the holiday season is looming, bring untold numbers of people to New York City each day. The city's annual traditions -- including the Macy's Thanksgiving Day Parade and Rockefeller Center Christmas tree lighting -- draw countless visitors each year and pump millions of dollars into the city's economy. He advised that people should, "be aware but do not be afraid," promising that the NYPD would protect the city.
"We will not live in fear," Bratton stressed.
In the video, the Islamic State group -- also known as ISIS or ISIL -- reportedly claimed responsibility for Friday's grisly terrorist attacks in Paris that resulted in at least 129 deaths. It featured re-surfaced footage from April of a man appearing to prepare for a suicide bombing of Times Square. The clip had been broadcast on ISIS's al-Hayat media network, which is a propaganda arm that focuses on a Western audience, Vocativ had reported in April. John Miller, the NYPD's deputy commissioner of intelligence and counterterrorism, told CNN earlier Wednesday night that, "instead of worrying, we should be planning," and de Blasio emphasized in a statement that, "New York City will not be intimidated."
"There is no city in America that is better prepared to defend itself against a terror attack," Bratton said.
"Stoking fear is the goal of terrorist organizations, but New York City will not be intimidated. The NYPD is the most capable police force in the country, with a robust counterterrorism operation that was just strengthened with an investment of 500 additional officers. While Times Square and Herald Square appear in the video, the NYPD in conjunction with all of our partners are taking all necessary security precautions in these areas and areas across the City. New Yorkers won't live in fear and people should continue to go to work, live their lives, and enjoy the greatest city in the world."
© Copyright IBTimes 2023. All rights reserved.