After Paris ISIS Terror Attacks, Defense Companies Likely To Cash In As Security Is Increased Over Islamic State Fears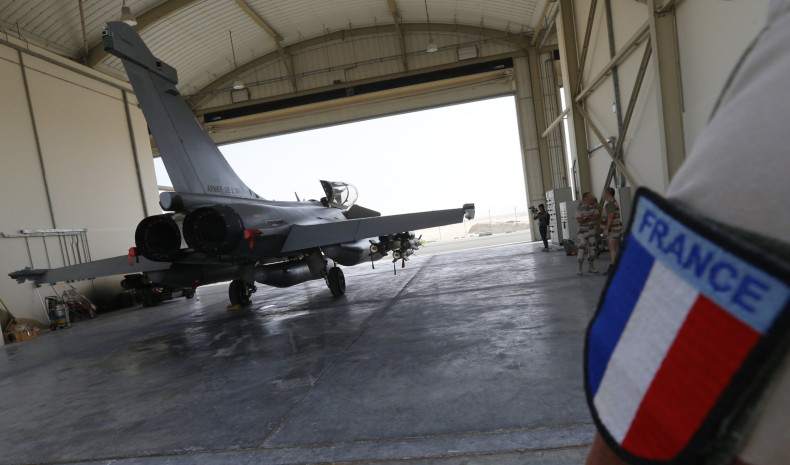 Enhancing defense capabilities has historically been a priority for nations across the globe, even if it's not a time of war. But in the wake of last Friday's deadly terror attacks in Paris, the importance of domestic security heightened exponentially -- quite literally overnight -- as many were left wondering how heavily armed jihadi militants managed to infiltrate France's peaceful, prized City of Light.
While the answer to that question may not be so simple, as Paris was also the site of a terrorist attack by Islamic extremists in January, French President François Hollande's immediate solution this time around was to declare war against the Islamic State group, aka ISIS, which had claimed responsibility promptly after Friday's assault. Two days after the tragic events unfolded in his capital city, Hollande deployed fighter jets to Syria to unleash dozens of bombs on the terror group's de facto capital of Raqqa.
The precision of the attacks in Paris, paired with the recent series of fatal terror-related incidents in both Beirut and Egypt that have been widely attributed to ISIS, has left many countries and their militaries on high alert and looking to stockpile munitions and acquire drones and other weapons of war. Online and airport security also deserve of a major overhaul, defense and security analysts said. All of this could cost in excess of seven figures. That spells good news for one particular business sector: U.S. defense manufacturers, which are set to cash in and expand an already thriving business amid the most recent wave of global terrorism.
"Militaries are snapping up everything that everyone has," said Andrew Philip Hunter, director of the Defense-Industrial Initiatives Group at the Center for Strategic and International Studies, a Washington-based think tank. "Probably a year ago I would think that demand would drop off; it's now clear that it will remain very high for the foreseeable future."
The Staple Weapons Of War
While there was significant belt-tightening after the end of the Iraq and Afghanistan wars in 2011 and 2014, respectively, during which the U.S. spent more than $1 trillion purely on defense over nearly 15 years of conflict, the emergence of ISIS as a formidable terror threat has helped restore the need for defense wares, Hunter said.
"I think, at least in the near term, the companies that provide munitions are likely to see an increased demand for their products," Hunter said. "On top of that, there has already been an insatiable demand for intelligence, surveillance and reconnaissance [drones and manned spy planes], and my takeaway from France's announcement of war is that there won't be any end sight for that need."
New orders for defense items in the U.S. can be time-consuming following negotiations between a defense company and the prospective buying country, as manufacturing doesn't always get underway immediately. Saudi Arabia may have well set the tone Monday when it ordered up to 19,000 different types of bombs and associated equipment for $1.29 billion, according to the Defense Security Cooperation Agency, a U.S. government group that negotiates defense acquisitions. The deal had been organized long before the attacks in Paris and was made with wars in Yemen and Syria in mind, according to Hunter.
Benefiting from that deal will be U.S. companies Lockheed Martin, Raytheon and General Dynamics, which are selling thousands of bombs that range in price from $3,100 to $20,000 apiece. France uses locally manufactured munitions made by Safran, a French aerospace company.

Last week, the U.K. signed a deal with the Pentagon to buy 500 Lockheed Hellfire missiles for $80 million, while Italy was given permission by the Pentagon to weaponize its General Atomics MQ-9 Reaper drone at a cost of $129 million. Both countries are heavily involved in the war against ISIS.
The next step and the associated costs are tough to measure because it is unclear if the U.S.-led coalition targeting ISIS will remain in the air or move to the ground, Hunter noted. While U.S. President Obama has said that any ground offensive would be a mistake, France's long-term military strategy in response to the attacks was not immediately clear.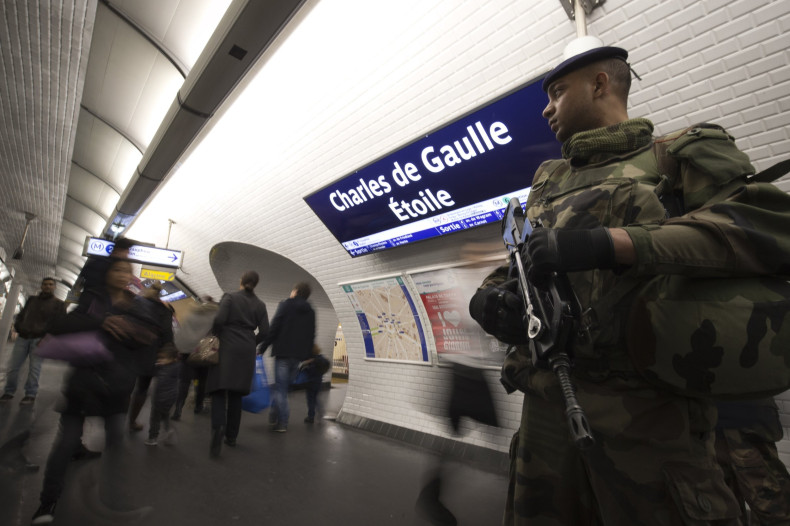 An Old Threat Returns

Airport security has become a contentious issue since Russian Metrojet Flight 9268 exploded over Egypt, resulting in the deaths of all 224 people on board. Russia said Tuesday that a bomb caused the aircraft's demise, for which an ISIS affiliate claimed responsibility. While Friday's fatal events in Paris did not take place at an airport, security at travel hubs throughout Europe and the rest of the world has already been increased. The attacks represent a new and unpredictable chapter in the history of ISIS, showing that any venue could be a potential target.
"Security has gotten a lot more sophisticated over the years, but if they do think there is a credible threat, they can do all kinds of things to further enhance security," said Patrick Murphy, former deputy assistant to the transportation secretary under President Bill Clinton and President George H.W. Bush. "Anyone can walk into an airport. So we might see pre-screening before you even get near the airport -- metal detectors, screening automobiles with the mirrors. It's manpower-intensive. They'd need security guards to man that, but if they did get extra screening machines before the airport, that would be an incredible undertaking, and a lot of equipment would need to be purchased."
Airport security in developing countries, however, including Egypt and other parts of Africa, still leaves much to be desired, as the cost of the multimillion-dollar state-of-the-art equipment that screens luggage, cargo and passengers is often too great, according to Douglas R. Laird, a former Secret Service agent and onetime head of security for Northwest Airlines. "The lack of security was apparent in Egypt when the terrorists managed to get a bomb on the plane somehow," Laird said. "It's not totally clear if that was an airport employee or a passenger, but either way, security must improve if they are going to stop terror groups spreading fear around the world."
The renewed attention on airport security has turned states like Egypt into new potential markets for airport security companies such as L-3 Communications, a large American defense company and one of the biggest suppliers of passenger and baggage scanning equipment.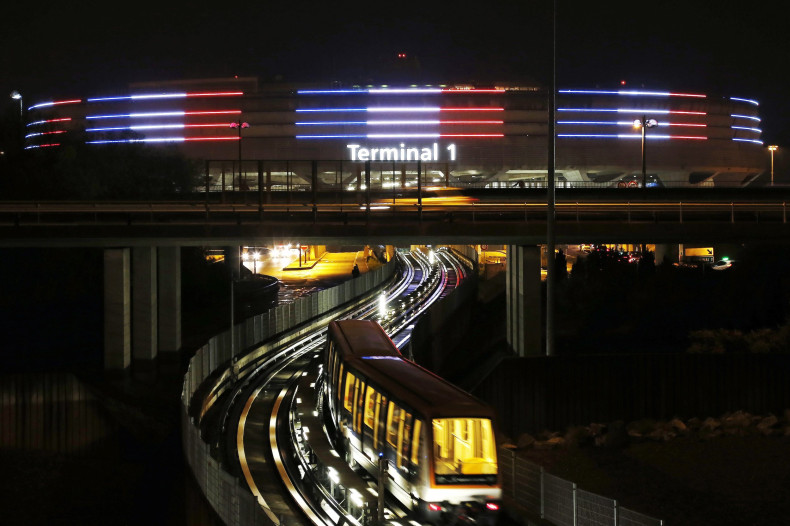 Unseen Threats
In recent years, fears over the tech capabilities of Russia and China have fueled American spending on cybersecurity. The U.K. announced Tuesday it would raise its own spending in that area to approximately $4.8 billion with the aim of launching offensive cyberattacks against terrorist groups. Officials investigating last week's acts of terror in Paris said the attackers likely used some kind of encryption service to communicate and evade detection by authorities. While experts doubt ISIS has the capability to launch crippling cyberattacks that could take down major infrastructure in large cities, the intelligence failures that led to the attacks in Paris have already contributed to announcements of increased surveillance spending by governments intent on preventing future attacks.
"It is right that we choose to invest in our cyberdefenses even in a time when we must cut other budgets," said George Osborne, the U.K.'s chancellor of the exchequer, according to the Telegraph.
"Companies that are tied to defense industrial, defense, data mining, deep packet inspection -- looking inside packets to see who is saying what to whom -- if you're doing anything in monitoring or surveillance, you are having a good week," Jason Healey, a senior research scholar at Columbia University's School of International and Public Affairs, said.
Social media analytics is another area Healy expects to be scrutinized as extremists share and post thoughts, ideas and videos online using the likes of Twitter and Facebook Messenger, as well as lesser-known services such as Telegram and ChatSecure.
"If I were at any of the big data companies, like SAS, I would want to get into this and say how my data tool could protect the next 11/13," Healey said.
While it is yet to be seen which companies will benefit the most from increased defense and security spending, experts say Friday's attacks have brought national security in Western countries back to levels not seen since post-Sept. 11, 2001. It's not a question of whether defense spending will be ramped up; it's when, said Michael E. O'Hanlon, a senior fellow specializing in national security and defense policy at the Brookings Institution in Washington.
"This is back to terrorism and the Western homelands, and will put a floor under the homeland security and defense budgets," O'Hanlon said. "From this point onward the debate [in the U.S.] will be about how much budgets will grow."
© Copyright IBTimes 2022. All rights reserved.