Oakland Raiders Alive In 2019 AFC West Race, Weak Schedule Makes Team A Real Playoff Contender
The Oakland Raiders improved to 4-4 in Week 9, defeating the Detroit Lions 31-24. Despite being projected to be one of the AFC's worst teams, Jon Gruden's squad is very much alive in the playoff race at the midway point of the 2019 NFL season.
Oakland is 1.5 games behind the Kansas City Chiefs in the AFC West. The Raiders are a half-game ahead of the Los Angeles Chargers. The winner of their Week 10 "Thursday Night Football" matchup will own sole possession of second place.
Los Angeles is a game under .500. The Raiders will face the Chargers twice over the final eight weeks as part of a favorable schedule.
Kansas City is Oakland's only remaining opponent that has a winning record after Week 9. The contest with the Lions started a string of four straight games against teams that have fewer wins than losses.
In Week 11 and Week 12, Oakland takes on the AFC's two worst teams when they play the Cincinnati Bengals and New York Jets. Cincinnati is the NFL's only winless team. The Miami Dolphins are no longer winless because they defeated the Jets, who have just one victory this season.
If the Raiders want any hope of winning the division, they'll have to upset the Chiefs at Arrowhead Stadium in Week 13. Kansas City won in Oakland 28-10 in Week 2. Patrick Mahomes is expected to be back under center for the Chiefs' next matchup against the Raiders.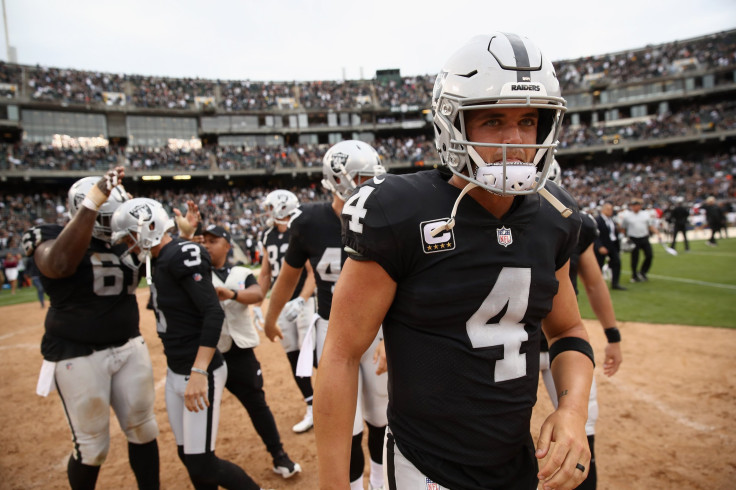 Oakland's best chance to make the playoffs is with a wild-card berth. The Raiders trail the No.6 seed Indianapolis Colts by one game. Oakland owns the tiebreaker with Indianapolis because they beat the Colts in Week 4.
The Tennessee Titans and Jacksonville Jaguars will visit Oakland in Week 14 and Week 15, respectively. Both AFC South teams are 4-5.
After visiting the Chargers in Week 16, the Raiders will visit the Denver Broncos in the season finale. Denver is in the basement of the AFC West. Oakland beat them 24-16 in the season opener.
The Broncos are one of three losing teams the Raiders have faced in the first half of the season. Oakland is perfect against teams that are below .500.
© Copyright IBTimes 2023. All rights reserved.