Oakland Raiders Are NFL's Worst Team In 2018 Season After Trades, Embarrassing Losses
The Oakland Raiders were embarrassed on national television Thursday night, getting blown out by the San Francisco 49ers 34-3 in the first game of Week 9. The loss dropped Oakland to 1-7 on the season and cemented their spot as the worst team in the NFL.
The Raiders weren't even competitive against a team that also entered the contest with just one victory. They had no answer for backup quarterback Nick Mullens, who had never thrown a pass in a regular-season game before Thursday's matchup. It marked San Francisco's first win since Jimmy Garoppolo went down with a torn ACL.
The New York Giants are the only other team in the league with just one win. They've been an abject disaster in 2018, though none of their losses compared to what happened to Oakland Thursday. The Giants have lost twice by more than a touchdown. The Raiders have been defeated by two touchdowns or more five times, and they've been beaten by an average of 21.3 points over their last four games.
Derek Carr no longer looks like the quarterback that was considered to be an MVP candidate a few years ago, and he's playing behind an offensive line that hasn't given him much help. The Raiders are the only team that ranks in the bottom six in both points scored and points allowed.
Oakland doesn't even have a win in regulation. They needed a few calls to go their way in the final minutes of their Week 4 contest with the Cleveland Browns to force overtime, where they defeated Baker Mayfield in his first career start. Cleveland has only won two games and has since fired their head coach and offensive coordinator.
Much of the talk when it comes to the Raiders is about head coach Jon Gruden. The former "Monday Night Football" analyst was reportedly given $100 million over 10 years to come back to Oakland.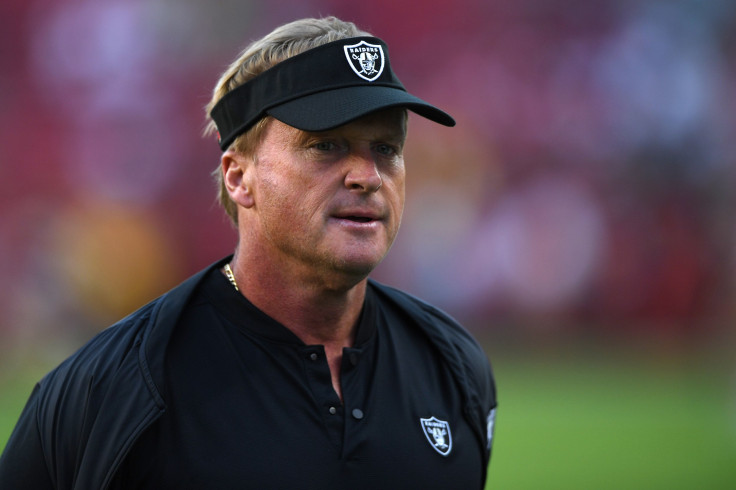 "The Oakland Raiders is a great organization," Gruden told reporters, via ESPN.com, after Thursday's loss. "I know it's not looking pretty right now. I've heard a lot of negativity over the last six or seven months, and rightfully so. But we're going to build a championship football team here. I know a lot of people as players, as fans, just in general, want to be a part of this."
If Oakland is going to compete for a title, it's likely not going to be for a few years when the team is in Las Vegas. They've traded a few of their best players, sending Khalil Mack to the Chicago Bears and Amari Cooper to the Dallas Cowboys. The Raiders received three first-round picks in those two deals.
Maybe Gruden and the organization will turn those draft picks into superstars. That will be some time down the road, and the Raiders might have to prepare themselves for a lot more losing until they are ready to compete for a playoff spot again.
Oakland hasn't won a playoff game since the 2002 season when Gruden and the Tampa Bay Buccaneers defeated them in Super Bowl XXXVII.
© Copyright IBTimes 2023. All rights reserved.