Obama Ad Blitz Targets Latinos As Campaign Adviser Calls Romney Most Extreme On Immigration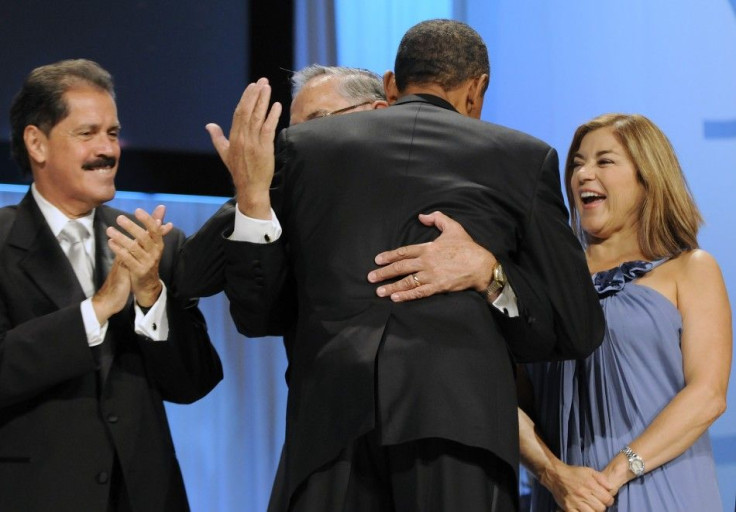 The Obama campaign launched an appeal to Latino voters on Wednesday, seeking to bolster its advantage with a bloc of voters that could play a pivotal role in several swing states.
Polls show Obama with a sizeable lead over Mitt Romney among Hispanic voters, a gap that Romney said spells doom for Republicans. In a conference call with reporters, Obama campaign officials and allies said they would press their Latino edge by emphasizing Romney's record on immigration.
Make no mistake, Mitt Romney would be the most extreme nominee that the Republican Party has ever had on immigration, San Antonio mayor and campaign co-chair Julian Castro said, according to a summary of the call detailed in Politico.
Romney has called a tough new Arizona immigration law that is reviled by many Hispanics a national model, and taken on its author as a campaign adviser. He has also denounced any form of legal relief for undocumented immigrants as amnesty, saying he would veto a piece of legislation -- the DREAM Act -- that would extend citizenship to some undocumented immigrants who were brought to the United States as children. At a Republican primary debate, he advocated a policy of self-deportation, in which immigrants decide on their own to leave after it becomes prohibitively difficult for them to live and work in the United States.
Despite Obama's strong Latino polling numbers, there is considerable frustration and disillusionment among immigration advocates and Hispanics who supported Obama heavily in 2008. The president has failed to deliver on his promise of comprehensive immigration reform and has overseen record numbers of deportations.
But Obama has said efforts towards immigration reform have stalled because of Republican intransigence, and campaign manager Jim Messina said during the conference call that voters share that view.
On immigration, we have faced a wall by the Republican party of opposition to not only comprehensive immigration reform, but even to the DREAM Act, Sen. Robert Menendez of New Jersey added.
Latinos form a substantial and growing part of the electorate in several contested states, and Messina said that it is no secret that Latinos will be [a] deciding factor in this election. To that end, the Obama campaign is rolling out a Latinos for Obama initiative and launching Spanish-language radio and television advertisements, which can be seen here, in Colorado, Nevada and Florida.
Without loan aid I couldn't have studied. That's why everything the President has done to increase access to financing [for education] has been so important, a young woman says in Spanish in one spot. President's Obama's personal story is one of working hard... of struggling.
Romney's campaign has said that likely Republican nominee's economic expertise will trump concerns about immigration, noting that Latinos have suffered disproportionately during the recession.
Slick campaign ads and Hollywood celebrities can't erase President Obama's record of failure on the issues most important to Latinos, Romney spokesman Albert Martinez said in a statement. Hispanics have been hit especially hard as a result of three years of President Obama's record of high unemployment, soaring debt, and skyrocketing gas prices.
© Copyright IBTimes 2023. All rights reserved.
FOLLOW MORE IBT NEWS ON THE BELOW CHANNELS