Obama Administration and Congress Clash on Education Reform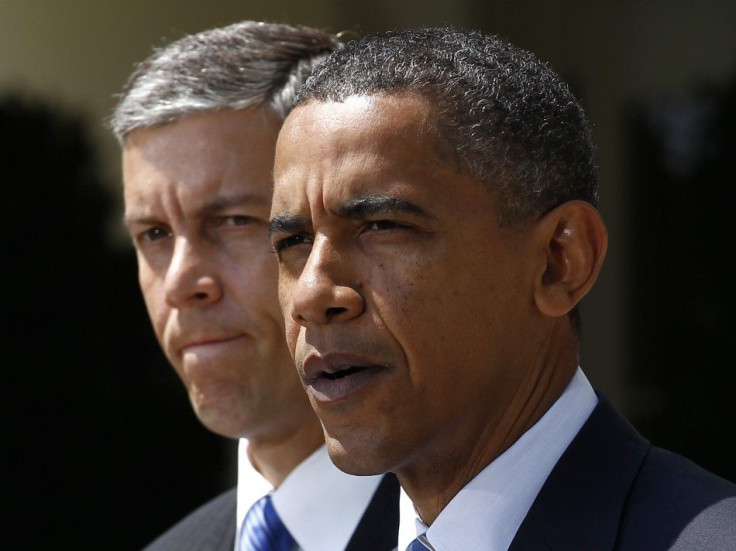 U.S. Education Secretary Arne Duncan threatened to bypass Congress and work directly with states to enact education reform measures, signaling the Obama administration's frustration with congressional inaction on overhauling the No Child Left Behind law.
The No Child Left Behind Law, President George W. Bush's signature domestic accomplishment, tethered school accountability to nationalized tests and punished schools that registered failing grades. Congress has been extending the law on a year by year basis since it came up for renewal in 2007, and Duncan has vowed to exempt states from a key provision Congress takes action.
Duncan plans to grant states waivers from a particularly onerous provision mandating that 100% of students are proficient in reading and math by 2014, a benchmark Duncan said most schools cannot meet. He predicted that, if the law is not changed, 80% of public schools could be labeled as failing this fall.
Principals, superintendents and children cannot wait forever for the legislative process to work itself out, Mr. Duncan said. As it exists now, No Child Left Behind is creating a slow-motion train wreck for children, parents and teachers.
But Duncan is not giving the waivers away for free. In 2009 the Obama administration launched a competition known as Race to the Top that made $5 billion in grants available to states that embraced certain education reform priorities, including establishing mechanisms to hold teachers accountable for student performance, shuttering or transforming failing schools and expanding charter schools. Duncan is seeking similar commitments in states that obtain the waivers, prompting criticism that he is trying to push through the administration's education agenda without Congressional oversight.
It's really not the secretary's place to, in effect, legislate through this waiver-granting process, said Rep. John Kline, R-Minn. and chairman of the House Education and the Workforce Committee. Kline has pushed back against pressure from the Obama administration to address No Child Left Behind, saying the president cannot impose deadlines on Congress and telling reporters that Duncan is not the nation's superintendent.
An overhaul of No Child Left Behind had been expected to garner widespread support fairly easily, and Sen. Tom Harkin, D-Iowa and chairman of the Senate Education Committee, called Duncan's attempts to speed the procee premature given the bipartisan commitment in Congress to fixing No Child Left Behind. But the distraction of battles over debt and Republican intransigence, particularly from Tea Party freshman seeking to limit the federal government's role in public education, have stalled the process.
© Copyright IBTimes 2023. All rights reserved.
FOLLOW MORE IBT NEWS ON THE BELOW CHANNELS