Obama Couldn't Stop San Bernardino Shooters, But Expect More ISIS Details From Sunday Speech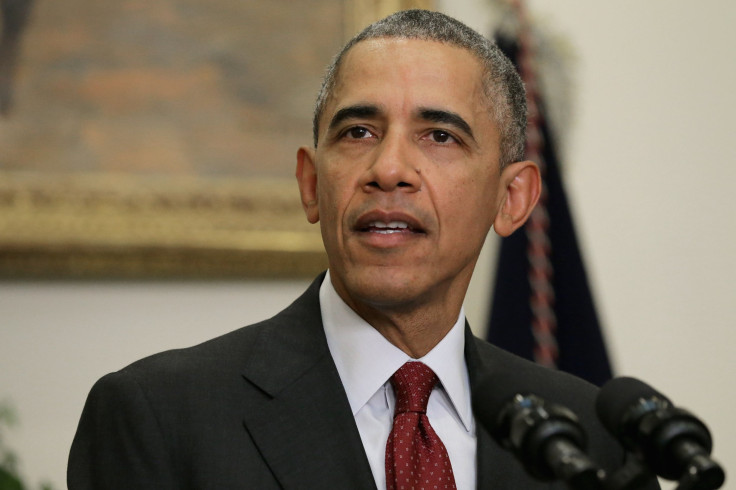 As he addresses the nation Sunday evening, President Barack Obama is under more pressure than ever to protect Americans from attack on their own soil. After 130 people were slaughtered in Paris and 14 in San Bernardino, California, conservatives, liberals, presidential hopefuls and security experts all agree the United States must use every available resource to stop the Islamic State terrorist group. The best approach, though, and how to implement it is where decision-makers quickly and bitterly divide.
That's the political landscape Obama faces Sunday, when he is to deliver an address to the nation at 8 p.m. EST about the threat presented by the Islamic State, also known as ISIS or ISIL. The president will pledge to deploy "every single aspect of American power" to stop ISIS, as well as give an update on the investigation into the San Bernardino shooters, Reuters reported Sunday.
"He will reiterate his firm conviction that ISIL will be destroyed and that the United States must draw upon our values, our unwavering commitment to justice, equality and freedom, to prevail over terrorist groups that use violence to advance a destructive ideology," White House press secretary Josh Earnest said in a statement announcing the address.
The president may have no choice but to work outside the obvious channels in facing the threat within U.S. borders. Surveillance conducted by the National Security Agency and other intelligence arms is primarily designed to detect anomalous interactions between Americans and overseas contacts, including suspicious communications and large financial transfers, rather than activities within the country. The couple blamed for the San Bernardino mass shooting may have been ISIS sympathizers, but may have been acting on their own initiative. They also purchased their weapons legally, and initial reports suggest they left little evidence of their plot online.
"You just can't stop it all," Rep. Michael McCaul, R-Texas, chairman of the House Homeland Security Committee, said on "Fox News Sunday." "We've stopped a lot of bad things from happening, but you can't just stop it all. ... You can't be right every time."
Watch @POTUS deliver a statement on the shooting in San Bernardino. https://t.co/JixeyA8M2f

— The White House (@WhiteHouse) December 3, 2015
Aside from tougher gun control laws, which have consistently failed to get through Congress, the president could increase investment in safety technology and research at home. Surveillance companies and cybersecurity researchers have responded to the mass shooting epidemic and increased terror concerns not by focusing on policy, but technology. One possibility under consideration by Brickhouse Security, a New York company that works with U.S. government contractors, is a modernized metal detector that's hidden in windows or doors.
"Traditional metal detectors aren't effective because people have cell phones, belts and so many other things that create a false positive," said Todd Morris, CEO of Brickhouse Security. "In reality, what people want is a gun detector, or something that can be installed inexpensively at schools and stadiums."
That kind of technology currently exists, but, because it's so expensive, is primarily used by the military for detecting improvised explosive devices in overseas combat zones.
There's also a growing amount of research about how ISIS reaches potential recruits on the other side of the world. The Department of Defense is funding a three-year grant research program at Arizona State University meant to determine how ISIS determines which social media users might be most suspectible to its propaganda.
"Our focus now is looking at how things spread in a network of individuals, then based on that we can predict what will go viral," Dr. Paulo Shakarian, a director of the Cyber-Socio Intelligent Systems Lab at ASU, previously told International Business Times. "We can look at things like what kind of persuasive techniques are being used and how effective they are. ... What we hope to do is provide recommendations for how to counter those messages."
That's a more concrete suggestion than the ones offered by presidential hopefuls on both sides. Democratic front-runner Hillary Clinton and Sen. Marco Rubio, R-Fla., have suggested working with technology companies, or forcing them, to remove encrypted messaging from their consumer offerings (no public evidence has yet indicated the San Bernardino shooters used encrypted messaging). Others, including Democratic presidential candidate Sen. Bernie Sanders of Vermont, have suggested increased international intelligence sharing.
"We have got to do everything that we can to protect the American people," Sanders said Sunday on CBS' "Face the Nation." "That's a no-brainer, and that means much tougher screening polices than we have right now. ... I think clearly Paris was an intelligence failure and we need to be tapping the intelligence information that is being ascertained from countries all over the world."
Republican presidential front-runner Donald Trump plans to insert himself into the debate during Obama's remarks. The real estate mogul earlier Sunday called for overt racial profiling to counter domestic terror threats.
FOR FREE to continue reading
✔️ Unlock the full content of International Business Times UK for free
offer available for a limited time only
✔️ Easily manage your Newsletters subscriptions and save your favourite articles
✔️ No payment method required
Already have an account?
Log in
© Copyright IBTimes 2023. All rights reserved.