Obama honors Super Bowl champ Packers despite rivalry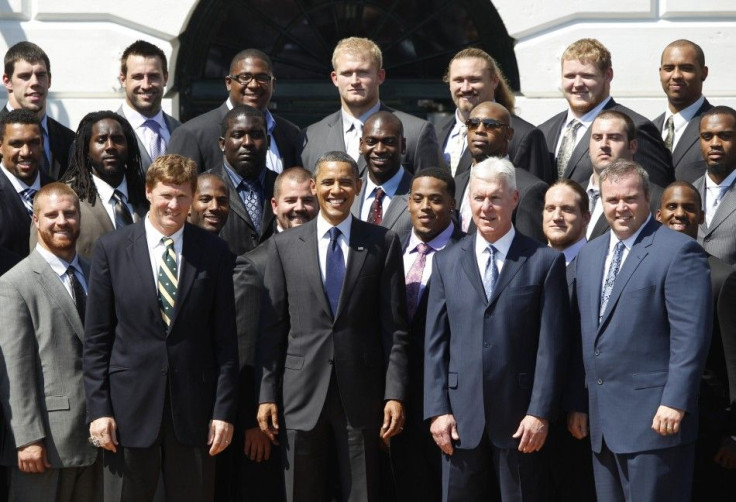 President Barack Obama honored the Green Bay Packers on Friday for winning the Super Bowl despite being a die-hard fan of the team's long-time rival to the south, the Chicago Bears.
Green Bay, winner of four Super Bowls and 13 National Football League titles overall, beat the Pittsburgh Steelers 31-25 in Dallas in February for their latest championship, earning the annual invitation to the White House extended to the game's winner.
"I'm just going to come out and say it. This hurts a little bit. This is a hard thing for a Bears fan to do," Obama told the Packers, who had shed their usual green and gold football jerseys in favor of suits and ties.
"You guys come into my house to rub it in," he said with a smile.
The Packers and Bears hold one of the longest and most spirited rivalries in the NFL, with the two Midwestern cities meeting for the first time in 1921.
The White House visit was extra sweet for some of the Packers. Obama said before Green Bay beat the Bears in the a conference championship game in January he would only attend the Super Bowl if the Bears were in it.
The proclamation provided extra motivation for Packers cornerback Charles Woodson, who later said if Obama didn't want to see them play the team would visit him in Washington.
"I know he's a Bears fan, but we're winners so it's all good," Woodson, who earlier presented Obama a share of Green Bay Packers stock, told reporters.
The Packers have more than 112,000 stockholders, and have sold shares to raise funds for things such as stadium improvements. The shares are not traded on an exchange.
Entering the season, the Packers are among the early favorites to earn another White House visit. They won last year despite injuries to several key players, and the Packers boast a young team led by the Super Bowl's Most Valuable Player, quarterback Aaron Rodgers.
Obama told the Packers to enjoy their Super Bowl victory "while it lasts," pointing to September 25 and December 25 when the Packers and Bears play again.
"If you guys are on a roll by then just keep in mind there is only one person here who can ground all planes in and out of Green Bay if he has to," Obama said.
© Copyright Thomson Reuters 2023. All rights reserved.