Obama Immigration Reform 2015: Illegal Immigrants In US Won't Get Free Healthcare Under Obamacare, Says President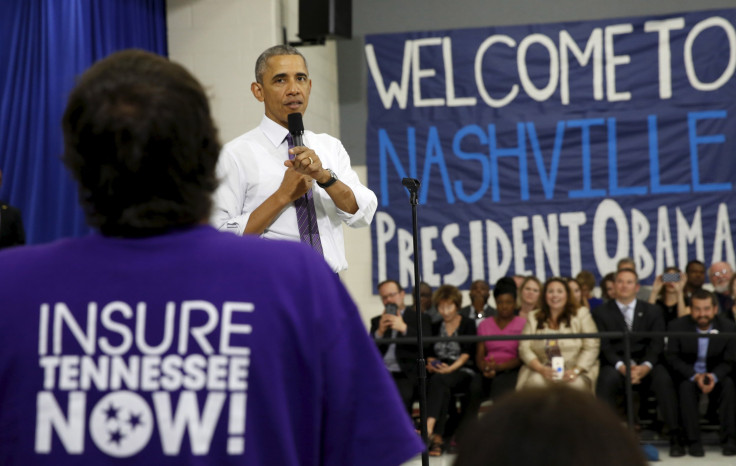 U.S. President Barack Obama touched on immigration reform on Wednesday while discussing the progress of the Affordable Care Act, also known as Obamacare, in Nashville, according to WDTN. When asked about a course to citizenship for undocumented immigrants, the president reiterated that the healthcare law does not make coverage available to people who are in the U.S. illegally, Obama said during a private event at Taylor Stratton Elementary School – his third visit in 18 months to a Nashville public school.
It was a point Obama has made before when faced with questions of whether the president's healthcare law would mean millions of undocumented immigrants would suddenly get free healthcare through Obamacare. Under the law, undocumented immigrants are not eligible for federal coverage, including Medicare and nonemergency Medicaid, however they could access emergency care under federal law. They also cannot purchase private health insurance through state insurance exchanges, according to the National Immigration Law Center.
The president's Nashville visit follows a Supreme Court ruling last week that solidified the future of the president's signature healthcare overhaul. The case of King v. Burwell dealt with insurance subsidies in states that opted not to set up their own health insurance exchanges. Ultimately, the justices ruled 6-3 that federal subsidies were available to people living in states without their own exchanges. "In other words, State Exchanges and Federal Exchanges are equivalent -- they must meet the same requirements, perform the same functions, and serve the same purposes," Justice John G. Roberts wrote in the court's majority opinion.
On Wednesday, the president stressed the merits of his healthcare law, including that it benefited between 100 and 150 million Americans, whether they knew it or not. "You're able to get free preventive care, including mammograms, as a consequence of this law," the president said Wednesday. He added that he felt "pretty good" about how his healthcare law had panned out.
© Copyright IBTimes 2022. All rights reserved.
FOLLOW MORE IBT NEWS ON THE BELOW CHANNELS