Obama Paves Way For East Coast Offshore Oil Exploration With Controversial Sonic Cannons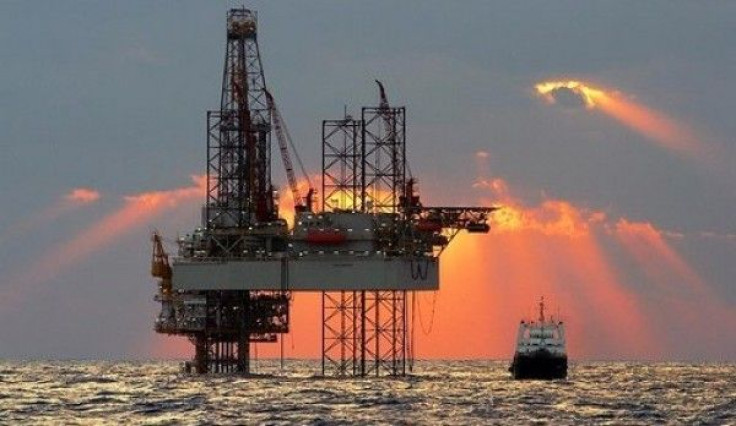 Updated 5:37 p.m. ET
U.S. oil and gas companies have been itching for decades to drill in the ocean off the Eastern Seaboard, where billions of barrels of oil are thought to be locked underground. But a longstanding moratorium has kept those coveted Atlantic Coast resources out of reach. Now, however, the Obama administration is clearing the way for what could be an offshore oil boom from Delaware down to Florida.
On Friday, the U.S. Bureau of Ocean Energy Management gave oil companies permission to scan the ocean floor for oil and gas deposits using powerful sonic blasts – a technology that the government estimates could harm nearly 140,000 sea creatures, including endangered whales and sea turtles, the Associated Press first reported. The sonic scanning allows oil exploration firms to gather preliminary data as they prepare to apply for federal drilling leases in 2018.
Energy experts said the sonic blast approval is an early move in what is likely to be a long and complicated exploration process. Much of the data on the Eastern Seaboard is decades old and largely speculative, and sonic scanning is one of many steps that lead to the eventual tapping of wells, said Fred Beach, an assistant director of energy policy at the Energy Institute at the University of Texas at Austin.
The BOEM announcement "is kind of a baby step, but it's an essential step," Beach told International Business Times. He said the seismic surveying "is like doing a sonogram on a human, except you're doing it through hundreds or thousands of feet of water and into the Earth's crust."
The "sonic cannons," also called "seismic airguns," are towed behind ships and shoot sound waves 100 times louder than a jet engine. The pulses of sound reverberate beneath the sea floor and bounce back to the surface, where computers translate the measurements into high-resolution 3-D images. The boats chug along, blasting sound waves, for weeks or months at a time. (View the bottom graphic for more details.)
"It's like if you have a flashlight with a small beam, and you're trying to look at a small area; you have to slowly scan it back and forth," said Beach, who worked with similar sonar technology during his 25 years in the U.S. Navy.
Environmental groups and marine life experts denounced the Obama administration's decision on Friday, arguing that the move not only presages increased greenhouse gas emissions, which will hasten global warming, but would create significant hazards for sea creatures that use sound to communicate across hundreds of miles. Most at risk are already endangered North Atlantic right whales, of which only 500 remain in the world.
"During this process, our government will jeopardize the health of large numbers of dolphins and whales as well as commercial and recreational fisheries, tourism and coastal recreation," Claire Douglass, campaign director at Oceana, an international ocean conversation advocacy group, said in a statement. "With today's decision, President Obama is bowing to pressure from Big Oil rather than listening to the thousands of voices calling on him to protect our natural resources and coastal economies."
The BOEM acknowledged the environmental risks of sonar scanning but defended the rules, which the bureau spent years developing and for which it gathered more than 120,000 comments, the AP reported. The sonic cannons are already in use in the western Gulf of Mexico and the Arctic Ocean off Alaska's North Slope, the only two regions currently open to U.S. offshore oil drilling.
"The bureau has identified a path forward that addresses the need to update the nearly four-decade-old data in the region while protecting marine life and cultural sites," acting BOEM Director Walter Cruickshank said in a statement, AP noted. "The bureau's decision reflects a carefully analyzed and balanced approach that will allow us to increase our understanding of potential offshore resources while protecting the human, marine, and coastal environments."
Beach, the energy policy expert, said that the sonic scanning is necessary to tell oil companies where to drill, "although until you drill the hole, it's still a gamble."
The bureau estimates that nearly 5 billion barrels of recoverable oil and nearly 38 trillion cubic feet of recoverable natural gas lie beneath U.S. waters in the Atlantic Ocean, but the actual numbers could prove to be lower – or much higher – once drilling actually starts offshore, he said.
While the BOEM is the lead for issuing federal offshore leases and drilling permits, the U.S. National Oceanic and Atmospheric Administration is pivotal in allowing oil exploration companies to conduct sonic scanning. Companies interested in such activities apply at the agency for "incidental harassment authorizations," a NOAA spokeswoman said.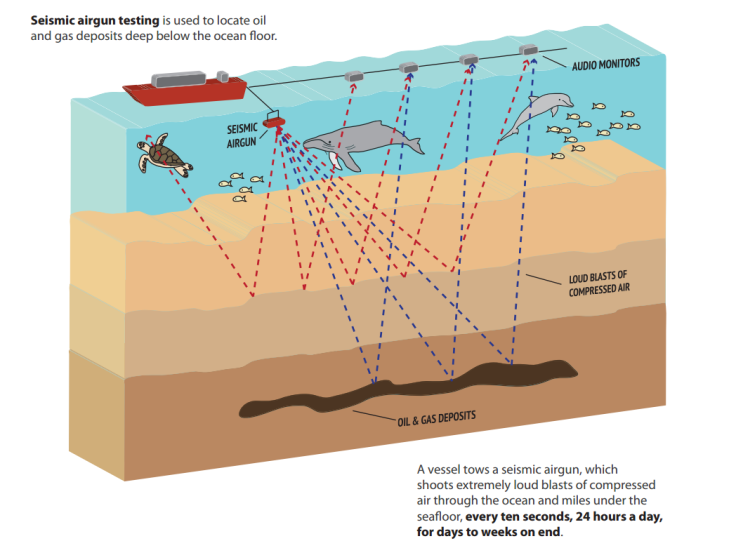 © Copyright IBTimes 2022. All rights reserved.
FOLLOW MORE IBT NEWS ON THE BELOW CHANNELS