Obama Uses Japan Visit To Reassure Wary Asian Allies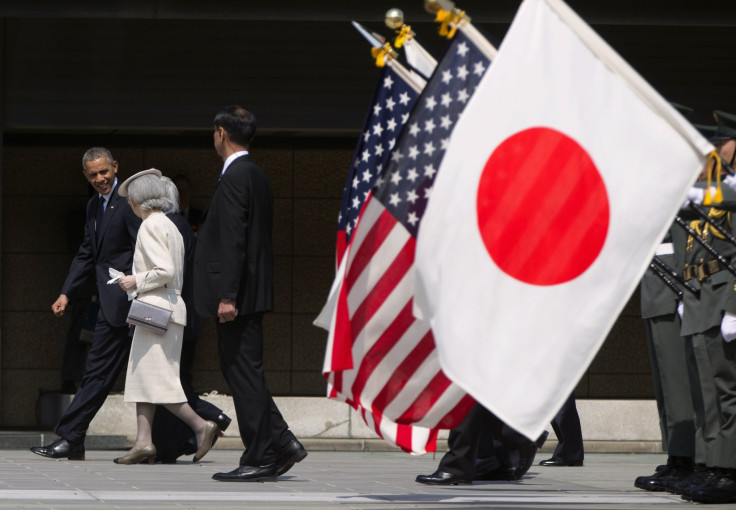 (Reuters) - U.S. President Barack Obama used a state visit to Japan on Thursday to try to reassure Asian allies of his commitment to ramping up U.S. engagement in the region, despite Chinese complaints that his real aim is to contain Beijing's rise.
Obama is being treated to a display of pomp and ceremony meant to show that the U.S.-Japan alliance, the main pillar of America's security strategy in Asia, remains solid at a time of rising tensions over growing Chinese assertiveness and North Korean nuclear threats.
"As you said, my visit here, I think, once again represents my deep belief that a strong U.S.-Japan relationship is not only good for our countries, but good for the world," Obama told Japanese Prime Minister Shinzo Abe at the start of their summit.
"Our shared democratic values mean that we have to work together in multilateral settings to deal with regional hot spots Around the globe, but also to try make sure we are creating a strong set of rules that govern the international order."
Behind the scenes, U.S. and Japanese trade negotiators for the two countries were working around the clock in Tokyo on a two-way trade pact seen as crucial to a broader trans-Pacific agreement.
"We're continuing to work," a U.S. official said on Thursday, before the leaders met on the first state visit to Japan by a U.S. president in 18 years.
"Autos and agriculture continue to be the focus, and our goal remains to achieve meaningful market access for American businesses, farmers and ranchers," the official said. "We've made some progress and worked around the clock.
Even if Obama and Abe cannot complete a bilateral trade deal before the U.S. president leaves Tokyo on Friday, they are likely to try to project a sense of progress on key issues.
BALANCING ACT
The diplomatic challenge for Obama during his week-long, four-nation regional tour will be to convince Asian partners that Washington is serious about its promised strategic "pivot" towards the region, while at the same time not harming U.S. ties with China, the world's second-biggest economy.
The difficulty of Obama's balancing act was underscored hours before he arrived on Wednesday night when Chinese state media criticized U.S. policy in the region as "a carefully calculated scheme to cage the rapidly developing Asian giant".
The official Xinhua news agency followed that on Thursday with a commentary that said: "...the pomp and circumstance Obama receives ... cannot conceal the fact that Tokyo has become a growing liability to Washington's pursuit of long-term interests."
Obama told Japan's Yomiuri newspaper that while Washington welcomed China's peaceful rise, "our engagement with China does not and will not come at the expense of Japan or any other ally".
An Obama-Abe joint statement is likely to specify that tiny Japanese-administered islands in the East China Sea, claimed by Beijing, fall under the U.S.-Japan treaty that obliges Washington to defend Tokyo, Japanese media said on Thursday.
This is standard U.S. policy, but putting Obama's name to such a statement would reassure Japan on an issue that is a source of tension between Asia's biggest powers.
Obama's trip will also include stops in South Korea, Malaysia and the Philippines. Leaders who will meet Obama are also keeping a wary eye on the crisis in Ukraine through the prism of their own territorial disputes with Beijing.
Some of China's neighbors worry that Obama's apparent inability to rein in Russia, which annexed Crimea last month, could send a message of weakness to China.
MESSAGE OF SOLIDARITY
The Japanese government lobbied hard to get the White House to agree to an official state visit, the first by a sitting U.S. president since Bill Clinton in 1996.
Topping Obama's schedule on Thursday was an audience with Emperor Akihito at the Imperial Palace and a summit with Abe followed by a joint news conference. He will also visit the Meiji Shrine, which honors the Japanese emperor who oversaw the country's rapid modernization in the late 1800s.
At an official welcoming ceremony by Emperor Akihito, Obama walked smiling past Japanese schoolchildren waving small U.S. and Japanese flags, solemnly inspected a rifle-bearing military honor guard, and shook hands with Japanese dignitaries in front of the sprawling palace before heading inside with his hosts.
Abe will be trying to soothe U.S. concerns that his conservative push to recast Japan's war record with a less apologetic tone is overshadowing his pragmatic policies on the economy and security.
"Japan has been walking on the path of peace for seven decades after the war," Abe told Obama at the start of their talks. "An alliance between Japan and the United States, which share such values as freedom, democracy and human rights, as well as strategic interest, is indispensable as a cornerstone for peace and prosperity in the Asia-Pacific region."
Obama and Abe are expected to send a message of solidarity after strains following Abe's December visit to Tokyo's Yasukuni Shrine, seen by critics as a symbol of Japan's past militarism.
In his remarks to the Yomiuri, Obama has already assured Japan that the bilateral defense treaty covers the disputed islets, called the Senkaku by Japan and the Diaoyu by China.
The Obama-Abe joint statement will say the two allies will not tolerate any attempt to change the status quo there by force, a phrase that implicitly targets China.
© Copyright IBTimes 2023. All rights reserved.