Obamacare Bringing Uninsured Rate Down: Gallup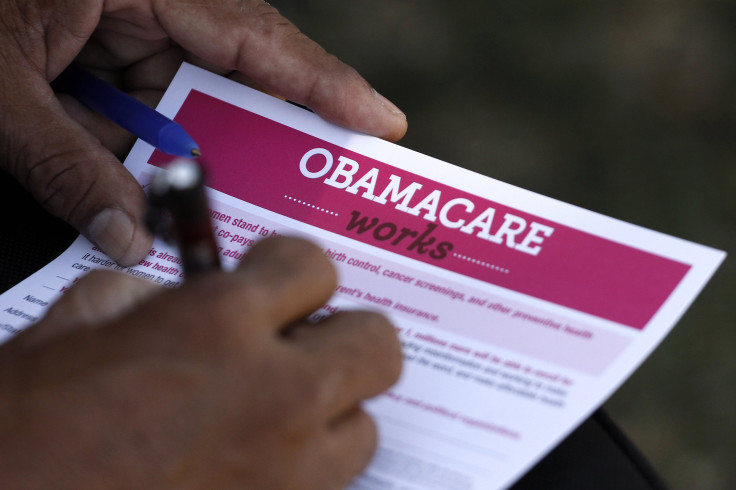 The uninsured rate among all major demographic groups in the U.S. is going down, but Hispanics are still among the least insured in the country, a new survey found.
The Gallup-Healthways Well-Being Index, which measures so-called well-being, released its findings on Monday, showing that 15.9 percent of Americans are uninsured thus far in 2014. That's down from the last quarter of 2013, when 17.1 percent of Americans had no health insurance.
A possible reason for the decline is one most congressional Republicans probably don't want to hear, since they recently voted a 50th time to try to dismantle it: the Affordable Care Act, also known as Obamacare. According to researchers, more than 3 million people have signed up for insurance through Obamacare exchanges.
"The uninsured rate continues to decline after the requirement to have health insurance went into effect on Jan. 1, 2014," the researchers said. "This drop could be a result of the ACA, which aims to provide health care coverage to more Americans through multiple provisions, including federal and state health care marketplaces where Americans can purchase health insurance coverage at competitive rates."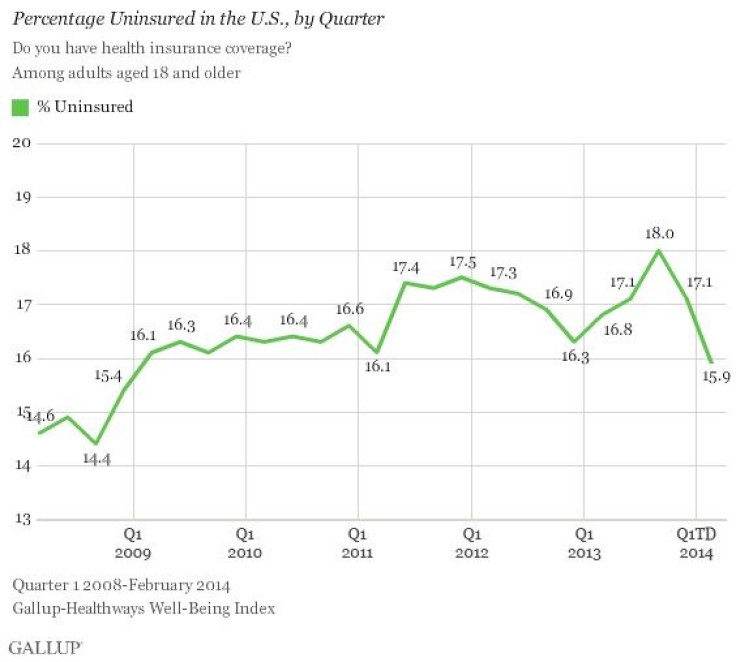 After interviewing more than 28,000 American adults between Jan. 2 and Feb. 29, researchers found the following:
-- The largest percentage drop in the uninsured rate was recorded among people in the lower-income bracket and among black Americans;
-- The percentage of uninsured Americans with an annual household income of less than $36,000 dropped the most, specifically by 2.8 percentage points to 27.9 percent since the fourth quarter of 2013;
-- The percentage of uninsured blacks fell 2.6 points to 18.3 percent;
-- The Hispanics subgroup is most likely to be uninsured, with a rate of 37.9 percent;
-- All age groups this year, except those 65 and older, saw a decline in their uninsured rate. Gallup researchers say most Americans 65 and older have Medicare, and so the uninsured rate for that group has likely remained stable;
-- The uninsured rate among those between ages 26 and 34 years is down to 26.6 percent;
-- For those between 35 and 64 years old, the uninsured rate is 16.3 percent; and
-- More Americans are opting for plans paid for by themselves or a family member, as data shows the percentage of Americans getting insurance through a current or former employer declined in the first quarter of this year to 43.4 percent.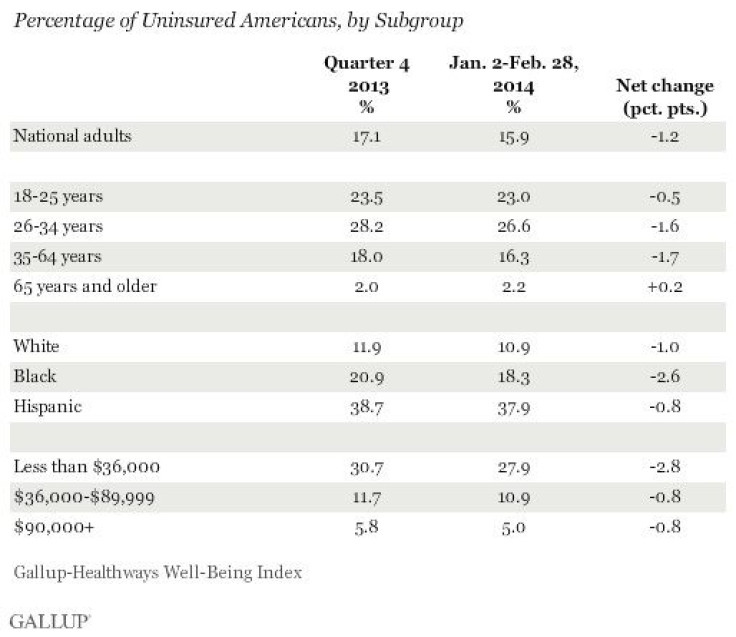 The consequence of all this, according to Gallup, is that the uninsured rate is on track to be at the lowest quarterly level its pollsters have measured since 2008. That number could drop even further, as the open enrollment period will close at the end of this month. Last week, the administration announced that people whose plans don't meet Obamacare's standards can keep those plans for three years.
"Other provisions of the health care law have not yet gone into effect, such as the requirement for employers to provide health insurance to their employees by 2015 or 2016," Gallup said. "These provisions also may affect the uninsured rate over time."
© Copyright IBTimes 2023. All rights reserved.