Obesity In Blacks And Latinos: Amid National Epidemic, Vast Disparities By Race, State, Report Shows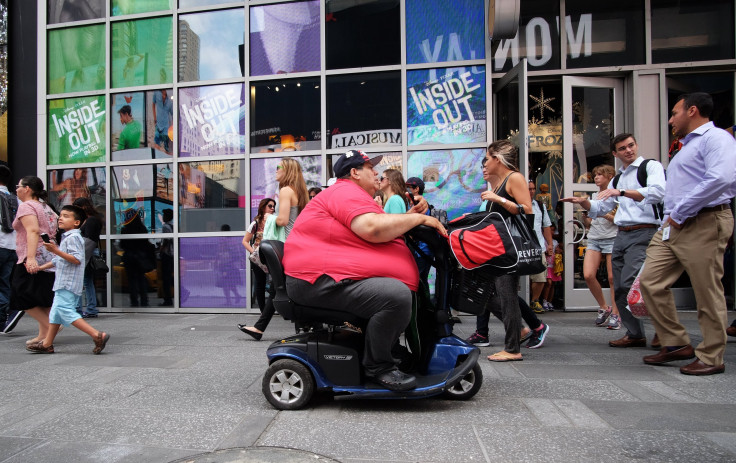 America's obesity epidemic is a highly uneven one, the latest report in an annual series on being overweight published Monday showed. In the South and Midwest, rates of obesity are notably higher than in other parts of the country, and they're also far higher among blacks and Latinos than among whites. Even with these disparities, at least one-fifth of every state's population is obese, a rate that has stabilized in recent years.
"Efforts to prevent and reduce obesity over the past decade have made a difference," Jeffrey Levi, executive director of the Trust for America's Health, a health advocacy organization in Washington, D.C., that co-authored the report with the Robert Wood Johnson Foundation, said. "But we still haven't invested enough to really tip the scales," he said.
In addition, the report compiled data on diabetes and hypertension in the U.S., two diseases or conditions frequently tied to obesity, and it looked at physical inactivity, access to healthy food and obesity-related healthcare costs.
Obesity rates appeared to have leveled off in the past decade or so, yet Americans have still been growing bigger, the U.S. Centers for Disease Control and Prevention found in September 2014. Obesity rates did not significantly change from 2003 and 2004 through 2011 and 2012, but the average waist circumference of an American adult has nevertheless grown from 37.6 inches in 1999 and 2000 to 38.8 inches in 2011 and 2012.
But the picture of obesity, and all its health implications, varied significantly by state by and racial or ethnic group, Monday's report showed.
Of the 25 states with the highest rates of obesity, 23 are in the South and Midwest. Of the 10 states with the highest rates of diabetes, nine were in the South. Arkansas had the highest rate of obesity, at 35.9 percent, followed by West Virginia at 35.7 percent and Oklahoma at 35.5 percent. The states with the lowest obesity rates were Massachusetts, at 23.3 percent, Hawaii, at 22.1 percent and Colorado at 21.3 percent.
On a national level, obesity rates were at 47.8 percent among blacks and 42.5 percent among Latinos, but among whites it was 32.6 percent. Still, the rate was highest among American Indian and Alaska Natives, at 54 percent.
The report noted that preventing children from become obese or overweight is much easier and more efficient than helping people lose the weight as adults. But it also found, alarmingly, that by the time they're 6 to 11 years old, 5 percent of children are already obese.
"In order to build a national culture of health, we must help all children, no matter who they are or where they live, grow up at a healthy weight," Risa Lavizzo-Mourey, the president and CEO of the Robert Wood Johnson Foundation, said in a press release.
The report called for improvements in school nutrition and physical education programs as well as community programs that encouraged physical activity and health-related initiatives, particular in low-income areas.
© Copyright IBTimes 2022. All rights reserved.
FOLLOW MORE IBT NEWS ON THE BELOW CHANNELS