Occupy Homes: Protesters Target Foreclosures on Dec. 6 'Day of Action'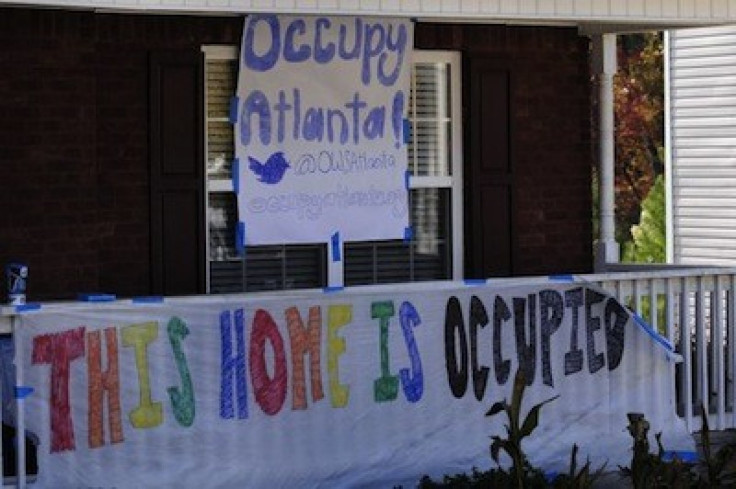 Occupy Homes, an offshoot of Occupy Wall Street, will protest in foreclosed and vacant properties in around 25 U.S. cities on Tuesday's Day of Action, promoting what organizers call the basic human right of housing.
Along with Occupy Wall Street protesters, the movement will bring together affordable housing activists, tenant groups, homeless advocates and other civic groups, who will march on one of the most visible legacies of the economic crisis.
Despite recent modest gains in employment, the national housing markets remains bleak. Home prices have descended steadily downward throughout the year, according to the Case-Shiller Housing Index, while nearly a quarter of U.S. homes have underwater mortgages, according to CoreLogic.
I think it's a natural evolution, Max Rameau of Take Back the Land, one of the national organizers, told International Business Times.
Rameau has been advocating for community-controlled land since 2006, and his cause received a boost after the Occupy movement coalesced a few months ago. But with many groups being uprooted from public spaces, physically occupying troubled homes brings a continued, tangible presence of the movement, he said.
You can't organize except face to face, he said. You can't do that through Twitter.
Throughout the country, local organizations will act in an orchestrated -- but diverse -- effort.
Chicago has thousands of vacant properties, and activists there will target three separate homes on Tuesday to refurbish and move families in.
We're trying to show that these properties are having a detrimental impact on the community, said Willie J.R. Fleming of the Anti-Eviction Campaign. What we're trying to do is give control of the land back to the community. We're not asking for human rights. we're enforcing our human rights.
Activists in East New York, Brooklyn, also plan to move a family back into a foreclosed home.
In Portland, Ore., protesters will hold a conference at the home of a couple, both of whom have cancer and are at risk of eviction. Later, it will visit the local sherrif's and county assessor's office and enrcourage police to stop enforcing evictions, said Taran Connelly of Unsettle Portland, one of the groups involved.
People should have more to say than banks who played a roulette game, he said, adding that the group was working with three other properties that are facing eviction before the holidays.
In Madison, Wis., organizers will liberate a residence owned by Bank of America, said Monica Adams, a local spokeswoman for Take Back the Land. It will be the third property the group has targetted -- at previous properties, banks have sent police or installed full time security, said Adams.
"We need to fundamentally transform our relationship with land in this country," she added.
Tim Franzen, a spokesman for Occupy Atlanta, said local protesters plan to disrupt three morning foreclosure auctions at the largest local county courts. Civil rights leader Joseph Lowery will give a speech, and later, Occupy Atlanta will set up tents at two homes, which are in danger of eviction from JPMorgan Chase.
One home had one of the worst predatory loans he has seen, Franzen said, with a $312,000 value that ballooned to $1 million, after interest, for a retiree. The second home is owned by an Iraq War Veteran who was injured by a roadside bomb and is on 90 percent disability with a fixed income, according to Franzen. She lives with her girlfriend and two children.
This is a person who literally put her life on the line and paid the price for it, said Franzen. And now JPMorgan wants to snatch it.
Although major banks, along with Fannie Mae and Freddie Mac, have placed a temporary moratorium on evictions between Dec. 15 and Jan. 2, activists call the move a public relations gesture.
A real moratorium is created to fix something. This is not a real moratorium, said Franzen. He called for a 12-month moratorium, where local home prices are reassessed and mortgages are paid based on present values.
And while he agreed with the sentiment of housing as a human right, Franzen said that Occupy Atlanta was specifically targetting the lenders.
Tomorrow is really about challenging the banks. It's about challenging the economic system that's snatching up people's homes, said Franzen. People are getting ripped off. The American people are getting ripped off. That is an intolerable injustice.
Both federal regulators and some state attorney generals have taken legal action against banks and lenders, and the government recently made over four million mortgages eligible for independent review.
But protesters aren't satisfied. In the coming months, they plan a spring offensive of occupying and targeting more properties in each city.
We think if we raise the scale, that'll lead to the policy changes we want to see happen, said Rob Robinson of Take Back the Land. We're all working together. That's the fantastic part about this for me.
© Copyright IBTimes 2023. All rights reserved.
FOLLOW MORE IBT NEWS ON THE BELOW CHANNELS