The Occupy Occupy Wall Street Movement: The 1 Percent Fights Back; Tavis Smiley Responds [PHOTOS]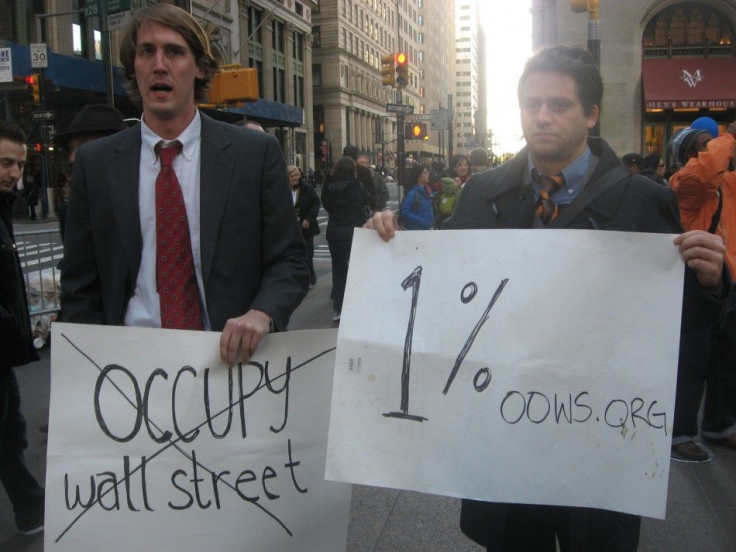 For the past seven weeks, the Occupy Wall Street movement has maintained their encampment in Zuccotti Park. Walking along the tent city of camping equipment and tarps, there are signs for just about every cause imaginable.
However, what most people may not expect to see is a group of protesters celebrating corporate America and criticizing the Occupy Wall Street Movement.
We think it has kind of gone for quite long enough and we totally support the end of it. People should just go leave an occupy something else, said Robert Stevens. Stevens, 29, is a founding member of Occupy Occupy Wall Street, a countermovement to Occupy Wall Street. Stevens, who also is an investment banker, is highly critical of the Occupiers. He perceives those individuals to be misguided in their anger.
Sometimes I think people are just barking up the wrong tree. Let's think about it. We are used to getting up at 5 a.m. and working until 10 p.m. If our jobs didn't exist anymore, we have to take other people's jobs, said Stevens. I don't think that's what people are looking for. They don't realize quite what they want either.
An Investment Banker's View
Stevens and his cofounder, John Nelson, 29, who is also an investment banker, took to the streets near Zuccotti Park holding signs and expressing their views. They strongly believe in the capitalist system and are extremely proud of their success, as they encouraged the Occupiers to leave the park and find work.
People don't like winners and we're winners, said Nelson. It's not like I'm angry at these people. I look at it like they are a homeless guy outside of my work. Is it annoying? Yes. Do I hate them? No. Do I wish they would just go out and get a job? Yes.
OOWS, as they refer to themselves, claims they are receiving support from their fellow 1 percent.
We are getting handshakes whenever we walk anywhere, but here. People are saying they love what we do, said Nelson.
Nelson also claims that the Occupiers are envious of Wall Street.
However, Occupier Adam Roth claims that many of the Wall Street bankers, investors and hedge fund managers have defected from the 1 percent.
A lot of the people in these buildings are on our side. We have known that for years, said Roth. Roth explained that the Wall Street workers even understand that the things may need to change.
It's not fair to have a system that the groups of people who are winning get to reset the rules so they can continue winning, said Roth.
Nelson and Stevens believe that the end is coming soon of the Occupy Wall Street movement. Along with a string of confrontations with police officers recently, they believe the cold will drive the protesters home.
If you are going to say the problem's with us, talk to us about it. Maybe there is a solution. Maybe the solution is just to go out there and find a nice job instead of just setting up in the sea of tents, said Stevens. It's getting pretty cold.
Yeah, it's getting cold. It's warm in the office, Nelson said laughing.
The Future of Occupy
Stevens also mentioned rational thinking will eventually take over the protesters thoughts and they will go home.
I think once those two things set in, there will be a short shelf life for this. People will have to realize this has a limited time, he said.
However, Mark Bray, who is part of the Occupy Wall Street press team, is confident the movement will continue into the winter.
We had a massive snowstorm and we are still here, he said. We have been in touch with outdoor survival experts, said Bray. According to Bray, these experts have taught the Occupiers how to survive in the intense cold with minimal supplies.
PBS television talk show host, commentator and journalist Tavis Smiley arrived at Zuccotti Park to express his support for the movement. Smiley, however, did not take the OOWS too seriously.
I think it's a little gimmicky, said Smiley. Smiley explained he does not agree with what Nelson and Stevens are saying.
The truth is on the side of the protesters, said Smiley. It's not even about the haves and the have-nots anymore. It is the haves and the have-mores.
Still, there is almost a mutual respect between both groups.
I support their right to be here and protest, said Smiley, while Nelson and Stevens expressed similar views.
Both groups agree that it is every American's fundamental right to be able to protest. However, Nelson and Stevens maintain the Occupiers are essentially flawed in their thinking.
These people have a right to speak. This is America, we can speak. Unfortunately, a lot of dumb people have opinions and that is what you are seeing here, said Nelson. We could just walk by and say nothing. This is an inconvenience and why not speak up? We know action is going to happen pretty soon and it's good to be on the right side of things.
To report problems or to leave feedback about this article, e-mail: m.billera@ibtimes.com. Follow Michael Billera on Twitter.
FOR FREE to continue reading
✔️ Unlock the full content of International Business Times UK for free
offer available for a limited time only
✔️ Easily manage your Newsletters subscriptions and save your favourite articles
✔️ No payment method required
Already have an account?
Log in
© Copyright IBTimes 2023. All rights reserved.