Occupy Wall Street Gains Momentum as Unions Offer Support, Protests Spread to Boston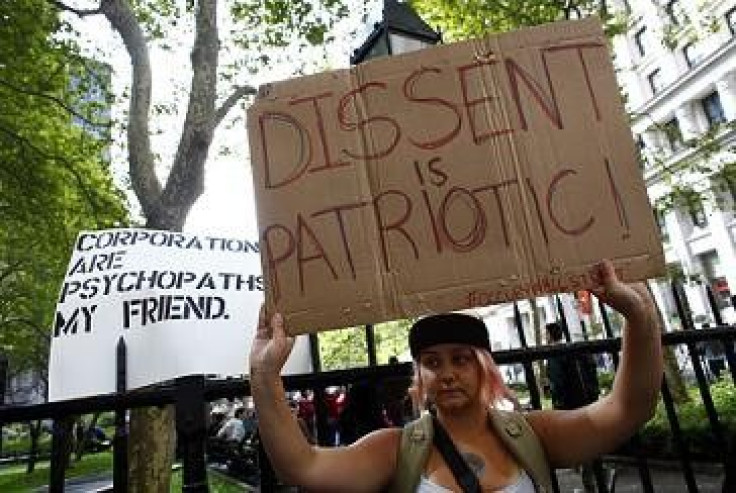 As an indication of the odds the Occupy Wall Street protestors are up against, the businesses ringing their base camp of Zuccotti Park offer a good symbol: the protestors are encircled not just by the police cars blocking off three lanes of traffic on Broadway but by a Bank of America, an HSBC and a Men's Wearhouse, replete with the uniforms of the financial industry.
The protestors camped out in Zuccotti Park have been resilient in their critique of corporate power, persisting despite small numbers and a diffuse message. Now, help could be on the way, as New York City labor unions and community groups have thrown their support behind Occupy Wall Street and pledged to join in a massive rally on Wednesday, Oct. 5.
On Wednesday night, the executive board of the New York Transit Workers Union (TWU Local 100) voted unanimously to endorse Occupy Wall Street, and will use an Oct. 12 rally planned before Occupy Wall Street began to express solidarity. A group of organizations that includes United NY, Strong Economy for All Coalition, Working Families Party, VOCAL-NY, Community Voices Heard, Alliance for Quality Education, New York Communities for Change and Coalition for the Homeless is poised to join the Oct. 5 protest.
Could Occupy Wall Street Become A Movement?
These young folks are out there and they're singing our tune, and they're saying what we've been saying for quite some time that the so-called shared sacrifice is a one way street, said Jim Gannon, a spokesperson for the TWU Local 100. Young people face high unemployment, it's very difficult to get jobs and in many ways they're in the same boat as public sector workers are. So we all get together and who knows, this might become a movement.
Gannon noted a strong parallel to the massive protests that engulfed Wisconsin's state capitol in February as lawmakers pushed legislation to strip public employees of most collective bargaining rights. That protest reverberated beyond Madison, Gannon said, and he noted that Occupy Wall Street's message could resonate beyond downtown Manhattan.
In Madison they were fighting for themselves but they weren't only fighting for themselves, Gannon said. It hit a chord with a lot of people across the country, not just union workers. And I think [Occupy Wall Street] is starting to hit a real chord, especially with blue collar workers.
Hundreds of non-union uniformed pilots protested low pay outside Wall Street on Tuesday, and although they were unrelated to Occupy Wall Street they seemed to share a simmering discontent with stagnating wages and poor employment prospects. The Occupy Wall Street protestors have intentionally avoided articulating a specific set of goals or grievances, hoping instead to capitalize on a sense that Wall Street I thriving, and influencing the political process, while the economy continues to sputter.
I think we've proven that we're legitimate, we're organized and we're fighting for all of us, said Rachel Leone, a 25-year-old protestor. Anyone who showed up on the first day [of the protests] was confused as to what was going on, but we've built it up by ourselves. I really think that as it gets bigger, our unified message is going to be even stronger which is that things are not working with Wall Street and Washington just isn't working.
Solidarity From CUNY Faculty
The protestors have also found allies in faculty members from the City University of New York. Alex Vitale, a professor of sociology at Brooklyn College, said CUNY professors have been a regular presence offering everything from food and bagels to advice at Zuccotti Park. He is also helping to organize a protest against police treatment of protestors, an issue that has garnered substantial attention since a video in which an officer uses pepper spray on two apparently defenseless protestors surfaced. Vitale said that reports of police brutality have historically helped to strengthen protests like Occupy Wall Street, drawing a comparison to a 1968 sit-in at Columbia University that gained notice after police officers violently intervened.
The [Occupy Wall Street] group suffered some police repression and did not sort of retreat in the face of that, so it signals to people this thing is real, its solid, its not going to go away, Vitale said. And then the flip side of that is when people see demonstrators who they basically agree with their efforts, when they see them being repressed that galvanizes interest an support for what they're doing,
It seems to be spreading. A group of about 200 protestors took to the Boston Common on Wednesday, pledging to emulate the Occupy Wall Street protests in New York. Bob, a 54-year-old electrician and member of the International Brotherhood of Electrical Workers, arrived at Zuccotti Park wearing a white hardhat and blue t-shirt emblazoned with 103, the number of his Boston-based union shop. He had arrived, he said, to show solidarity on behalf of the union workers in Boston.
Just to get a true democracy going again, he said. This is not a functioning democracy at all.
You can contact the reporter at j.white@IBTimes.com
FOR FREE to continue reading
✔️ Unlock the full content of International Business Times UK for free
offer available for a limited time only
✔️ Easily manage your Newsletters subscriptions and save your favourite articles
✔️ No payment method required
Already have an account?
Log in
© Copyright IBTimes 2023. All rights reserved.