Occupy Wall Street Movement: Half of Americans Know About it, Plurality Support it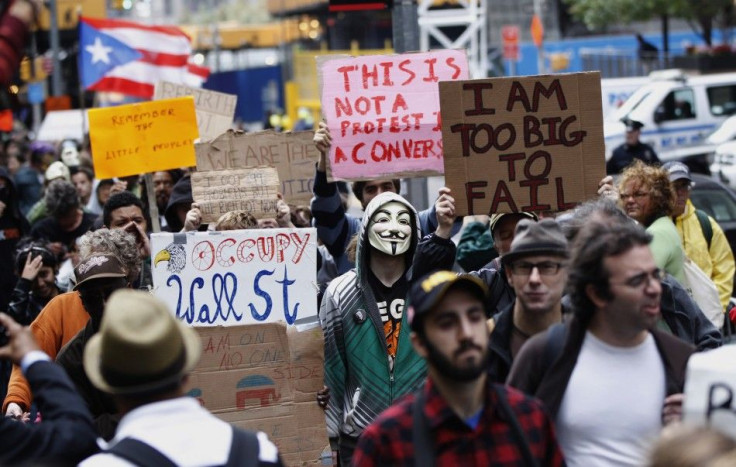 Half of all Americans have heard of the Occupy Wall Street movement, and of the people who have heard of it, a plurality support its message, according to a poll released this week.
According to the ORC International Caravan poll of 1,005 Americans, 51 percent had heard of Occupy Wall Street and 49 percent hadn't, with a margin of error of plus or minus three percentage points. Of the people who had heard of it, 42 percent agreed with the overall message of the movement, 27 percent disagreed and 30 percent had no opinion.
When the message of the movement was briefly described, 27 percent of all Americans -- including those who hadn't heard of the movement -- said they agreed with that message, 19 percent disagreed and 54 percent had no opinion.
Among people who said they used social media to learn about or discuss current events, support for the movement was slightly higher: 34 percent agreed with its message, 14 percent disagreed and 52 percent had no opinion.
Occupy Wall Street Addressing Inequality
The poll described Occupy Wall Street as a movement that denounces inequalities in the financial system that they claim favor the wealthy. The group seeks social change to address these inequalities through their activities, which include protests, gatherings and commentary on social media, such as Twitter and Facebook.
The movement began in New York almost a month ago and has since spread to numerous other cities across the country, including Atlanta, Boston, Chicago, Seattle and Los Angeles.
Among politicians, the response to the movement has been split neatly along party lines, with Democratic leaders mostly expressing support for the protesters and Republican leaders almost universally decrying them.
It remains to be seen how public support levels will change as the movement develops and as more people learn about it. It's possible that people who heard of the movement early on are more likely to agree with its aims, which could account for the plurality of support.
But for now, it's clear that the protesters' message is resonating with a large number of Americans.
© Copyright IBTimes 2023. All rights reserved.