Ohio LGBT 'Fairness Act' Legislation Targets Discrimination, Inspired By Supreme Court Same-Sex Marriage Decision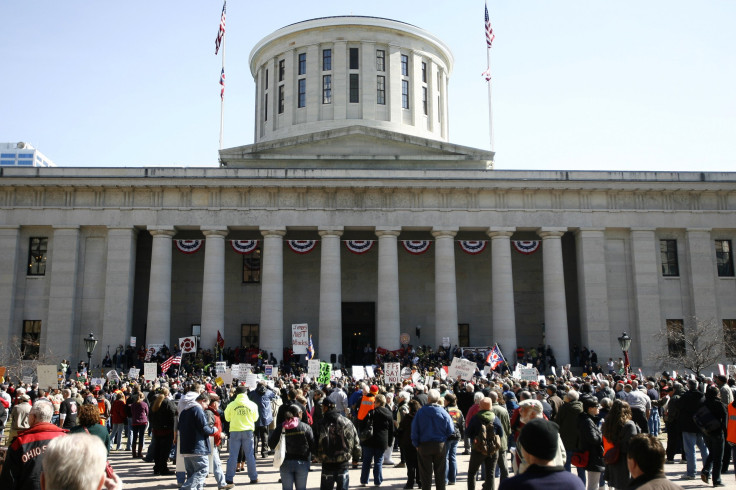 It's been three months since the U.S. Supreme Court validated same-sex marriage as a nationwide right, but one Democratic lawmaker in Ohio hopes momentum from that decision can still propel legislation. State Rep. Nickie Antonio of Lakewood introduced legislation this week that would enhance Ohio's anti-discrimination law to protect people from discrimination in housing and employment based on their sexual orientation and or gender identity.
It's the third time that Antonio, one of two openly gay members of the state Legislature, has proposed changes to anti-discrimination laws, which she said are needed more than ever to protect Ohio's lesbian, gay, bisexual and transgender community now that couples can legally wed. The Supreme Court's historic decision in late June could influence more of her colleagues to support ending discrimination, Antonio said.
"I don't know about you, but I feel like it's a different world," she said Wednesday at a press conference at the statehouse in Columbus, according to the Youngstown Vindicator. "I really do believe that it's a time when everybody can reassess and not be entrenched in where they've been before" on LGBT rights, Antonio added.
One of the same-sex marriage cases appealed to the Supreme Court, Obergefell v. Hodges, originated from an Ohio couple who had sued the state for refusing to recognize their marriage performed legally in another state. In the 5-4 decision, the court found that the Fourteenth Amendment to the U.S. Constitution compels all states to permit same-sex couples to marry and recognize marriages performed in other states.
After the decision, activists turned their attention to discrimination against LGBT individuals in employment and housing, which is not expressly illegal under federal and many state laws. Opponents of same-sex marriage, particularly groups that object to it based on their religious beliefs, also sought religious exemptions for clergy and business owners that wished not to participate in the unions.
Although Ohio and several other states passed such exemptions, new anti-discrimination measures would leave those exemptions intact, Antonio said. Her proposed "Ohio Fairness Act" would add sexual orientation and gender identity to the list of classes protected by state law, the Vindicator reported.
Same-Sex Marriage Legality Over Time | FindTheBest
© Copyright IBTimes 2023. All rights reserved.
FOLLOW MORE IBT NEWS ON THE BELOW CHANNELS