Supreme Court Gay Marriage 2015: Advocates Confident Of Their Chances Ahead Of Critical Oral Arguments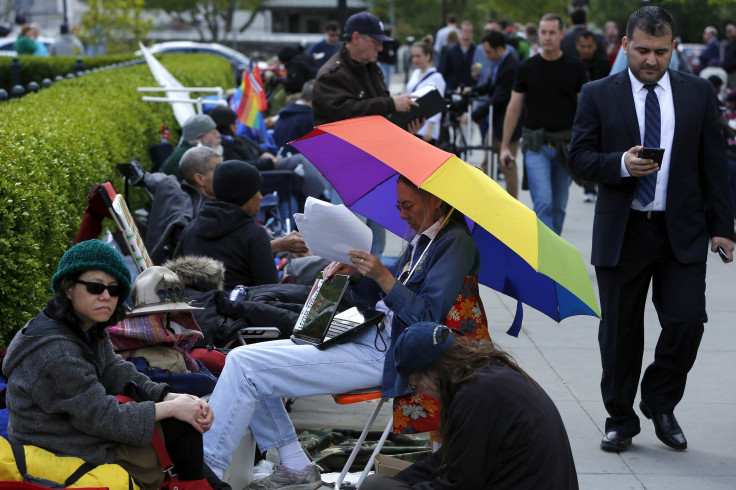 More than a year ago, Knoxville, Tennessee attorney Regina Lambert popped open a champagne bottle. There was reason to rejoice: Her clients' had decided to take a lawsuit surrounding the state's recognition of their out-of-state same-sex marriage all the way to the U.S. Supreme Court. But just one half of the lesbian couple, Valeria Tanco and Sophy Jesty, could partake in the celebratory libations: "That's when Val said, 'I can't because I'm pregnant,'" Lambert said.
Lambert said she saw a newfound urgency with the couple's baby girl being born to a set of parents who had equal rights and responsibilities as her guardians. They succeeded initially -- a lower court placed an injunction against a state law barring Jesty from being the legally-recognized mother to their daughter Emilia. But Tennessee remains one of 13 states with bans on gay marriage and does not recognize legal unions performed elsewhere, pending a decision by Supreme Court justices, who hear oral arguments Tuesday on lawsuits against four states.
"We've seen the impact marriage equality is having in neighboring states," Lambert said in a phone interview Monday. "We feel like were sitting on the sidelines. We're waiting to join the dance."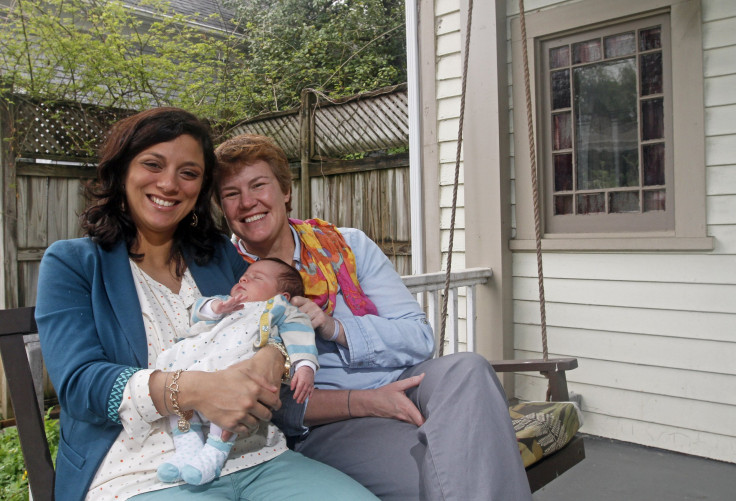 Although the Supreme Court court ruled last year in U.S. v. Windsor that the U.S. government must recognize marriages performed in states where same-sex unions are legal or have had bans struck down by courts, justices punted on the constitutionality of state-level bans. Based on the court's prior consideration of issues for the LGBT community, Lambert and other legal experts said they were confident that there are enough justices to swing the court in favor of marriage equality.
"The Windsor decision laid a very strong foundation," said Shannon Minter, the legal director of the National Center for Lesbian Rights. The organization is representing three Tennessee couples in the oral arguments: two male couples, including one from Memphis and one from Nashville, as well as the lesbian couple from Knoxville. "In some respects, we're asking them to take a relatively small step. But it's a step that will be hugely momentous for the families affected."
Same-sex marriages are legal in 37 states. If justices decide in favor of gay marriage and marriage-recognition, effectively validating marriage equality in the U.S., opponents say it would destroy religious liberty. Thousands of people from anti-gay marriage church-based groups marched and rallied in front of the Supreme Court building in Washington on Saturday.
"If the Supreme Court deems same-sex marriage a basic right, then government at every level will increasingly strong-arm business owners to violate their consciences," Richard Land, president of the Southern Evangelical Seminar, said in a statement Monday. "And let's not fool ourselves, churches and religious schools would be next in line to be required by the government to affirm the homosexual lifestyle and to perform same-sex ceremonies."
The Tennessee cases, which are being argued before the court under Tanco v. Haslam, asks the court to decide whether the Fourteenth Amendment to the U.S. Constitution requires states to recognize same sex marriages that were legally performed out-of-state. An Ohio case, Obergefell v. Hodges, is also petitioning the court on the issue of recognition. But Kentucky case Bourke v. Beshear raises both the question of recognition and the right to legally marry, while Michigan case DeBoer v. Snyder deals only with legal marriage.
The focus of Tuesday's oral arguments will be on the U.S. Court of Appeals for the Sixth Circuit decision issued last November, which upheld bans on marriage and marriage-recognition in Kentucky, Michigan, Ohio, and Tennessee. Marriage equality advocates are counting on support from the four liberal judges – Justices Ruth Bader Ginsburg, Stephen Breyer, Sonia Sotomayor, and Elena Kagan. Legal experts are keeping an eye on Associate Justice Anthony Kennedy who, as a key swing vote on Court, has ruled positively in prior gay rights cases before the court.
"Kennedy has an unbroken record when it pertains to gay rights under the Fourteenth Amendment," said Kenji Yoshino, a professor of constitutional law at New York University and author of the book Speak Now: Marriage Equality on Trial. But Kennedy's record on favoring states' rights indicates he could go either way, depending on how broadly he interprets the Fourteenth Amendment, Yoshino said. "I'm expecting that he will be put to his choice, but he will resolve that conflict handily in favor of gay rights," he said.
In 2003, Kennedy wrote the court's opinion in a case invalidated criminal anti-homosexual sodomy laws. In 1996, Kennedy wrote opinion that struck down a Colorado constitutional provision that denied LGBT individuals the right to sue over discrimination on the basis of sexual orientation. "They say is the most important skill of a Supreme Court litigator is to be able to count to five," Yoshino said. "All you need is five justices to win."
In an email sent from Washington, D.C. Monday, Tanco and Jesty, the Tennessee couple, said the justices need to hear that LGBT families "need protection now." They said they'd like to have a happy story to tell their daughter, Emilia, when she is old enough to understand. "I hope that marriage equality is no longer an issue, and I can share this incredible experience with her," Jesty said in the email.
© Copyright IBTimes 2023. All rights reserved.