Rand Paul Anti-Gay Comments: 2016 GOP Candidate Takes Back Workplace Discrimination Remarks After Conservative, Liberal LGBT Backlash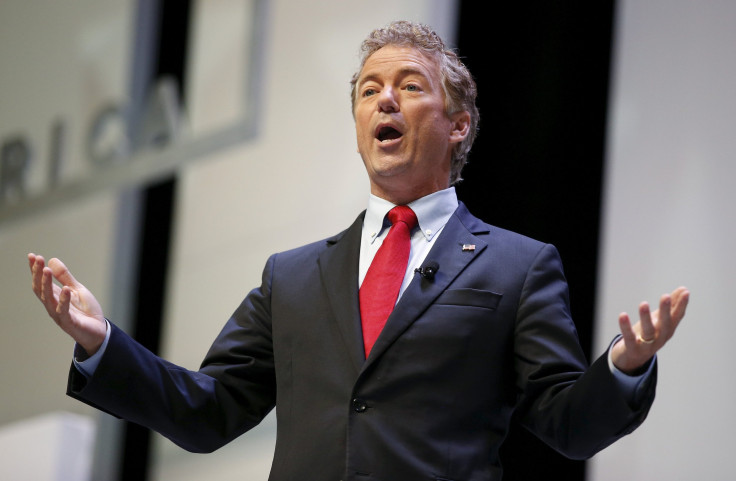 Rand Paul, the Republican presidential candidate and U.S. senator from Kentucky, said he doesn't actually believe gay, lesbian, bisexual and transgender workers should be fired for being who they are. But that's not quite what he told students earlier this week, in comments that drew swift backlash from conservative and liberal members of the LGBT community.
After initially saying LGBT workers should remain in the closet to avoid being fired by their anti-gay bosses, Paul clarified Thursday that sexual orientation should not be a factor in being terminated. "I don't think anybody should be fired for being gay," Paul said in an interview with CNN's Wolf Blitzer. "I do also, though, believe that your personal life should be personal."
Paul made the offending remarks Wednesday during a campaign stop in the early voting state of Iowa, the Huffington Post reported. "I think really the things you do in your house, we could just leave those in your house and they wouldn't have to be part of the workplace," Paul said, speaking to students at Drake University in Des Moines. "I think society is rapidly changing and if you are gay, there are plenty of places that will hire you."
The GOP candidate's clarification Thursday did not appease all LGBT activists concerned by his remarks, including the Log Cabin Republicans, an LGBT conservative group, and the Human Rights Campaign, the nation's largest gay civil rights group.
JoDee Winterhof, HRC's senior vice president for policy and political affairs, told the Washington Blade that Paul's latest statements contradict his Senate votes on workplace discrimination. "If Rand Paul truly believes someone shouldn't be fired because of their sexual orientation or gender identity, why won't he erase all doubts and join the eight in 10 Americans who support protecting LGBT people from discrimination and support the Equality Act?" Winterhof said, referring to an anti-discrimination bill introduced this year that is similar to legislation Paul previously opposed.
Gregory Angelo, the Log Cabin Republicans president, said Paul's clarification is consistent with a view he previously shared in a meeting with the LGBT GOP group. "Now that's the Rand Paul I discussed nondiscrimination legislation with in the 113th Congress," Angelo said, adding that the candidate's remarks were "encouraging" to hear from a conservative presidential candidate.
In 2013, Paul voted with every other Republican senator against the Employment Non-Discrimination Act, a federal law that would have prohibited anti-LGBT discrimination in the workplace. The only federal civil rights U.S. law protecting LGBT individuals is the Matthew Shepard and James Byrd, Jr. Hate Crimes Prevention Act of 2009, which makes crimes motivated by a person's sexual orientation or gender identity a federal offense punishable by imprisonment and fines.
In his interview with Blitzer, Paul, who calls himself as a limited-government libertarian, said regulation of workplace discrimination should not be the role of government. "It should be decided state by state, and if states want to make that an action for cause, that's fine," he said.
Paul also said that he regretted his original phrasing of remarks about closeted workers. In addition to LGBT groups, some of Paul's presidential challengers on the Democratic side weighed in.
Rand Paul Presidential Candidate Profile | InsideGov
© Copyright IBTimes 2023. All rights reserved.