Ohio Says Fracking Caused Earthquakes, Will Require Drilling Companies To Monitor Seismic Activity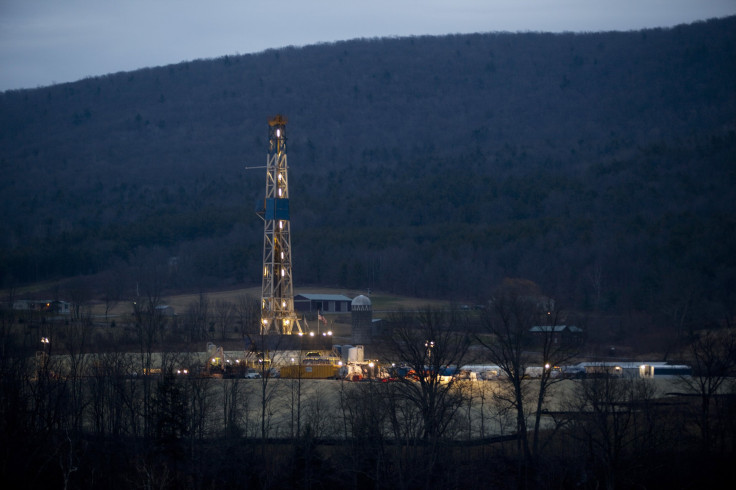 State geologists in Ohio have concluded that a bout of small but abnormal earthquakes in the northeast of the state last month probably rippled from nearby hydraulic fracturing operations, a conclusion that is likely to make waves in Texas, Oklahoma and other states that are investigating whether fracking is causing minor earthquakes.
Fracking involves pumping water, sand and chemicals down into wells and horizontal pipes to crack open rock and extract oil and gas. Often, the wastewater created is dumped back into the ground, which according to the U.S. Geological Survey, is linked to a sixfold increase in earthquakes from 2000 to 2011.
Last month, Ohio regulators indefinitely shut down Hilcorp Energy's fracking operation near the Pennsylvania border after five earthquakes, one of 3.0 magnitude, rattled Ohioans.
In response to the geologists' conclusion, the Ohio Natural Resources Department announced a new permitting policy Friday that requires companies to install seismic monitors before fracking within three miles of a known fault or areas of seismic activity. If the monitors detect a seismic event greater than 1.0 magnitude, the company must halt drilling while regulators investigate whether the fracking process caused the seismic quiver.
"While we can never be 100 percent sure that drilling activities are connected to a seismic event, caution dictates that we take these new steps to protect human health, safety and the environment," ODNR Director James Zehringer said in a statement. "Not only will this reasonable course of action help to ensure public health and safety, but it will also help us to expand our underground maps and provide more information about all types of seismicity in Ohio."
Gerry Baker, associate executive director of the Interstate Oil and Gas Compact Commission, said he has not yet seen the data Ohio is basing its decision on. Still, he believes ODNR's directives are "a sensible response to a serious issue that regulators across the country are closely examining."
Baker attended a first-time meeting of regulators this month from Kansas, Texas, Oklahoma and Ohio to share information on the earthquakes and to discuss their states' standards on drilling shale rock horizontally.
"IOGCC is pleased to work with Ohio and other states to share scientific data to better understand the nature of these occurrences," he said.
From 1950 to 2009, Ohioans experienced an average two earthquakes a year greater than 2.0 magnitude, according to a Columbus Dispatch analysis based on data from ODNR. After 2010, when fracking operations began rapidly popping up across the state, the quake count suddenly jumped to an average nine per year.
That same increase occurred nationally. From 1970 to 2000, there were about 20 earthquakes recorded of 3.0 magnitude or higher each year, but in 2010 through 2012, the average rose to 100 earthquakes of such magnitude yearly, according to the U.S. Geological Survey.
USGS says on its website and in published studies that fracking only rarely causes earthquakes large enough that people can feel them, though USGS says one magnitude-5.6 earthquake that injured a few people and damaged more than a dozen homes in Oklahoma in 2011 "appears to be related" to wastewater disposal from fracking.
© Copyright IBTimes 2023. All rights reserved.