Ohio State Quarterback Suspended: JT Barrett Got Ride From Cardale Jones After Operating Vehicle While Intoxicated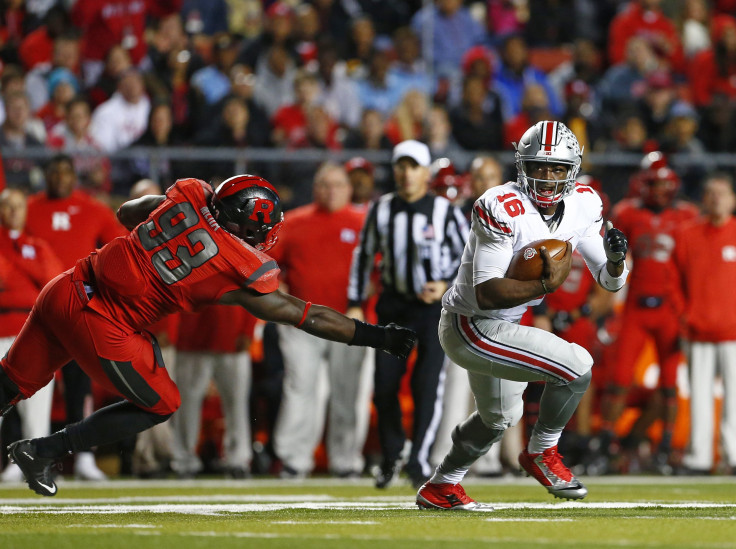 The Ohio State University has suspended quarterback J.T. Barrett for one game after the 20-year-old was arrested early Saturday morning for operating a motor vehicle while intoxicated. Barrett will not play in the Buckeyes next game against the University of Minnesota on Nov. 7, the university said in a statement.
The university said Barrett was cited for a misdemeanor offense at a checkpoint near campus. Police noticed him trying to avoid a checkpoint, according to reports. Barrett took a breathalyzer test, and his blood-alcohol level registered at 0.08, which is slightly over Ohio's legal limit. Police later released him to teammate and fellow quarterback Cardale Jones, who gave him a ride home.
Due to Barrett's age, he could have been subject to a two-week suspension under the athletics department's student-athlete drug and alcohol program, ESPN reported. That punishment would have required him to pass testing in the future before he could be reinstated to the team. But athletic director Gene Smith said that because Barrett was charged with a misdemeanor, he did not have to receive the two-week suspension.
Barrett, who started his first game of the season last Saturday against Rutgers, will be eligible to play against Illinois on Nov. 14 and the Buckeyes' rivarly game against Michigan on Nov. 21.
The sophomore from Wichita Falls, Texas, was the Buckeyes' starting quarterback in 2014, but lost the job to Jones after suffering an ankle injury.
The Buckeyes have a bye this week.
© Copyright IBTimes 2023. All rights reserved.