Oil And Gas Companies Support UN Climate Change Negotiations, But They're Not Ditching Fossil Fuels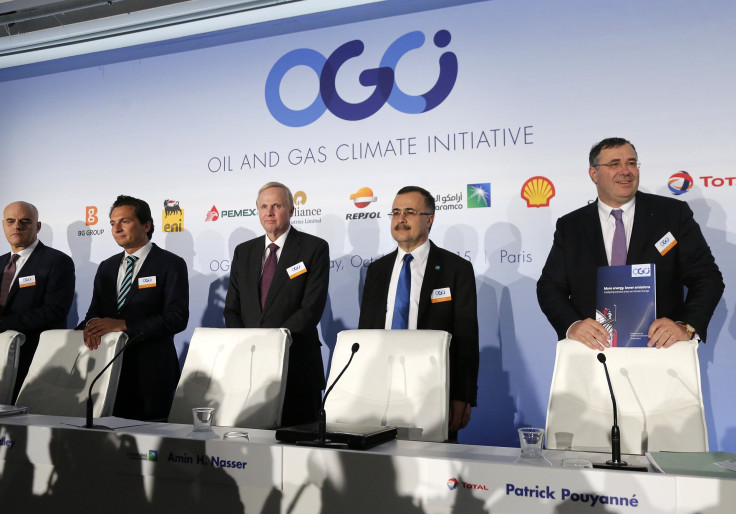 Major oil and gas companies and coal mining giants this week expressed support for the global effort to confront climate change. But that doesn't mean the energy firms will be keeping their fossil fuels in the ground to avoid harmful emissions. The public statements and CEO-signed letters largely reflect the companies' interests in ramping up natural gas investments and smoothing competition among coal exporters, analysts say.
The heads of eight of the world's largest oil companies met in Paris Friday to voice support for the United Nations' goal to limit warming to 2 degrees Celsius above pre-industrial levels. The unusual gathering of oil firms, which doesn't include U.S. companies, arrives as more than 190 countries -- including the top three emitters, China, the U.S. and India -- are preparing to forge an agreement in December to cut greenhouse gas emissions and shift toward cleaner, more efficient energy supplies.
The group, called the Oil and Gas Climate Initiative, has emerged at a time when energy companies are increasingly expanding their interests in natural gas. Advances in hydraulic fracturing, or fracking, technologies have driven a surge of abundant, cheaper gas, which is increasingly replacing higher-carbon coal in U.S. and global power plants and industrial facilities. Oil company executives in Paris advocated for policies to accelerate that transition -- a move that would drive demand for their gas supplies.
"The availability of natural gas provides some underlying economic impetus for these companies to support reductions in greenhouse gases," Steve Piper, director of energy research at SNL Energy in Boulder, Colorado, said. "A significant number of [fossil fuel companies] now want to get out in front of any limitations that might take place, so that they can preserve their share in the market to come."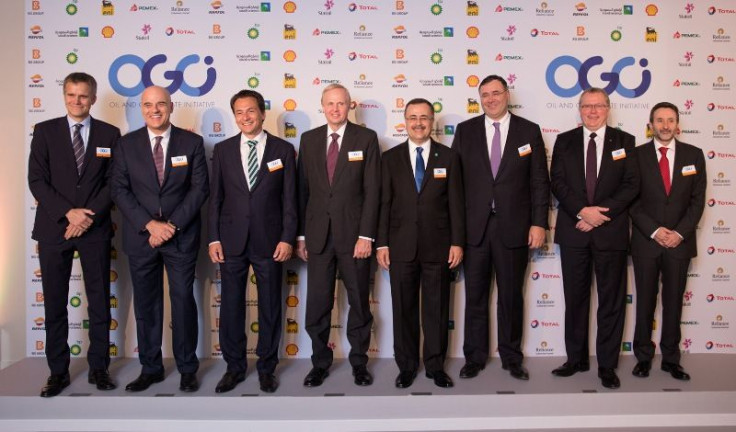 Members in the initiative include the heads of France's Total SA, Britain's BP PLC and BG Group, Italy's Eni, Norway's Statoil, Spain's Repsol and the national oil companies of Saudi Arabia and Mexico. The CEOs of Royal Dutch Shell PLC and India's Reliance Industries are also members.
In a separate effort Wednesday, 14 carbon-intensive companies, including mining giants BHP Billiton and Rio Tinto, jointly endorsed the U.N. climate negotiations and the ultimate aim of "progressively decarbonizing the global economy," according to a statement organized by the Center for Climate and Energy Solutions in Washington.
Global production of natural gas has surged from roughly 1 trillion cubic meters in the early 1970s to nearly 3.5 trillion cubic meters in 2014, according to BP's Statistical Review. Production is expected to surge in coming decades as power companies and energy-intensive industries shift from coal to lower-carbon natural gas and renewable energy supplies like wind and solar power. In the U.S. in April, electricity from natural gas overtook coal supplies for the first time since the 1970s, federal energy analysts found.
But the gas-focused push of some energy companies has drawn criticism from environmental groups and climate policy experts. While natural gas emits about half as much carbon dioxide pollution per energy produced as coal, the production of gas can cause substantial emissions of methane -- which is dozens of times more potent than CO2 as an agent of global warming. Researchers estimate that to achieve the target of 2 degrees Celsius, about two-thirds of the earth's fossil fuel reserves will need to stay in the ground, including 50 percent of existing gas reserves, 80 percent of coal and 30 percent of oil.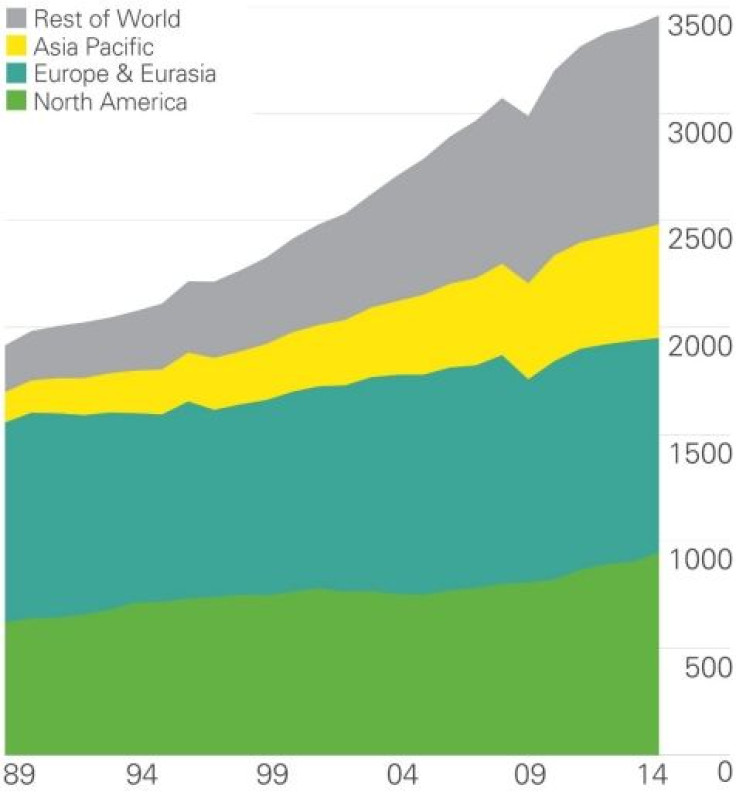 Anthony Hobley, CEO of Carbon Tracker Initiative, said that while he "cautiously welcomed" the Oil and Gas Climate Initiative, he's wary that a heavy push toward natural gas could "crowd out" investments in renewables and other low-carbon energy alternatives. He added that the 10 energy executives have yet to specify how their companies will aid in the shift away from high-carbon energy or help drive down greenhouse gas emissions.
"They really need to get to that extra step to convince people this is not a cynical ploy" to deflect scrutiny from the fossil fuel industry, he said. "You've got to give them due credit for stepping out. But now they need to demonstrate that this is real."
For coal mining giants like Rio Tinto and BHP Billiton, the motivation for backing a global climate treaty has less to do with accelerating new production than leveling the playing field among competitors. As individual countries adopt strategies to reduce emissions, the companies operating in those markets will find themselves at an unfair advantage against those in unrestricted markets, Edgar van der Meer, a senior analyst with NRG Expert in Toronto, said in an email.
"There has to be a level playing field, and if [high-demand] countries such as China and Indonesia don't sign on to these types of agreements, the market for the companies active in the countries that do will be skewed," he said. So while a global carbon policy would affect the companies' bottom lines, "this can be offset with charging higher prices. However, if not all players have to adhere to this, those players will have the competitive edge."
FOR FREE to continue reading
✔️ Unlock the full content of International Business Times UK for free
offer available for a limited time only
✔️ Easily manage your Newsletters subscriptions and save your favourite articles
✔️ No payment method required
Already have an account?
Log in
© Copyright IBTimes 2023. All rights reserved.